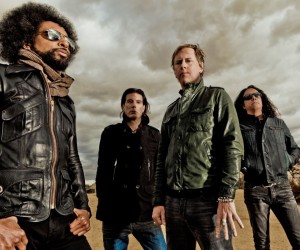 I can remember being about 14 years old when I found out that Alice in Chains was going to be playing at Bogart's in Cincinnati. I was desperate to go to this show, but I knew this was not one that mom or dad would be taking me to. I got the Metro Bus schedule and found the route that would get me to the show. But after explaining my simple travel itinerary to my parents, I did not make that show. Last night, twenty-two years later, Alice in Chains returned to Cincinnati, but this time, I was there! All I can say is…it was worth the wait.
The band played to a packed Horseshoe Casino in support of their latest release, "The Devil Put Dinosaurs Here." The night was full of classics from the bands past, as well as songs from their latest two releases with  front man, William DuVall. It all made for a seamless night of amazing music. The band kicked off their set with "Them Bones," and "Dam That River," from the bands 1993 album, "Dirt," but it was clear from the start that this was no nostalgia show. The key that separates relevance from nostalgia for AIC is DuVall. While he does more than justice to the bands classic material, he is his own singer and puts his own unique mark on the band's sound. He is not just a hired gun doing as he is told. While songs like "Man in the Box" and "Rooster" were nice trips down memory lane, newer songs like "Last of My Kind" and "Hollow" prove that AIC is still very much a current band.
A refreshing aspect to the band was the appearance of the lack of ego's present in the band. While DuVall and guitarist Jerry Cantrell handled most of the interaction with the audience, bassist Mike Inez and drummer Sean Kinney engaged the audience as well. A cool moment came about half way through the show when Cantrell acknowledged a young boy in the front row who he said was, "Making his gig." Cantrell invited the young boy and his father to watch the show from the side of the stage. See mom and dad, that could have been us twenty two years ago! Another nice touch was Kinney's drum head which had the letters LSMS boldly displayed. This was in tribute to Layne Staley and Mike Starr, two of the original members of the band who have since passed away.
Alice in Chains proved they are a band that is deeply rooted in their past, both in its music and its members.  But with deep roots comes growth. AIC has certainly grown over the years, and I believe that last night is evidence that they are far from being done. I can only hope it does not take me another twenty-two years to see them again.