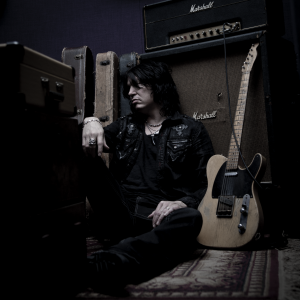 In the late 1980's into the early 1990's, Cinderella were one of the hottest bands going. Lead by songwriter and front man, Tom Keifer the band released three albums, "Night Songs," "Long Cold Winter," and "Heartbreak Station," producing an impressive catalog of bluesy, in your face rock n' roll. By the time the band released 1994's "Still Climbing," they had been unfairly grouped in with the "big hair" bands of the '80's and the release did not get it's due. Keifer would also suffer a medical setback with his vocal cords. He was forced to learn how to sing again because of the paralysis of his left cord.
Tom Keifer has overcome all of the setbacks and released his first solo record, "The Way Life Goes,"in the spring of 2013. Tom has been on the road in support of the record ever since. On June 19th the tour rolls through Cincinnati, OH at Inner Circle. I had a chance to talk with Tom about the record, Cinderella, the tour and what fans can expect at the June 19th show. Enjoy!
Let's dive in and start talking about the new record, "The Way Life Goes."  I read a lot about what went into making the record over a fifteen year span. Now that it has been out for just over a year, what are your thoughts on the record? Did it live up to your expectations?
I'm real happy with how the record turned out. It was our goal not to release anything unless it was something we felt good about. And the record really started out as not really being a record. It just kind of turned into that. It's been really well received and that feels good, obviously with all that went into it. We're having a great time being out on tour with it, so all is well.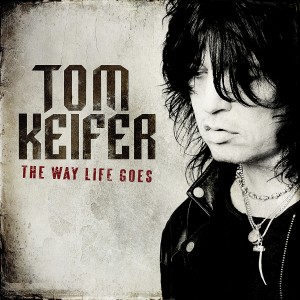 When a lot of bands put out records these days, it is looked at as a "retro" thing and can sometimes even be considered a throw away, but "The Way Life Goes" has some legs to it. It has been out for over a year and it has a lot of life left.
Well, thank you. We have a very committed record company who has been just great. They've been really supportive and are soldiering on and continuing to work the record. They are going to release more singles this year. I feel very fortunate. 
That's almost a rarity these days…
Yes, it is.
So much has changed over the years. I know with Cinderella you guys were always on a major label, and doing this you were basically an independent artist getting this album off the ground. How did that feel to you?
Well, certainly creating the record there was no label involved. So that was a very different experience and probably why it took so long. There was nobody saying, "Hey, this has to be done" and cracking the whip…so that was cool. And the label that we signed with, Merovee, is a small independent but they have a lot of muscle.  They are distributed through Warner and they really know what they're doing. The fact that it is a small company, there is a real personal touch and they feel like family to us. It's more personal which is nice.
You mentioned the next single off of the record. What is that doing to be?
 "It's Not Enough."
It seems like a lot of guys who were playing in the 80's and 90's haven't really embraced new technology. You seem like you have really embraced social medial and use Facebook and Twitter to reach out to your fans. Are you a tech kind of guy? Does that come naturally for you?
I had to learn about social medial because I did resist it for years. I just didn't understand it I guess (laughs). My label helped me get it set up…my Facebook and Twitter are about a year and a half old. Towards the end of 2012, they helped me get that set up and taught me a lot of stuff. It took me a while to get used to it. You just have to make it a part of your habit and routine. It's become that for me now. In the beginning I would forget and would be like, "Oh, I need to post something." Now it's just like habit. That was the biggest challenge for me. Other than just learning the ropes, now that I know it, I love it. It's cool to be in touch with the fans and to be able to put up things that are inspirational or funny, or turn them onto something new that we're working on or shows that are coming up. It's immediate and you can also hear their feedback so it's very cool.
That's great because sometimes bands have social media and it doesn't feel like the band has anything to do with it.
I certainly do with mine. I try to make mine personal, and like I said, try to use it to inspire people. Every once and awhile there will be a fan on there who will say, "This isn't him" and I look at the page and say, "Are you kidding me, who else would do this?" (laughs)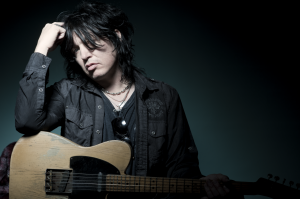 You guys are back on the road for a second leg of the tour. What I have noticed is that on some shows you're playing with Dee Snider and Stephen Pearcy and then other shows you're with Theory of a Deadman and The Pretty Reckless. That is a pretty nice bridge you have going there.
Last year we started off the opposite. It was my shows in very small venues. We just formed the band and we actually went out months before the record was released. As the record grew towards the end of the year last year, we were doing bigger shows and support slots on bigger shows. We took a break towards the end the year and the earlier part of this year. Now the label is gearing up to release a new rock single. Our tour schedule is just the opposite of last year. We're doing more one offs, bigger shows, playing with different artists and trying to mix it up a little bit. As the single starts to spark and get some legs we're going to definitely go into more of a full tour schedule towards the end of summer into fall and probably into next year.
 I know you played some shows with Halestorm last year. That seemed like a pretty cool deal.
They're great. I think they're the best rock band out there. I love them. It was a blast to get to play with them. We have another show coming up with them in July in Minnesota.
Talking about touring, I know your wife Savannah is on the road with you. How does that work for you? Is it hard to balance the husband /wife relationship versus the band mate relationship?
It's always felt really natural for us. In terms of music, we approach it the same way so we just don't ever force that. You're either in the mood to write a song or you're not. It's like, "Hey, I've got this cool idea," and she'll either jump on it or she won't be in the mood for that and vise versa. She'll say hey do you want to write a song and I'm like, "I'm not really up for that today." So, we just kind of wait for the inspiration and that's how we approached the songs we wrote together on the record. It's not a hard thing for us to balance because we approach it the same way. And having her on the road is just amazing. She's my best friend and I couldn't think of anyone more that I'd want to be doing this with.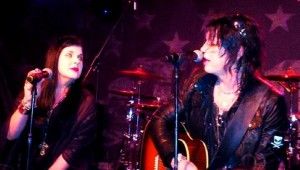 With touring, and I think this goes back to the Cinderella days, you were never a filler type band. So when you guys play a show, do you usually use a standard set list or do you change things up and throw some rare stuff in there?
With the solo band it's been a mixture of Cinderella and the new stuff…almost fifty percent. Even when we started, we were doing six or seven new songs. This was before the record was even released. That's a lot of new stuff to put out there. Like I said, they were small places and it was really more the very, very hard core fans. And then we threw in a lot of Cinderella hits. Cinderella and the new stuff sit alongside each other very well and flow in and out of each other seamlessly in the show the way it's paced. It's cool. We're doing the same thing this year too. There's a lot of Cinderella and there's a lot off the new record. 
I know that when they're billing the shows it's always "Tom Keifer of Cinderella." Does it ever bother you that it's not just "Tom Keifer?"
I'm proud to be a part of that band. I was a big part of it. I wrote the songs, I was the singer…it's not anything I'm trying to run from. When a member leaves a band a lot of people don't know, so I think it's a good thing. It paints a full picture of who this person is. I don't have any problem with it at all. I think it's smart on the part of the promoters.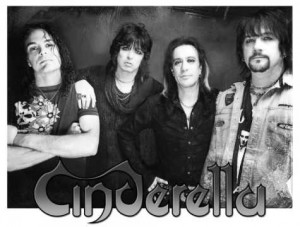 Let me stay on Cinderella for a moment. I know there is a live album getting ready to be released called "Stripped." How much input, if any, did you have on that?
We don't know anything about that record. Honestly, as far as I know it is a bootleg. It kind of aggravated me. I saw a bunch of stuff online that almost made it look like it was authorized by us and that we were announcing its release, and we don't know anything about it.  And anyone who has the Key Club record, my understanding is that it's the Key Club record. It's kind of bullshit. Sometimes fans think it's us doing this and then they feel like their being ripped off. There's so much that's out of our control that gets licensed out that we have no control over.  We would never try to hoodwink the fans by putting out the same record twice. I promise. 
Now that "The Way Life Goes" is out there and has been successful, are you giving any thoughts to what's next for you? Are you doing any writing for a new record?
I'm just enjoying what's going on right now. I've always taken life one day at a time. Right now we've decided to tour and release more singles in 2014 from the solo record, which you know I had no idea last year that we'd be doing that this year. Next year…who knows what's coming? I'm just taking it as it comes.
We're looking forward to the June 19th show at Inner Circle. It used to be called Annie's and I saw you there a couple of times with Cinderella.
Yeah, I remember playing…so this is Annie's? Years ago we played Annie's. I think a couple of times Cinderella played there.
 Yeah, it used to host rock shows for years, but it has changed gears over the years. They're working on bringing rock shows back to the club. Your show is one of the first rock shows booked there in a little while.
Oh cool, well I hope it works.
 Is there anything you want to tell our readers about as far as what to expect at the show on the 19th? Any message you want to send out to your fans in Cincinnati?
It's gonna be a hard rock, high energy, rock show. It's a lot of Cinderella hits, stuff off of the new record. The singles off the record for sure and a couple other cooler tracks off the record. It's going to be a blast.
 That sounds killer. We are really looking forward to the show. Thank you so much for your time today, and we wish you continued success in 2014.
Thank you very much, I appreciate it.
www.facebook.com/TomKeiferOfficial
https://twitter.com/tomkeifermusic
Tom Keifer plays Inner Circle (formerly Annie's) on June 19th. Get you tickets at Everybody's Records!