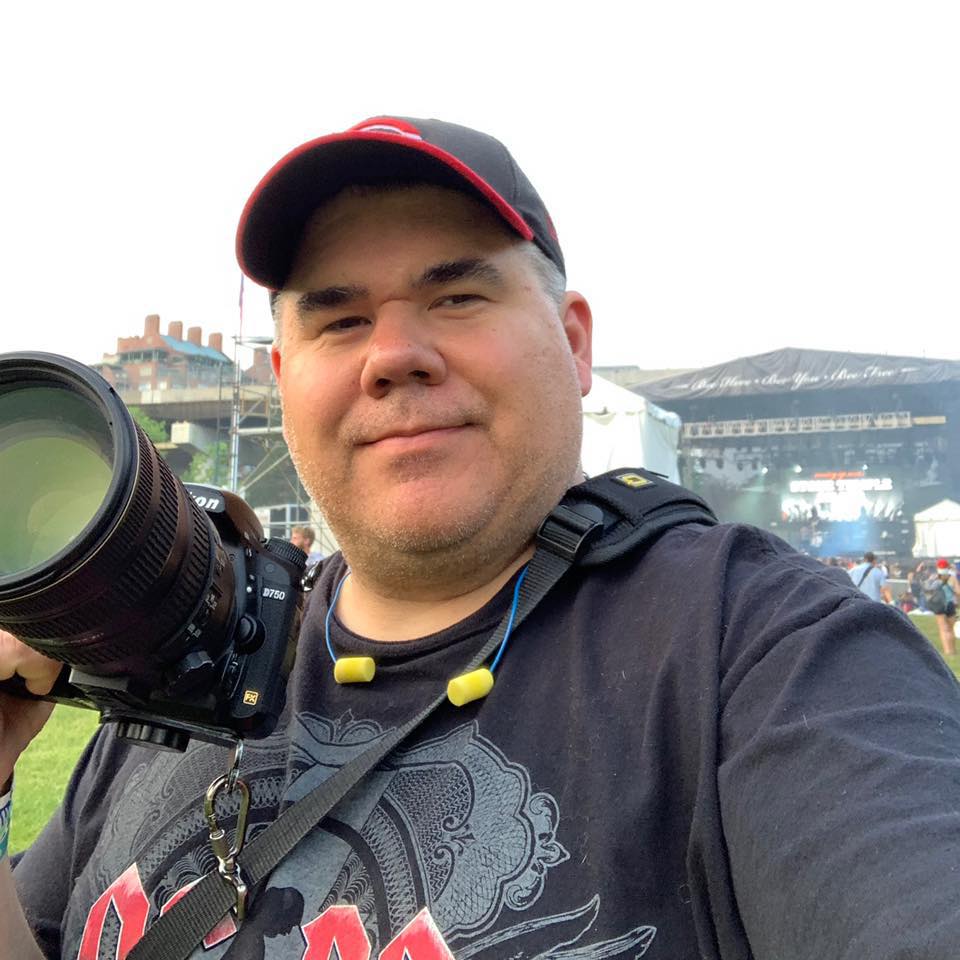 Hello! My name is Tony Keefer and I love music!! I guess that pretty much says it all, but perhaps I should tell you more. I can associate my earliest memories with music. From the Elvis 8 track in my dad's old, blue pick up truck to my brother getting mad at me for wearing his Peter Criss t-shirt, music was there from the very beginning. As you can tell from my previous statement, the love of music runs deep in my family. The tastes may be a little different from generation to generation, but the passion is the same. My parents instilled the concert bug in me early on when they took me to see George Jones for the first time at the tender age of six. I still have the t-shirt to prove it. From there I went on to try to impress my brother, who is ten years my senior, by professing a love for Ozzy, Kiss, Motley Crue and Metallica. Somewhere in trying to earn my cool points with big brother, that music became a part of me. All of it. From George Jones to Metallica, it's a part of my DNA. Over the years I have collected thousands of tapes, cds and records. Forget that streaming stuff. I have attended hundreds of concerts and have the t-shirts to prove it from most of them.
Like many teen age music fans, I learned how to play guitar and had rock star aspirations. Like most teen age music fans, the dream never quite materialized. One think that did kind of stick over the years was my love of writing. I got into journalism in high school and actually got to be pretty good at it. I was even accepted to Kent State to be a part of the journalism program. I didn't go. With all major life decisions, or non-decisions, I sometimes would look back and wonder. But it was one day while I was sitting in a church auditorium listening to a speaker by the name of Jon Acuff, talking about how it was never too late in life to START. I didn't realize it that night, but the seeds for The Music Room were planted during that talk. After reading the first chapter of Acuff's book, called Start appropriately enough, I decided I would start a music blog. After all, those who can't, write about those who can. I never even bothered to finish the rest of the book. I just dove right in. Just imagine where I may be if I finished the whole book, lol.
Why The Music Room? 
On Saturday nights, I would retreat to the place in the basement like most men do. Like my room when I was a kid, the walls were decorated with music memorabilia. Just a bit more tasteful with the helpful insight of my wonderful wife. By that, I mean no poster of Ozzy on the can on the walls these days. But I would sit and spin my favorite records until 3 or 4 in the morning. This wasn't a man cave. This was my music room. So the name of the blog was a no brainier for me. All this site was ever supposed to be was a place for me to talk about the records and bands that I loved. On June 30, 2013 the digital doors of The Music Room were opened. It was exactly what I thought it would be. Just a fun place for me to share my love of music with like-minded people. But something happened I did not expect. Actually, a few things. The first was getting approval to interview Tom Kiefer of Cinderella. I remember thinking AWESOME!!! Now what have I gotten myself into? But I did that interview, and I have done several more over the years with guys that I consider to be my music heroes. Then one day I was given a photo pass for a local music festival. AWESOME!!! Now what have I gotten myself into? I was never a photographer and I never got into this to take photos. Luckily for me, our area has a lot of talented concert photographers who taught me the ropes down in the photo pits. Truth be told, they still do.
So to sum it up, I am a music lover that is living out his teenage fantasies. That is something that never gets lost on me. With every interview I get to do, with every photo pass I am provided, and with every kind comment I receive on my work, I have to pinch myself.  The highlight of the past 6 years was getting to ask my all time favorite singer, Steven Tyler, two questions. I did it and I remained as professional as I get. But later that night when I was watching him perform the song "What it Takes," which was the song that got me into Aerosmith, I cried as it hit me…I had met my hero thanks to The Music Room. I'm not a critic. I'm not a world renowned photographer. I am a 40 something guy who still loves music just as much as he did when he was 16 years old. I hear a song and it takes me back in time.
Thank you for joining me on this journey. The fact that you are here reading this means the world to me. Thank you! But enough about me. In the words of Joe Perry, "Let the Music Do the Talking!"