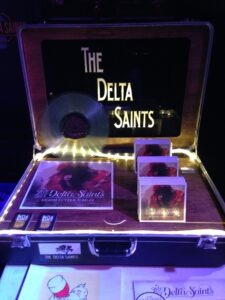 When Blackberry Smoke brought their "Fire in the Hole" tour to Bogart's on February 6, 2014, they brought Nashville based band, The Delta Saints to kick off the party. If the Saints job was to warm up the nearly sold out crowd, they certainly did their job, and then some. Despite the freezing temperatures outsides, Bogart's was on fire while the Delta Saints were on stage.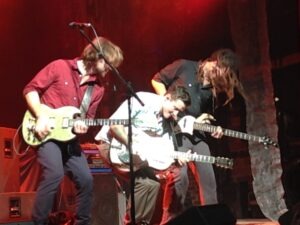 The band, led by front man Ben Ringel, delivered a blistering upbeat set made up of mostly songs from their debut full length album "Death Letter Jubilee."  Bassist, David Supica, and drummer, Ben Azzi, drove the Saint's sound with a tight rhythm section, while lead guitarist, Dylan Fitch, delivered the perfect mix of muddy blues and sonic riffs. As impressive as Fitch's sound is, watching his finger picking style was just as impressive. The only thing that was missing from the live show was the harmonica that is so prevalent in the band's records. For this tour, the harp was replaced by a keys player, William Nathan Burns. While Burns cooked and the sound was still very much The Delta Saints, there was an element of the sleazy blues sound that was missing.
Normally, a band's sound is influenced by the bands that they listen to, but The Delta Saints sound seems to have come from where they have been.  As you listen to them you are transported to a smokey blues bar in Chicago and then to a dark jazz club tucked into a New Orleans alleyway. You can almost feel the mud of the Louisiana swamps on your feet and then you end up in a small little church in Mississippi singing with the choir. It's all in there, wrapped up in a tight and dirty package.
While the whole set was inspired and memorable, two stand outs include the title track of the band's current LP, "Death Letter Jubilee" and "Cigarettes" from the new E.P. " Drink It Slow" which can be downloaded for free from this very site.
One thing is clear, The Delta Saints will not be the opener for very long. Look for big things to come from these guys in the very near future. They will be playing a two night stand in their home town of Nashville on February 28th and March 1st at which Ringel says they will be recording a live album.