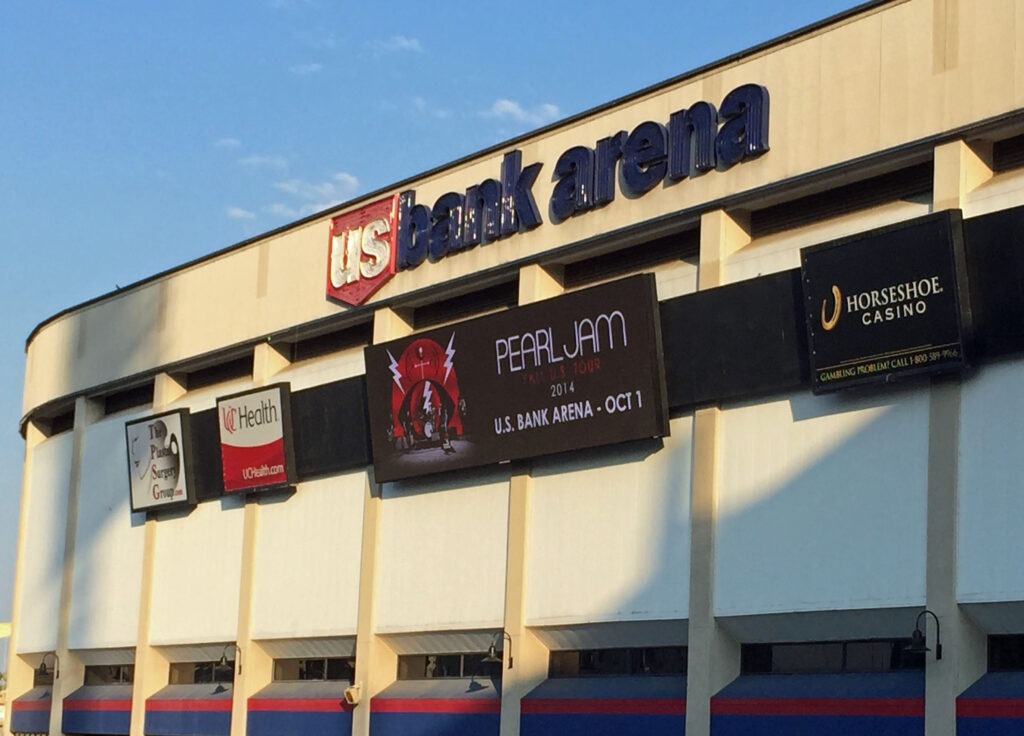 On March 30, 1992, a new band from Seattle named Pearl Jam delivered a twelve song set to a capacity crowd of nearly 1,500 at Bogart's. That night the set was made up of songs from their recently released debut album, "Ten."  Last night, over twenty-two years later, the band was back in Cincinnati playing to nearly 18,000 people at U.S. Bank arena. This time they were equipped with a thirty-three song set list that spanned their history.  During last night's show, the band's lead singer, Eddie Vedder, recalled his 1992 visit to Cincinnati during a break in between songs. While I could never do the story justice, I will say that it did involve smoking a joint in the Bogart's alley, and the movie Wayne's World. I will leave the rest to your imagination.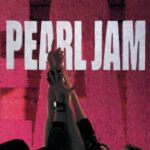 In the twenty-two years since that show at Bogart's, the band has released nine studio albums since 1991's "Ten." The most recent being 2013's "Lightning Bolt."  The band celebrated its deep catalog by playing tracks off everyone of their studio albums. While most bands struggle with opting to  play a greatest hits set for casual fans, or a set filled with their new stuff and deep album cuts to please their die-hard fans (and themselves), Pearl Jam managed to do both with one killer set list. Hits such as "Yellow Ledbetter, " "Jeremy" and "Alive" took care of the novice fans, while cuts like "Love Boat Captain" and "Comatose," took care of the seasoned faithful. The band also mixed in some covers with "Waiting on a Friend" by the Rolling Stones and "The Real Me" from The Who.  While the members of the band are twenty-two years older, and Eddie is not stage diving from the rafters, the bands performance of "Evenflow" proved that the band has not lost its ability to flat out rock!
While the music was certainly the main attraction of the evening, Eddie Vedder's presence alone provided more than enough entertainment.  When his hands weren't occupied with the microphone, they were wrapped around a bottle of red wine. He even filled up fan's empty cups as he made his away in front of the stage at one point. In between songs Vedder conversed with the crowd and shared some funny stories. For instance, he told of how Keith Richards once pulled a knife on Mike McCready and him. The story ended up not being as scandalous as it was billed, but Ed's story telling abilities made it enjoyable none the less. There is a saying that the rule of entertaining is to know your audience. Vedder showed that he had mastered this discipline as he engaged the crowd about one of his strongest beliefs. After coming out for the first encore, the singer acknowledged that he can be very outspoken about topics that he is passionate about such as climate change and gun control. While this statement is public knowledge, the singer gave it with a very good natured delivery. He continued that something he feels very strongly about is that Pete Rose belongs in the base ball Hall of Fame. The Cincinnati crowd erupted as the band kicked into "Man of Hour" to which they dedicated to Pete Rose Jr. who was in attendance at the show.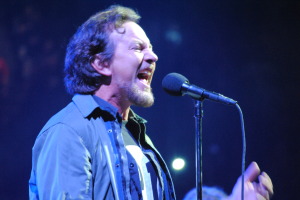 The magic of the band does not revolve solely around Eddie Vedder. One aspect of the band that became evident as they played was how well they work together. It was clear this is a group of guys who are comfortable with one another, and maybe even still all like each other after all these years. What a concept for a rock n roll band! But the connection did not stop off the stage. I have to say that I have never met fans quite like Pearl Jam fans. There is a real bond between the band and their fans. Unlike most fan clubs today that serve as a quick money grab for bands while giving very little back to the fans, the band still maintains a legitimate fan club called Ten Club. Ten Club was born from the remains of the Mother Love Bone Earth Affair — a fan organization started by Pearl Jam in 1990 as a way for the band to give back to their fans and create a community around Pearl Jam's music. I talked to a Ten Club member who came from Canada to see the Cincinnati show. As I was in the photo pit, I asked one fan along the front rail what time he got in line in order to secure his sweet spot. He told me he arrived to the venue at 3:30am to get in line.  During this show I saw the most sincere interaction between a band and its fans.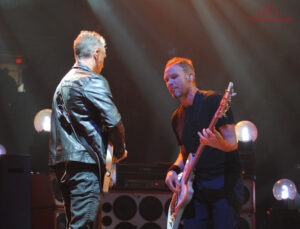 I have to admit that I lost track of Pearl Jam after 1994's "Vitalogy." I probably offered many excuses for this. Grunge killed metal, Vedder is too political…who knows? All these years later I was kicking myself for ever allowing myself to turn away from the band. As I watched the show I was sixteen years old again and Pearl Jam were the coolest band on the planet. I feel so fortunate that I got to experience Pearl Jam like this. I realized that this was not just another rock band out to pay the bills. This is a band that has graduated to the level of legends. This is a show that I will be talking about for the rest of my days. When the band goes into the Rock n Roll Hall of Fame, I will talk about this show. When "Ten" turns 30 and 40 years old, I will talk about this show. Anytime that I talk about my top concert experiences, I will talk about this show.  Now, I just need to go find a flannel shirt and a pair of Doc Martens.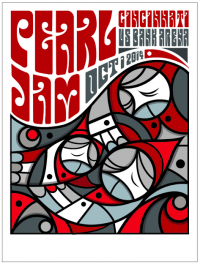 Check out our photo gallery from the show here!
Set List 10/1/14
Pendulum
Nothingman
Of The Girl
Mind Your Manners
Lightning Bolt
Corduroy
Spin The Black Circle
Got Some
Even Flow
Sirens
Love Boat Captain
Present Tense
Daughter
State Of Love And Trust
Waiting on a Friend
Jeremy
Comatose
Setting Forth
Porch
ENCORE 1
Sleeping By Myself
Man Of The Hour
Parachutes
All Those Yesterdays
Elderly Woman Behind The Counter In A Small Town
Given To Fly
Unthought Known
Do The Evolution
Better Man
ENCORE 2
Black
The Real Me
Alive
Rockin' In The Free World
Yellow Ledbetter
Set List 3/30/1992
Wash
Once
Alive
State Of Love And Trust
Alive
Black
Deep
Jeremy
Why Go
Porch
Garden
Leash