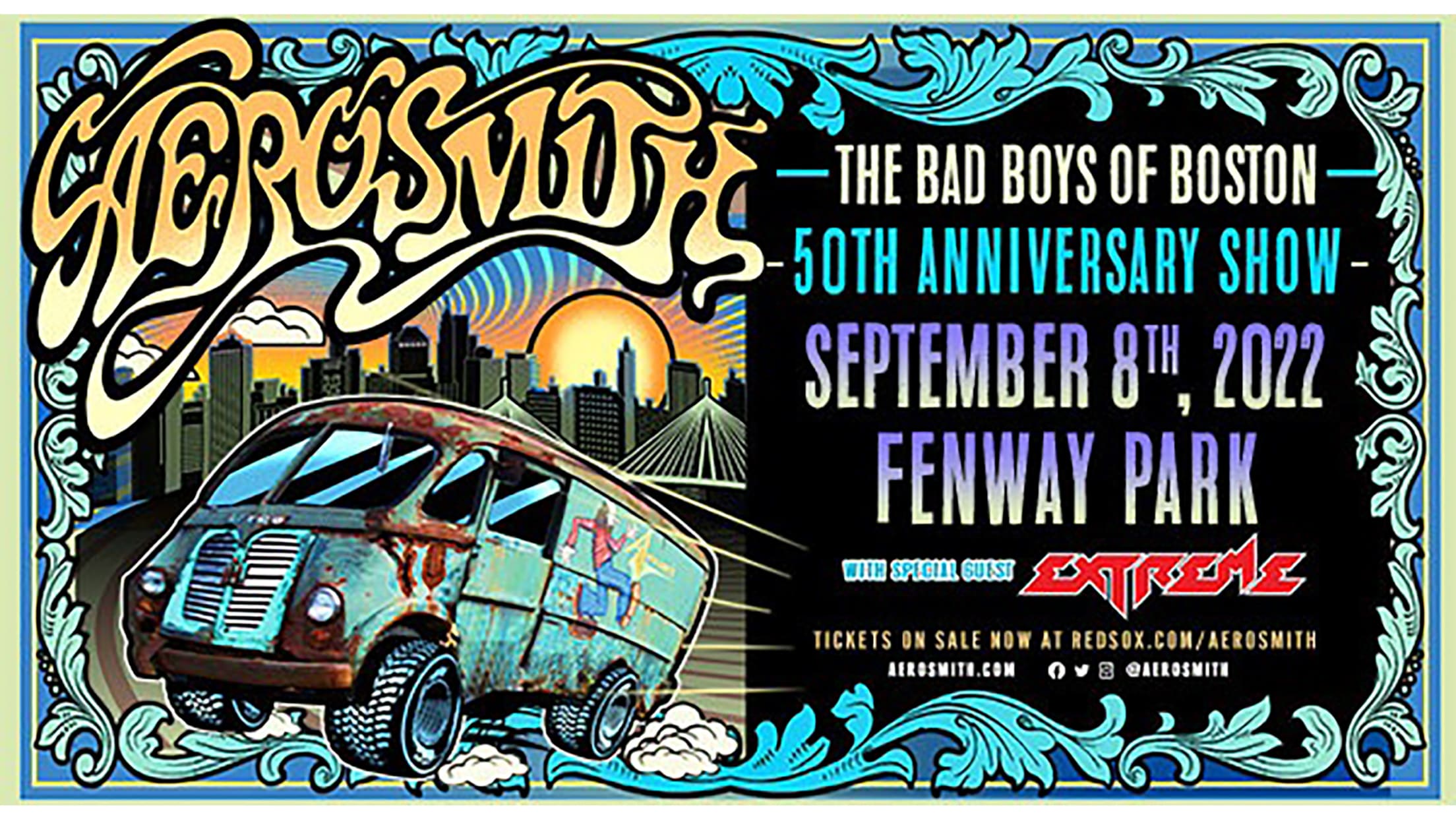 Aerosmith Fenway Park Boston, MA
September 8, 2022
w/ Extreme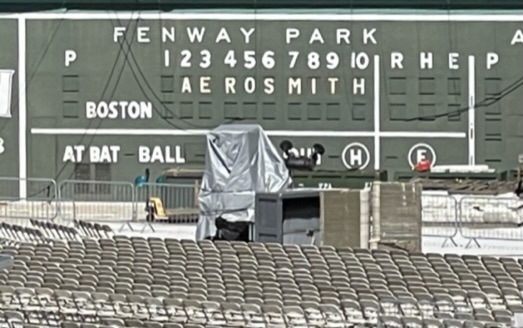 Ever since I was 13 years old, I have been obsessed with Aerosmith. Ever since I heard the album, PUMP, they were MY band. All of these years later, they still are. Growing up, I absorbed all the information that I could about my favorite band. One of the things that I found out fast was that Aerosmith were the Bad Boys from Boston. I can remember sitting in my room listening to a radio broadcast of the guys playing from their own club in Boston called, Mama Kins. Ever since that day way back when, it was my dream to see Aerosmith on their home turf in Boston. Fast forward about 30-something years later, on September 8, 2022, my dream of Aerosmith in Boston came true!
For my 45th birthday, my wife surprised me with tickets to see Aerosmith at historic Fenway Park in Boston! With something so big like this, it is only natural to build up some pretty large expectations for what it's going to be like. I am here to tell you that this show, no, this experience was nothing like I thought it was going to be. No, the reality of seeing Aerosmith at Fenway blew the doors off anything I could have ever imagined!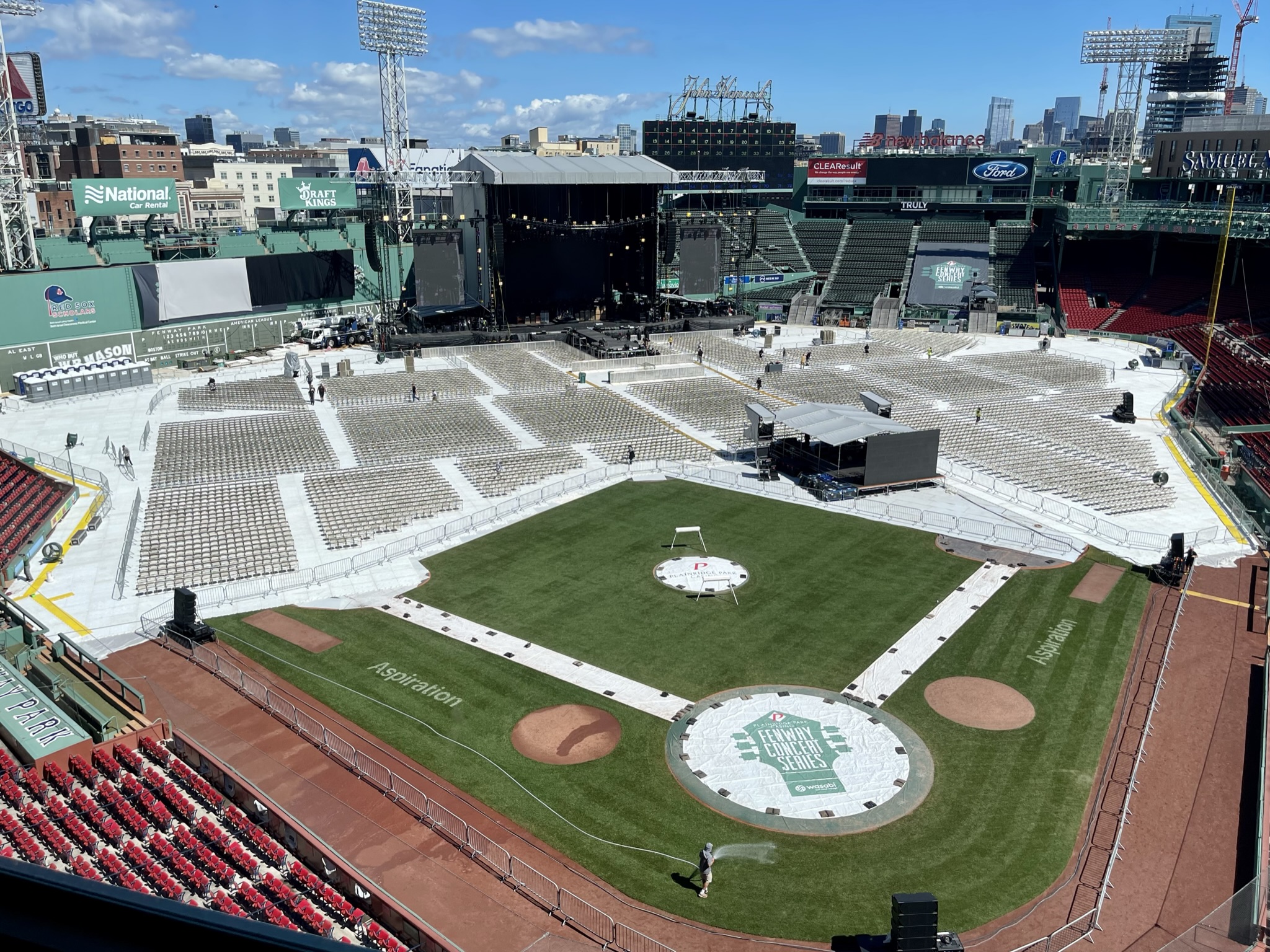 On the day of the show we were supposed to start our day off doing a whale-watching tour on the Boston Harbor,  but the tour was canceled due to rough seas, so we had to call an audible. After checking out the King Tut Immersive Experience, we decided to go take a tour of Fenway Park. That way we could soak up the atmosphere of the day and not have to worry about fighting that wicked Boston traffic. I know it seems like I am being way too detailed here, but I have to lay it all out to let you know how crazy what was about to happen next truly was. Stay with me.
The tour of Fenway was awesome for multiple reasons. Not only did we get chills from touring one of the most historic ballparks in the country, but we also got to see the crew setting up for the show that would happen only hours later. There is nothing quite like sitting on top of the Green Moster out in left field while getting a glimpse of things behind the stage. It can't get any better than that, right? Just wait. I am almost there…I promise.
After getting some lunch at Game On! by the stadium, we decided to do a quick Facebook Live to share the excitement of the day with our friends. As I was rambling on, Candy noticed a black SUV with blacked-out windows drive by. Her intuition told her to keep an eye on that SUV. As I kept on talking away she notified me that the car had pulled over and someone was getting out. While still recording, I peered over at the parked SUV. It couldn't be. It looks like…I think it's…BRAD WHITFORD of Aerosmith!  I quickly made my way over to him and verified it was in fact, Brad. He was very cool to say hello as he was walking into Fenway. It can't get any better than that can it? Read on.
A few minutes later another black SUV turned down Jersey Street towards the ballpark but turned into the garage. The doors of the vehicle opened and out came the one and only, Joe Perry! By this time there were about 10 of us waiting along the barricade across from the garage. I saw Joe look over at us so I yelled hello and waved to him. He kind of waved, stopped, and then made his way over to us. He walked down the line of fans shaking our hands and chatting for a few moments. It was unbelievable. But we didn't have much time to absorb it because here came another SUV, this time carrying Aerosmith bassist, Tom Hamilton. Tom got out and waved to the now 20 or so of us hanging out.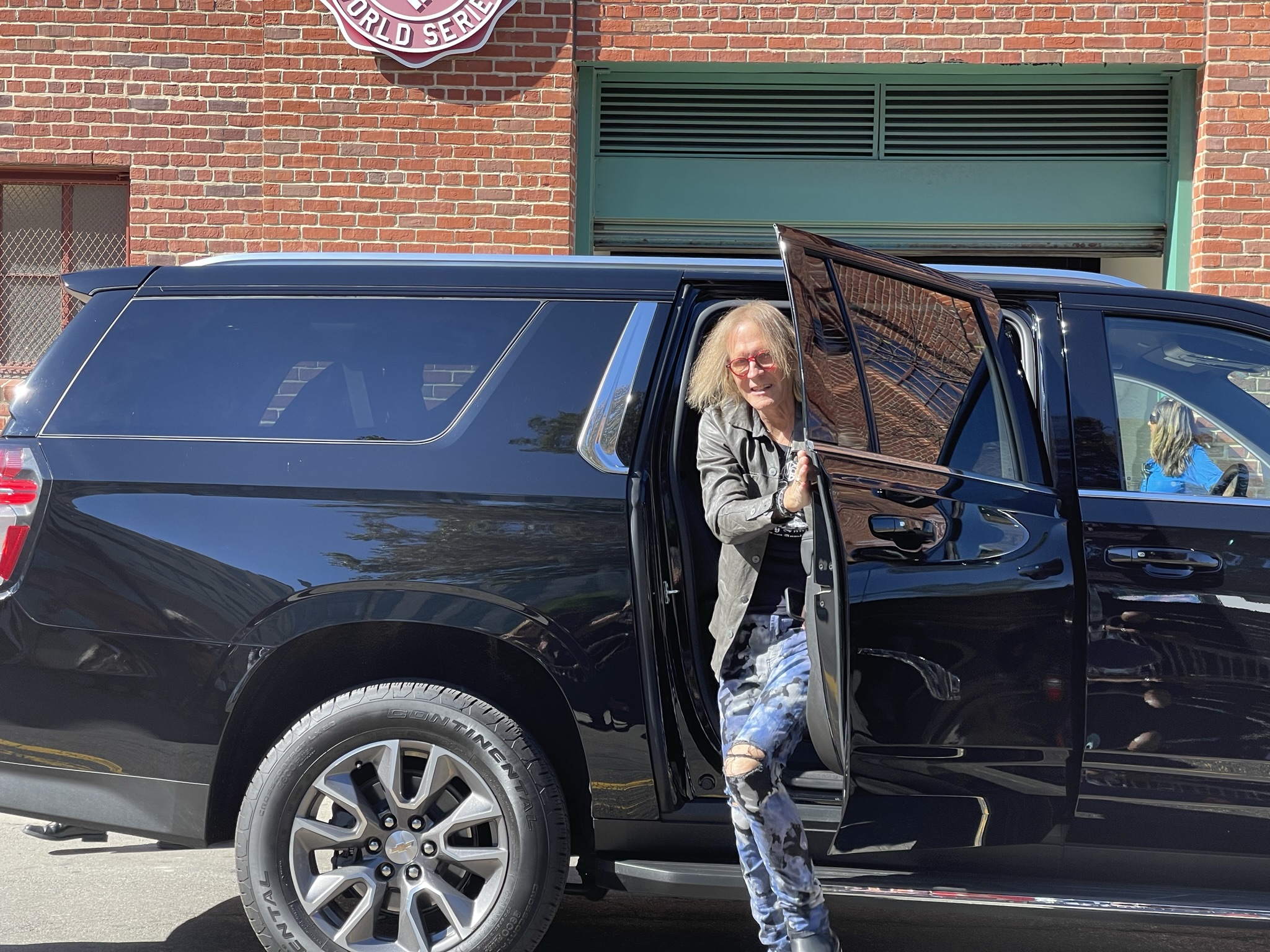 Three members of Aerosmith outside of Fenway Park in less than 20 minutes, the 14-year-old me would never believe this! Considering that Joey Kramer is not currently playing with the band, there was only one member of Aerosmith who had yet to arrive, but there is no way that we would be able to see HIM…wrong again. About another 20 minutes later you could feel a buzz among the security outside of the garage entrance that the other band members had walked through. They were awaiting the arrival of the Demon of Screamin' himself, and here he came! A final SUV comes around the corner but there was no secret who it was carrying. Steven Tyler was hanging out of the back window waving to us as he pulled into the garage. After passing his Yorkie off to a security guard, Steve acknowledged the larger crowd now assembled across the street and absolutely made our day…again! It was not even 4 o'clock and we had seen the 4 members of Aerosmith and shook Joe Perry's hand. Aerosmith Fenway Park Boston, MA was already a once-in-a-lifetime experience, and the show hasn't even happened yet.
From there we made our way over to the merch booth set up outside the ballpark and got our essential Aerosmith and Extreme merch, and then picked up an obligatory Red Sox cap from the team store across from Fenway. Now, we would have to wait for the gates to open so we could take our seats. But, the wait was not near as long as we thought it may be. As we lined up, the sounds of Aerosmith jamming on "Mama Kin" filled the skies around Fenway. Really? We get to listen to the band do soundcheck? Indeed we did. It was like having a bonus mini-concert for the next 45 minutes.
After a day filled with such amazing events, we finally arrived at the main event. We were allowed through the gates and we made our way to our seats down by the visiting team's dugout on the third base line. About an hour later, Boston's own Extreme took the stage and played a blistering hour-long set filled with cuts that spanned their career. Not everyone got into the set (until they played "More Than Words") but I was loving every second of it. If you have never seen Extreme play live, you are missing out.
Finally, the moment had come. After a brief recorded introduction from comedian Bill Burr, the Bad Boys from Boston took the stage in the heat of Boston, Fenway Park. They opened things up with "Back in the Saddle," and then ripped through one classic tune after another. There were hits, there were deep cuts, it was everything an Aerosmith junkie could want. The only thing missing was drummer Joey Kramer, but some things are beyond our control and understanding. And that is okay. I will just say that I missed seeing Joey behind the kit.
The only problem was that the night just went by way too fast. Before I knew it, the guys were wrapping up the best version of "Dude (Looks Like a Lady) that I have ever heard them play and said goodnight prior to the encore. After a few minutes of anticipation, a light was placed on the Green Monster we had just sat on a few hours ago. But now there was a piano on top of it. That could only mean one thing. Steven Tyler made his way behind the keys and started the intro to "Dream On." If you look up rock stars, it will show Steven Tyler and Joe Perry rocking out on top of the Green Monster. From there it was "Sweet Emotion" and "Walk This Way" and the show was over,
But in reality, this show…this day will never be over. I will continue to relive Aerosmith Fenway Park Boston every time I hear an Aerosmith song on the radio or see a home Red Sox game on TV. I will tell the stories over and over (I am sorry in advance) of how I not only saw Aerosmith in Boston, but I got to say hello to each member as they made their way into Fenway. The only other thing that I know to say is, Dream on, Dream on, dream it 'til your dream comes true. Mine certainly did!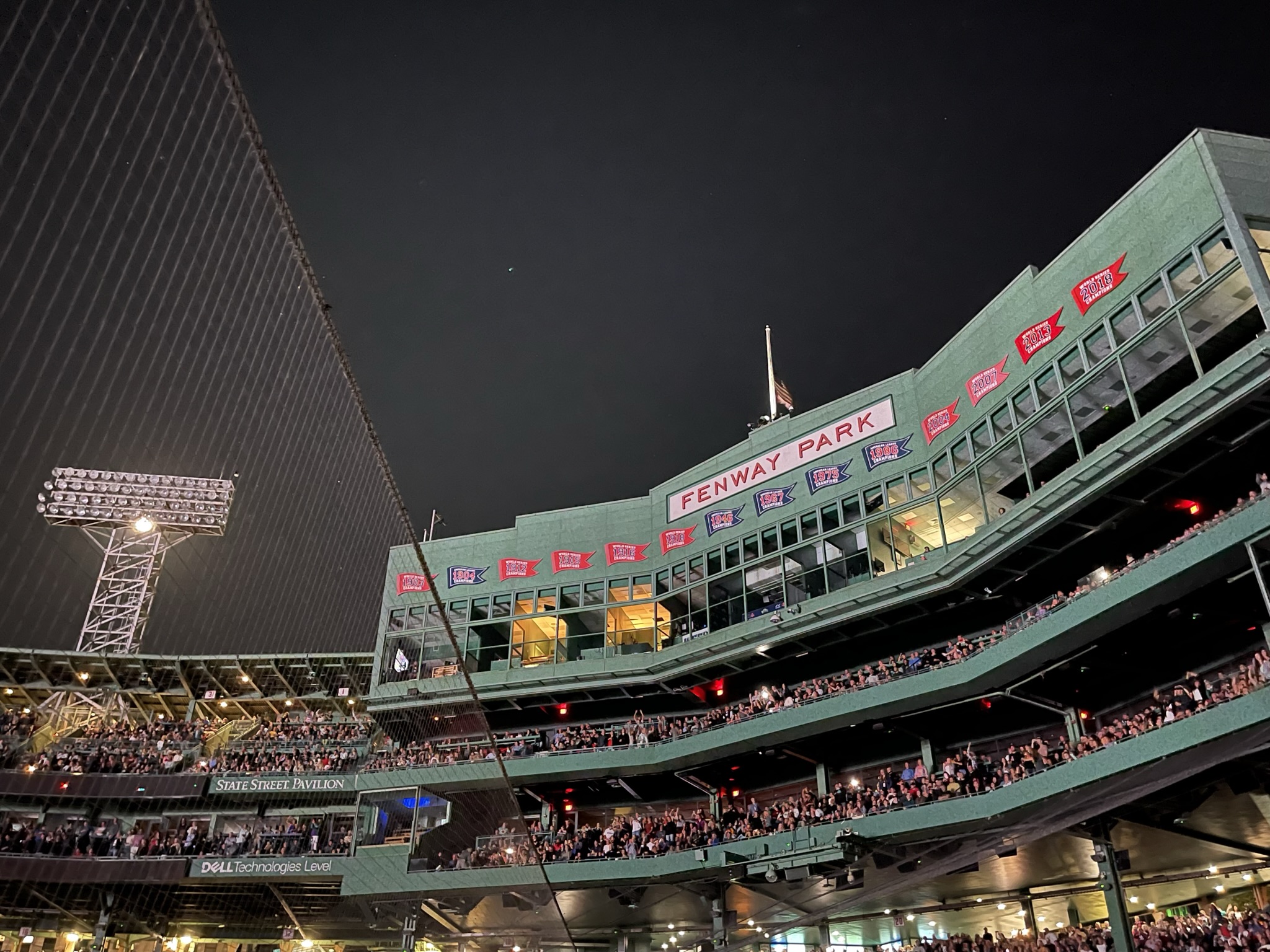 Setlist
– Back in the Saddle
– Same Old Song and Dance
– Rag Doll
– Mama Kin
– Remember (Walking in the Sand)
– Stop Messin' Round
– Cryin'
– Hangman Jury
– Seasons of Wither
– Toys in the Attic
– Livin' on the Edge
– The Other Side
– I Don't Want to Miss a Thing
– Love in an Elevator
– Draw the Line
– Dude (Looks Like a Lady)
Encore:
– Dream On
– Sweet Emotion
– Walk This Way