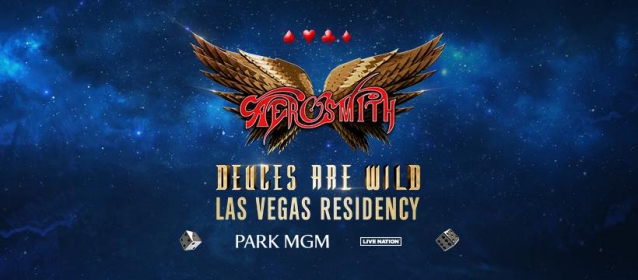 Aerosmith – April 8, 2019
Venue: Park Theater, Park MGM
City: Las Vegas, NV
---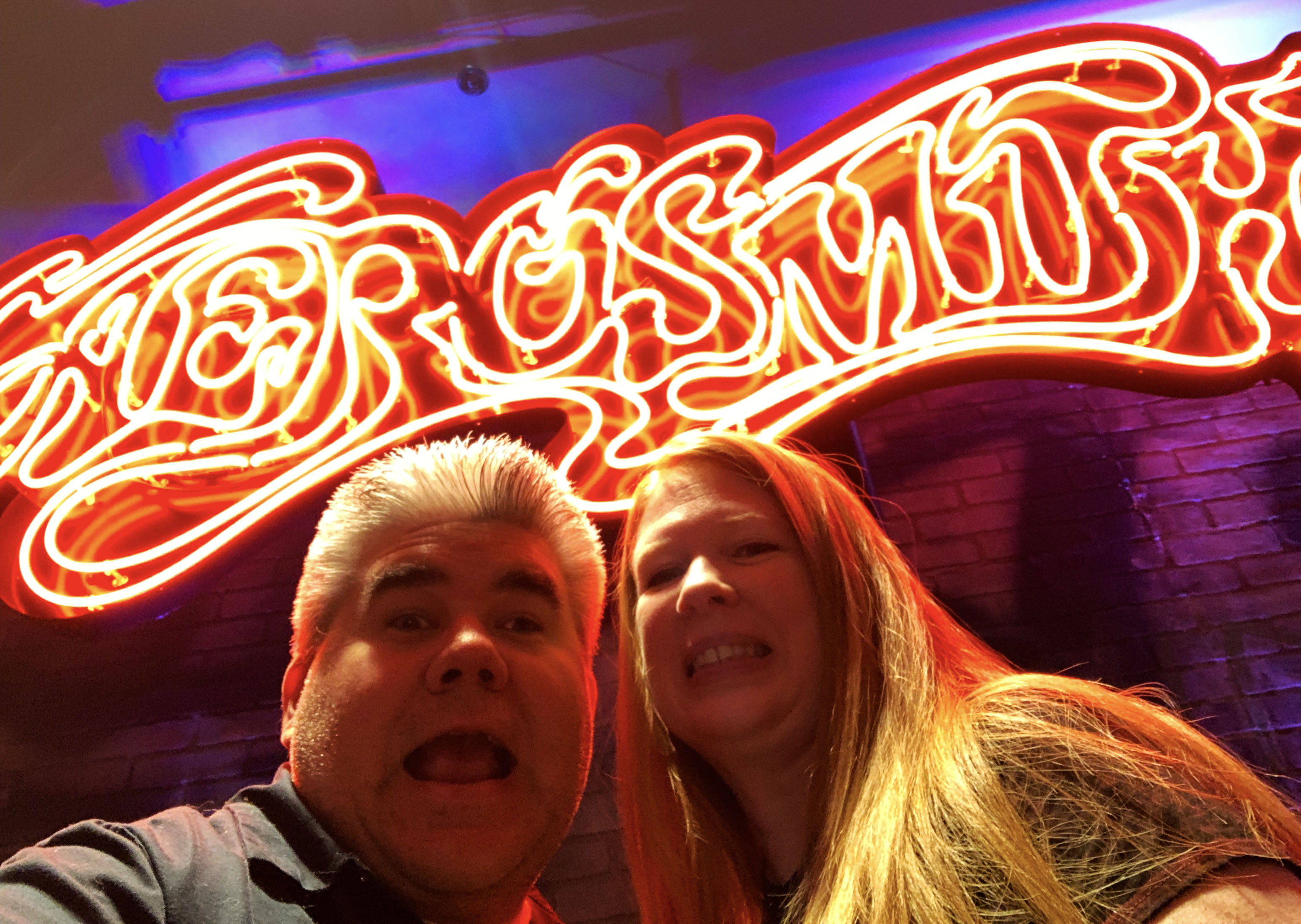 The Band:
Steven Tyler: Lead vocals/harmonica
Joe Perry: Guitars/vocals
Brad Whitford: Guitars
Tom Hamilton: Bass
Joey Kramer: Drums
---
The Set List
– Train Kept A-rollin'
– Mama Kin
– Back in the Saddle
– Kings and Queens
– Sweet Emotion
– Hangman Jury
– Seasons of Wither
– Stop Messin' Around (Joe Perry Vocals)
– Cryin'
– Living on the Edge
– I Don't Want to Miss a Thing
– Love in an Elevator
– Toys in the Attic
– Dude (Looks Like a Lady)
Encore:
– Dream On (Home Tonight intro)
– Walkin' The Dog
– Walk This Way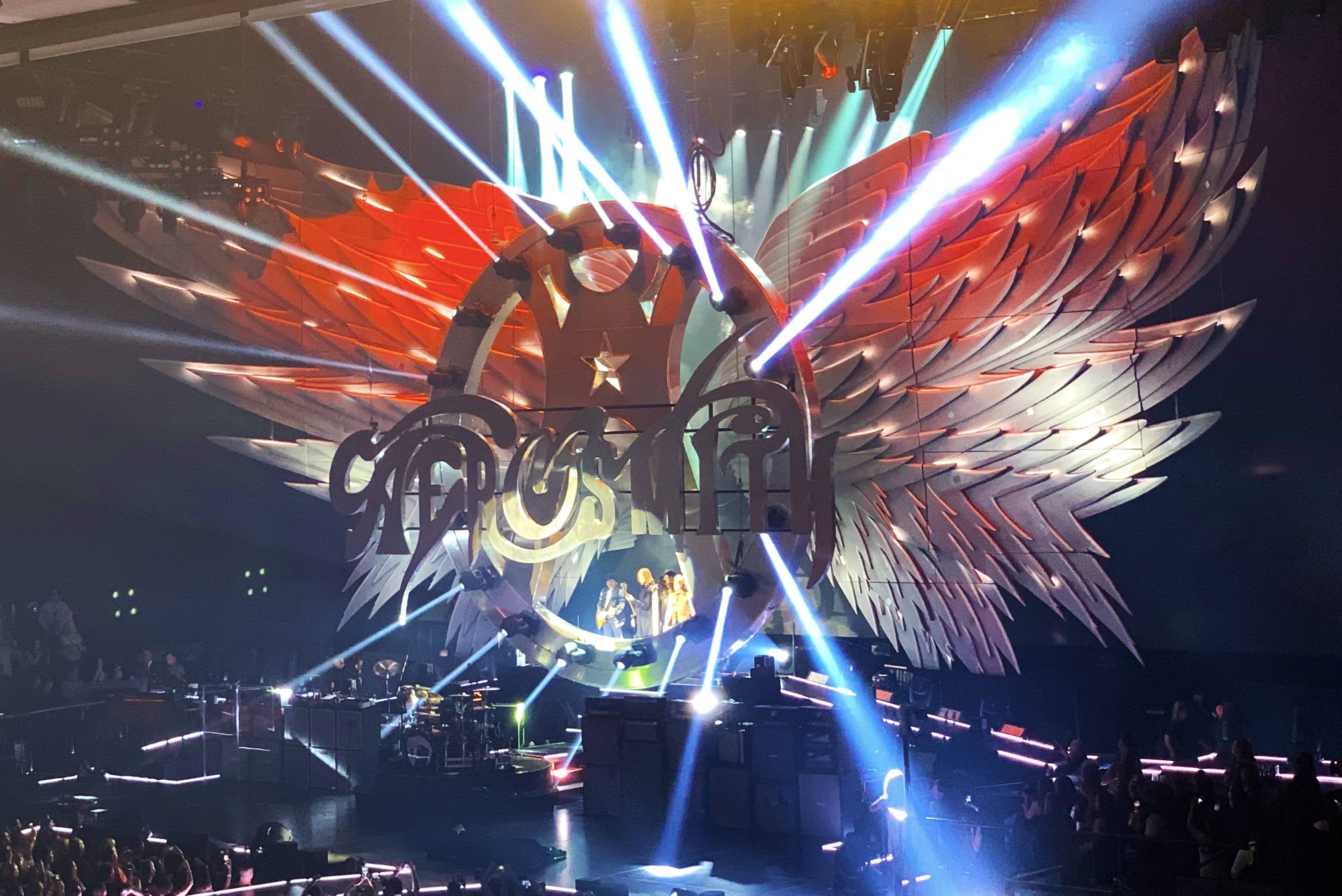 Our thoughts:
PUMP. That was my introduction to Aerosmith. I was at a friend's house and he put on the cassette. That was all it took. I was hooked. I was 13 years old and this music was the most exciting thing I had ever heard in my life. I immediately went out and bought the cassette for myself and listened to it over and over. After that, I would find a way to collect another ten dollars then ask my mom to take my to Music Land so I could buy another Aerosmith tape. At that time, I had no idea what I was getting when I was purchasing my first copy of "Toys In The Attic" or "Rocks." I just knew it was Aerosmith. I was consumed by this band…some would say I was obsessed. When I had managed to get all of the cassettes (I would later re-buy everyone of them on cd then vinyl) I would go on to buy my first Aerosmith t-shirt at Swallens department store in Cincinnati. This was the first of many. There were posters, magazines, home videos,Aero Force One fan club memberships. You name it, if it was Aerosmith…I had to have it. But my Aero-obsession would not be complete until I saw the band live.
June 21, 1993. That is the date it happened. That is the day I finally saw my favorite band live. It was the band's Cincinnati stop on the Get A Grip world tour at Riverbend Music Center. I can remember buying the tickets and waiting for the show to come. I waited and waited, and it seemed like mid-June would never arrive. But it did, and I was never the same after that night. With every song they played it was like hearing it for the first time. And then to see the man himself, Steven Tyler in person…forget about it! At that time, Steven Tyler and Joe Perry were the two coolest people in the world, and I was seeing them in real life. I can still remember that feeling I had throughout that entire show. You know when you get to the top of the first hill in a roller coaster and there is that brief moment before you start to go down? That is the feeling I had that night. Since that show, there have probably been 30 something more times where I have seen the band. And while I loved each and every one of them, there was only one that matched this one in June of 1993.
In 2018, Aerosmith announced they would be doing a Las Vegas run of shows in 2019. It would be called the Deuces Are Wild Residency, and I knew I had to go. My awesome wife surprised me with a pair of tickets to the second night of the residency for my birthday in September. I was overjoyed knowing I would get to witness this once in a life time opportunity. But much like that wait for June 21, 1993, it seemed like April 8, 2019 would never come. But come it did. Even though the residency started 2 days earlier and there were plenty of details about the show out there to be had, I didn't want to know anything. I made a very determined effort not to read anything about the set list, set, or any other detail about the show. I wanted to be completely surprised by every moment.
When we got to Vegas, it was clear that the city was in full Aerosmith mode. From the moment we got off of the plane and walked through McCarran Airport there were advertisements for the show. Other people would come up to us while we were waiting for our bags and ask if we were there for Aerosmith. When we said we were, we had the best conversations about when we have seen them before and what our favorite albums were. The vibe was cool from the start. When we walked through Park MGM casino, there were Aerosmith gaming tables. Yes, it was clear that Las Vegas belonged to Aerosmith and its fans.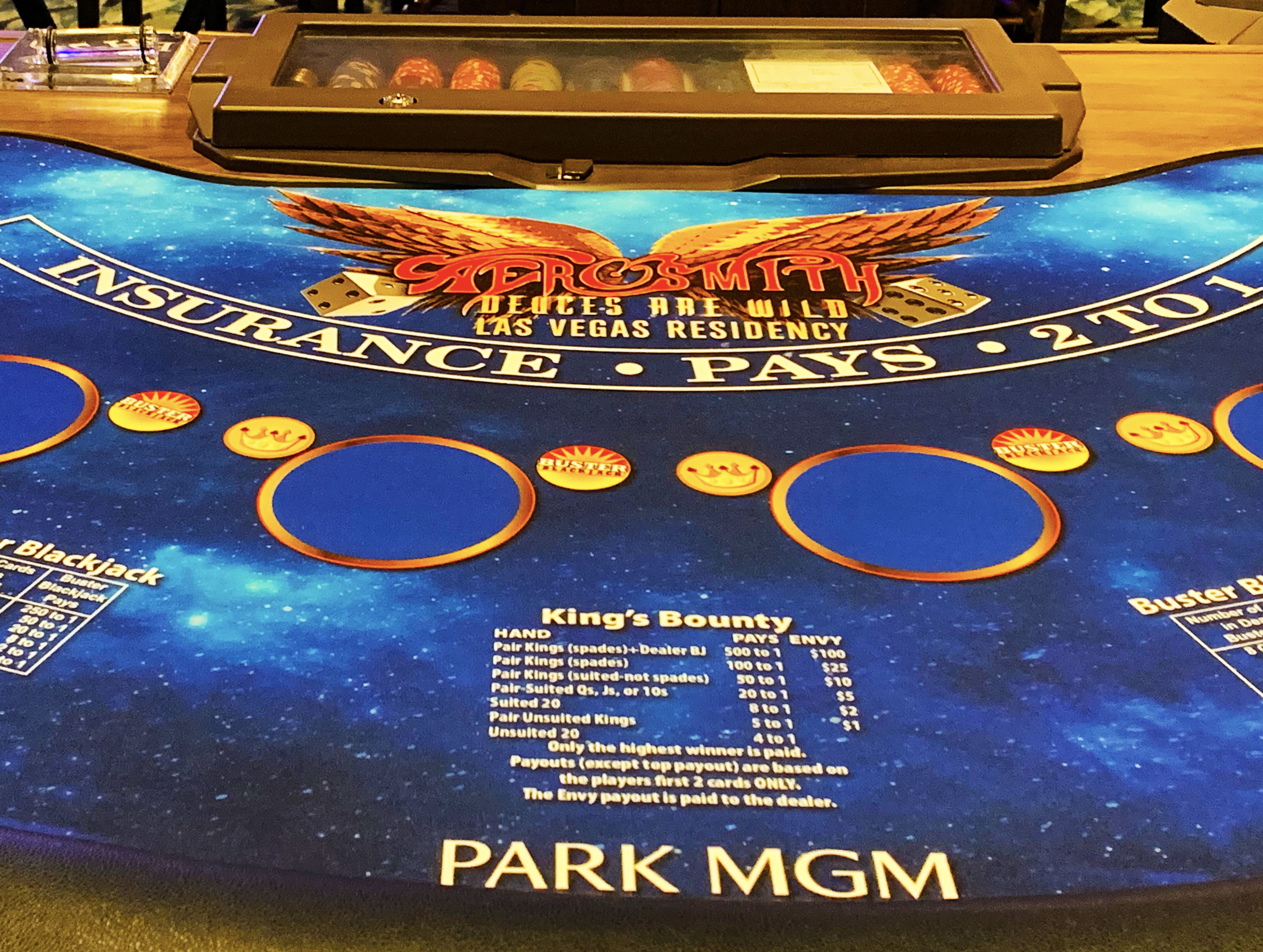 We got in line at the Park Theater inside the Park MGM early to ensure that we got in as soon as the doors opened. I am very glad that we did as there was much to see and do. First stop…merch. I highly recommend making the merch stand your first stop as it did not take very long for the lines to stretch out. The next stop was the mini Aero-museum that they had set up in the lobby of the theater. You could walk through and see old t-shirts and gear from the band's history. The experience was topped off by getting to see the band's original touring van. You may have seen this van featured on History Channel's American Pickers, It was so cool to see this piece of the band's history. There was also a chance to get your photo in front of the van by a professional photographer. Then it was time to take our seats. The experience leading up to the show was enjoyable as there were performers walking around bring to life the band's album covers for Nine Lives and Just Push Play. When 8:00pm finally came, a message came on the large video screen that the show would start in half an hour. Oh no…more waiting. But it was actually cool. A video then played that went through the band's history. Long story short here. If you are going to one of the shows…get there early as there is lots to see and do.
But finally, the moment I had been waiting for (and waiting, and waiting) finally arrived. The video finished, the lights went down, and it was time!  A large Aerosmith wings logo appeared on stage and in the center stood Joe Perry, Tom Hamilton, Brad Whitford, Joey Kramer and Steven Tyler. Aerosmith had taken the stage and there I was with that feeling of being at the top of the roller coaster once again. They came out with 'Train Kept A Rolling" and played one classic song after another. They were on fire. It was everything I had wanted and more. Steven had the crowd eating out of his hand from the first note and it stayed that way all night. There truly is no other front man, or human being quite like him. The only issue was with the crowd. There were those who got it. They were at a rock show. They stood, they danced, and they sang along. But there were those who chose to remain seated and yell at those standing. The choice is up to you. But when I am at an Aerosmith show, I am on my feet. The set had something for every one. There were songs from the classic 70's era, as well as tunes from the band's rebirth in the 90's. My favorites were the deep cuts that you don't always get to hear. This night it was "Kings and Queens" and"Walking the Dog."  There were many highlights for me from the night. I think the coolest is during the performance of "Toys In the Attic." During the song, large inflatable characters from the album cover came down from the rafters of the theater and danced above the crowd. To top the night off, a large catwalk lowered to the stage allowing Steven and Joe to walk to the back of the the theater to the balcony during the performance of "Walk This Way." It was the perfect ending to the perfect night. The night seemed to go by in the blink of an eye, but I loved every moment of it. I was 13 years old again hearing it all for the first time. I guess in reality I was a 41 year old man remembering just why Aerosmith was, is, and will always be my favorite band.