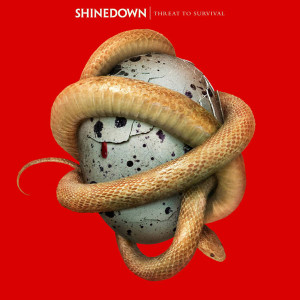 With the release of their latest album, "Threat to Survival," Shinedown offers a motivational kick in the ass to anyone who listens to it. The album, the first since 2012's "Amarylis," serves as a battle cry of empowerment to the listener. You have to  wonder if the band was exposed to a large amount of gamma rays or was bitten by a radioactive spider during the recording process because they deliver a super hero level performance on this eleven song blockbuster. "Threat to Survival" is a call to action for anyone who hears it.  The songs are big, bold and powerful, with themes of overcoming, recovery and strength. This record will undoubtedly be played in locker rooms prior to a big game, in gyms during  a tough work out, and in headphones during hard times.  Songs like "State of My Head," "Outcast," and "Black Cadillac," will have you walking with your chest puffed out and feeling like you are an extra ten feet tall.
Lead singer, Brent Smith's vocals have never been so intense or passionate. It is clear that he believes in every word that he is singing. You can almost envision him with war paint on his face getting the troops fired up to go into battle. The rest of the band is playing just as ferociously. The guitars on the record from Zach Myers are crushing, and Eric Bass and Barry Kerch's rhythm section provide the adrenaline pumping pulse of the record. Shinedown has managed to figure something out that very few bands of their tenure have managed to do. That is allowing their music to grow, while still remaining true to their signature sound. There is no doubt when you listen to these songs that it is a Shinedown record, but through arrangements, production, and performance they take their sound to a new level. This is a very tough thing for a band to do.  If they experiment or change too much, they alienate longtime fans or get accused of going commercial. If they don't change enough, they get dismissed under the pretense that all of their stuff sounds alike. A very popular metal band just came back with a new album after a hiatus only to overwhelmingly fall into the second scenario. Fortunately, Shinedown has managed to find the perfect balance.
"Threat to Survival" is a record for the underdogs out there. It is for the outcasts and misfits. For longtime Shinedown fans it's a no brainer….buy this record if you have not already. If you are looking for a good rock n' roll record, or perhaps some audio encouragement, this record is for you too!!
*** The Music Room's favorite tracks are  "State of My Head," "How Did You Love," and "It All Adds Up."
Be sure to catch Shinedown on October 4th as a part of