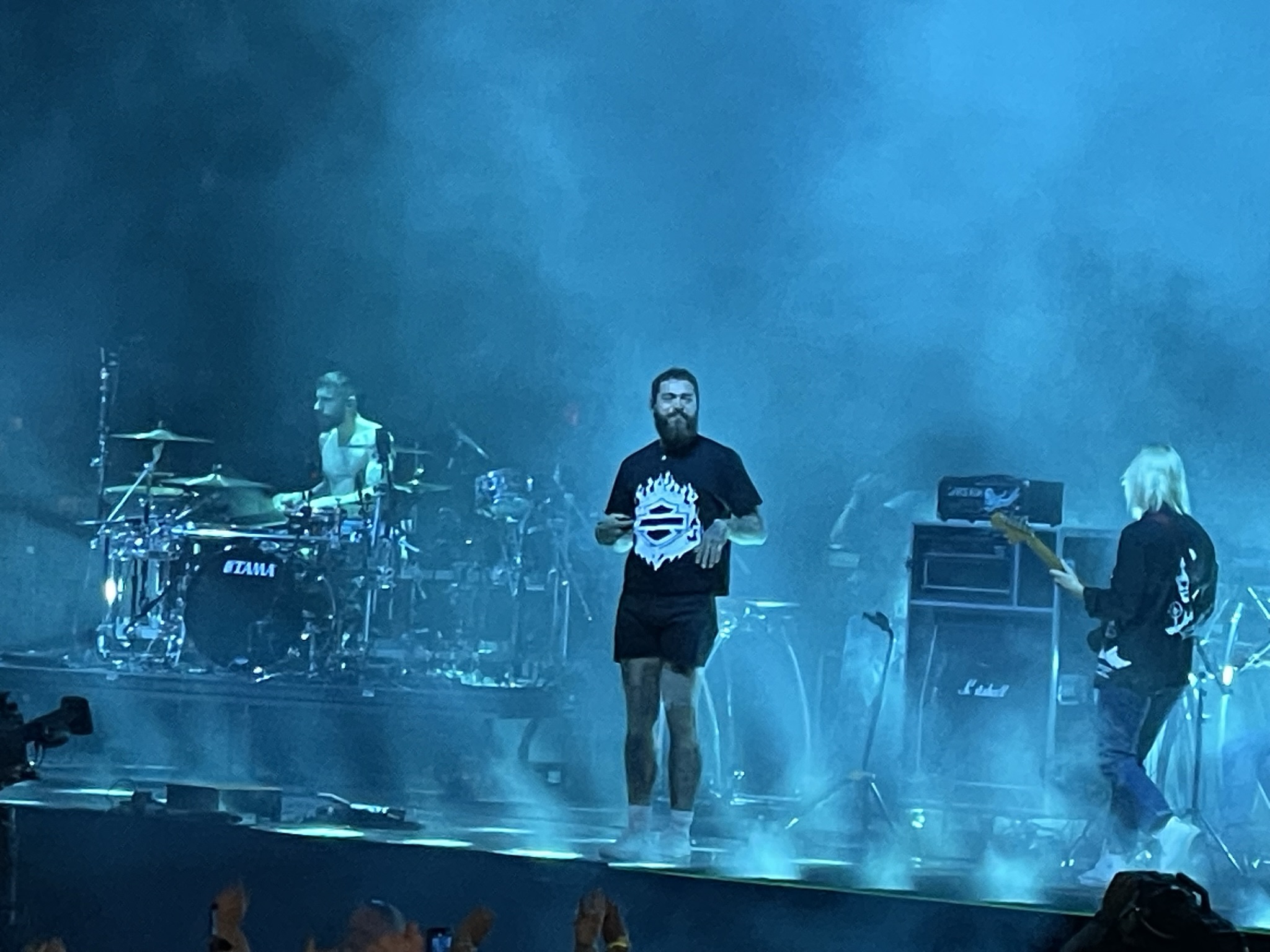 Post Malone – July 9, 2023
Riverbend Music Center – Cincinnati, OH
w/ Beach Fossils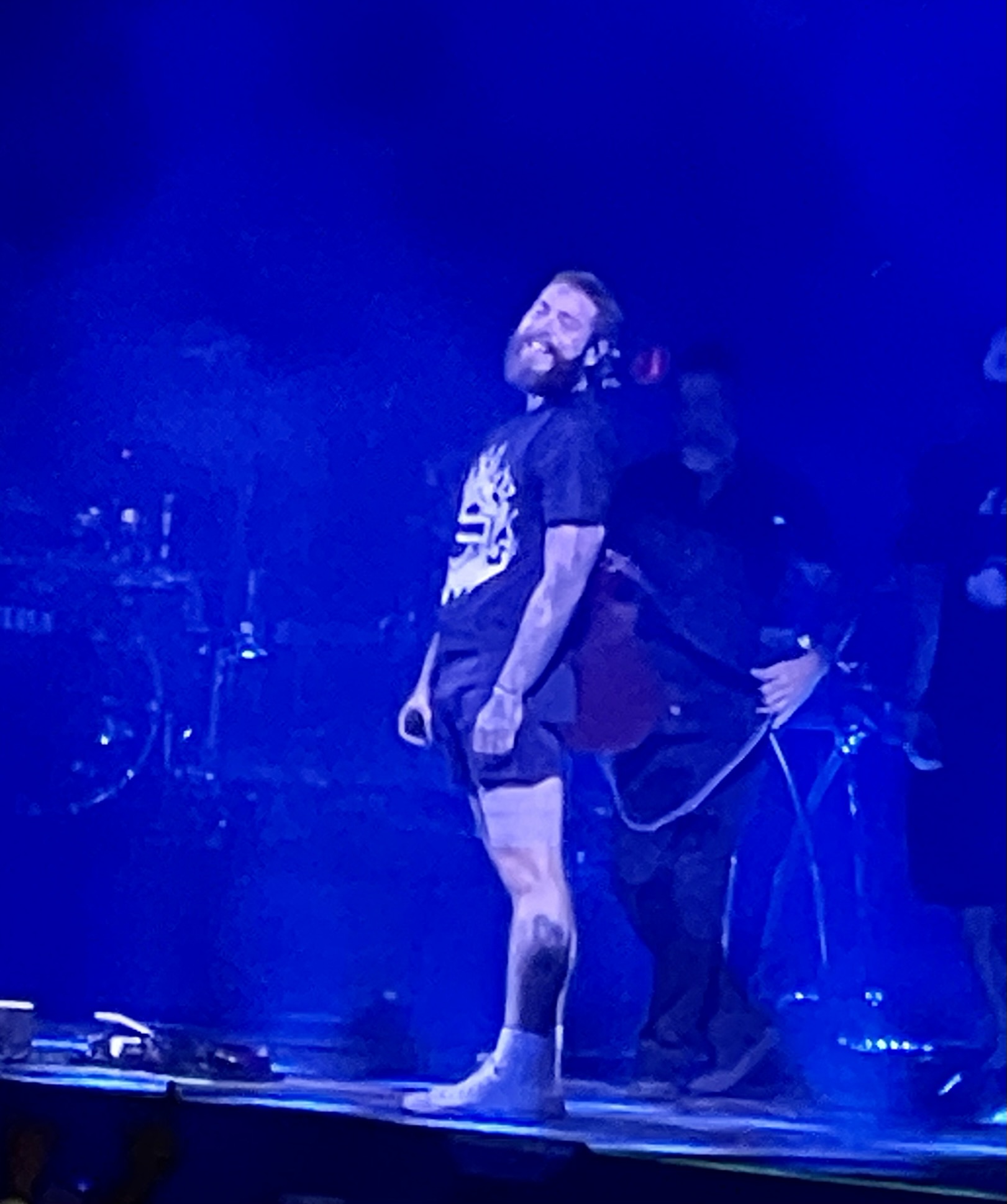 Post Malone sucks. That is what a lot of guys my age will tell you. Now mind you, they have probably never heard any of his music, let alone seen him play live. Full transparency, that was probably me a few years ago. But luckily, as I have mentioned before, I am lucky to have nieces that are all too happy to set me straight. My niece, Ashley, in particular, changed my thinking when it comes to Post Malone. You see, Posty is her favorite artist whom she has seen live now over 30 times. She has even met Post on a couple of occasions. While those are her stories to tell, I can tell you that something changed inside of me as she told me about one of her encounters. Picture the Grinch when his heart grows 3 sizes when he gets the Christmas spirit. That is what my Posty-meter did.
My first step into my Post Malone journey came with the album, Hollywood's Bleeding. It was my first time sitting down listening to one of his records, and you know what, I liked it…a lot. Then I went back and checked out some of the other music, and liked it as well. Then there was the time during the COVID shutdown when Post and his band performed a Nirvana tribute concert. In case I needed to be sold any further, this took me over the edge. Then you throw in some collaboration with Ozzy Osbourne, and there is no questioning that Post Malone is the real deal.
But there was one last piece of the puzzle for me to complete my full transition into becoming a full-fledged Post Malone fan, and that was seeing him play live. Fortunately, I was able to finally cross this off my list when Malone brought his, If Y'All Weren't Here, I'd Be Crying world tour to Riverbend Music Center in Cincinnati, OH this past Sunday night. I was fortunate enough to experience Posty live for myself.
While Ashley has told me how great Post Malone shows are, I really didn't know what to expect. But From the very start, any expectations that I did have were exceeded. I was definitely not expecting the show to start off with a string quartet, but that is just how it did. From then, a full band hit the stage and the man himself hit the stage and the sold-out crowd went crazy. The next two hours were a complete love fest between an artist and his fans. From the very first song, Malone would make heart signs with his arms towards his fans, and would even get down up close and personal with the fans in the pit. The singer was even gifted with a Dallas football jersey for his young daughter from a fan, to which was met with loud chants of, "WHO DEY!"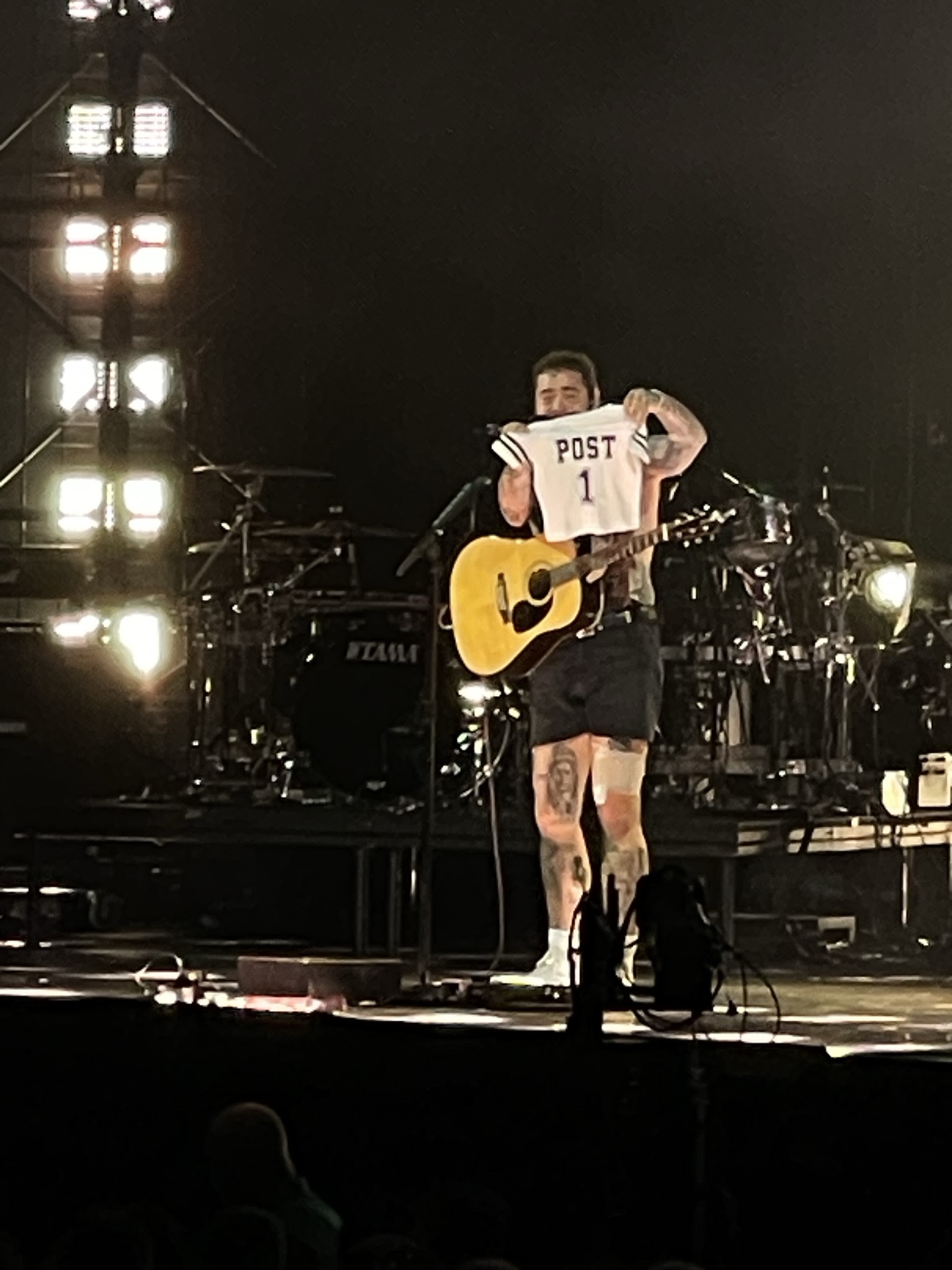 The thing that really struck me the most about Post Malone is that the guy is a bonified rock star, but doesn't really seem to know it. You have this kid (I can say that cause I'm old) up on stage named Austin. He is a humble guy who is a little shy and has a potty mouth telling you about these songs that he wrote. But when he starts to play them, he goes into rock star mode and Post Malone takes full control. I'm not sure if that makes a whole lot of sense without seeing it, but it made for one of the most genuine performances I have ever seen. I just wanted to be friends with that guy.
I can't tell you how this show compares with any other Post shows. I can't judge the setlist or what he should have played as opposed to what he did play. But I can tell you that for my first Post Malone concert ever, I thought it was perfect. 2 hours, 25 songs, and the good vibes never stopped. I truly cannot wait until my next chance at getting to see Posty live again. I also cannot wait for his new album, Austin, to drop on July 28th.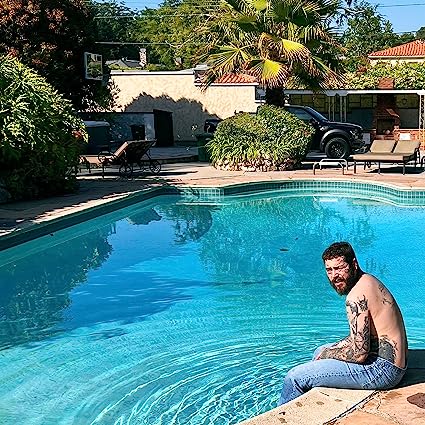 Setlist
– Better Now
– Wow.
– Zack and Codeine
– Psycho
– Goodbyes
– Hollywood Dreams / Comedown
– Mourning
– I Like You (A Happier Song)
– Jonestown
– Take What You Want
– Over Now
– Rockstar
– Feeling Whitney
– Stay
– Overdrive
– I Fall Apart
– Wrapped Around Your Finger
– Circles
– Enough is Enough
– Too Young
– White Iverson
– Congratulations
Encore:
– Broken Whiskey Glass
– Sunflower
– Chemical