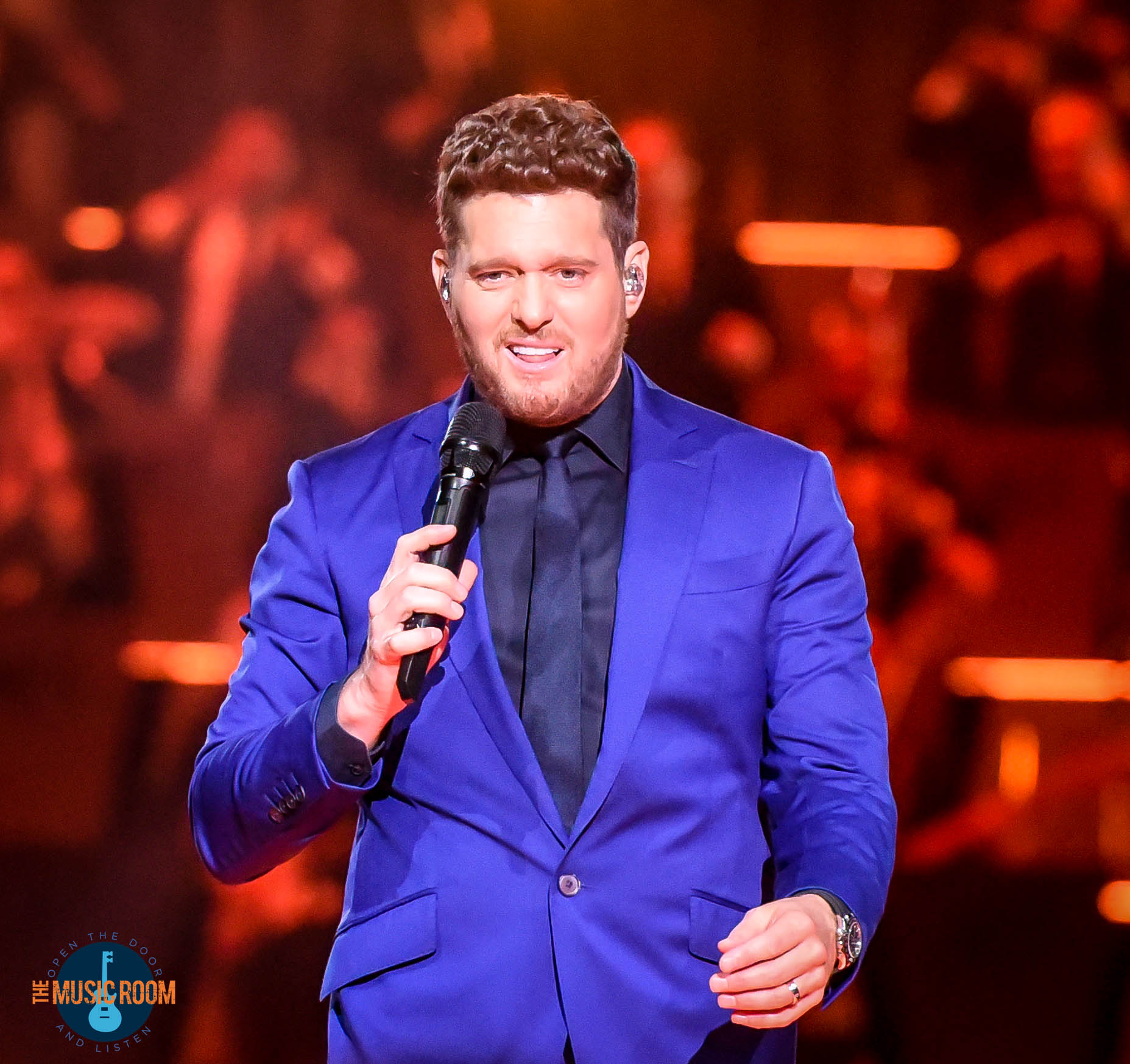 Michael Bublé – August 16, 2022
Bridgestone Arena – Nashville, TN
Sometimes there are artists, that for one reason or another, you just miss every time they come to town. Not because you don't want to see them, but just because there always seems to be something else going on that keeps you from going to see them. Michael Bublé was one of those artists for us. As much as we enjoy his music, whenever he would come through Cincinnati, we just couldn't make it. So when we saw that he was bringing his Higher Tour to Bridgestone Arena in Nashville, TN, we thought a road trip was well worth getting to finally cross Michael Bublé off of our concert bucket list. We were right!
I knew going into our Michael Bublé Nashville experience that the show was going to be good. How could it not? Michael's voice and catalog of music are impeccable, and we had heard rave reviews from plenty of people that had seen him before. So there was not much risk in making the 4 and half-hour drive down to Music City. But I had no idea just how good that show was going to be. So good in fact that when it was over, Candy and I just turned to each other in complete amazement. Michael Bublé was the total package. Obviously, he has the talent. But in addition to just being a good…great singer, he was engaging and most notable, he was genuine.
During the 2-hour set, Michael Bublé masterfully delivered songs from The Great American Songbook, as well as songs from his 20-year discography. One of the highlights of the set was a medley of Elvis songs that Bublé and members of his band performed to honor The King on the 45th anniversary of his passing. The tribute was performed at the end of the catwalk with band members on each side, giving a '68 Comeback Special vibe. Another personal highlight came when Michael sat next to his piano player and delivered a version of Charlie Chaplin's "Smile" that nearly brought a tear to the eye.
In between the amazing song performances, Michael Bublé would take moments to chat and spend time with his fans. Not just banter that is repeated at every show. He made true and real connections with his fans. He would get off the stage to take time to acknowledge signs that fans had made or to share his microphone with them to let them sing along with the songs. More than once he would take a fan's iPhone and record himself and the band performing a song and then toss it back to them. Talk about a souvenir! Perhaps the coolest fan moment came at the end of the show as Michael was autographing the signs the audience members made wearing his custom Nashville Predators jersey. When Bublé was getting ready to leave the stage he made eye contact with a fan and pointed to them very intentionally. He then took off the jersey, and tossed it to the fan! There is something you will never forget. The moments in between the songs were just as entertaining as the songs were thanks to Michael's larger-than-life personality.
I used the word genuine earlier, and I want to touch on that before wrapping things up here. I have seen enough shows in my years to be pretty good at telling when someone is just going through the motions and hitting cues during a concert. That was not the case during this Michael Bublé Nashville concert. The show was spontaneous and fun and was just as much about the amazing band that was backing up the superstar and the fans that came to see him. You felt that because Bublé made that point very clear. He could not express his appreciation for his band or fans enough throughout the entire evening. At the end of the show, he walked to the end of the catwalk and turned the stage over for his band to recognize and appreciate them for their massive talent. Then Michael Bublé took to the microphone and thanked everyone once again, and made sure to even acknowledge the venue and everyone working there. I am telling you, I have never seen that kind of appreciation come from an artist before. Above and beyond, and very cool. I don't know if I have ever truly felt more appreciated as a fan than I felt at the end of that Michael Bublé Nashville show.
When you do what we do here at The Music Room, you go to a lot of shows. A lot! When the lights went up in Bridgestone Arena after the final song, I declared to Candy that this show was easily in my top 10 shows…ever! That is not a declaration that I make lightly, and I stand behind my assessment. One thing I can promise, next time Michael Bublé comes to town…or close to town, we will never miss him again! And neither should you.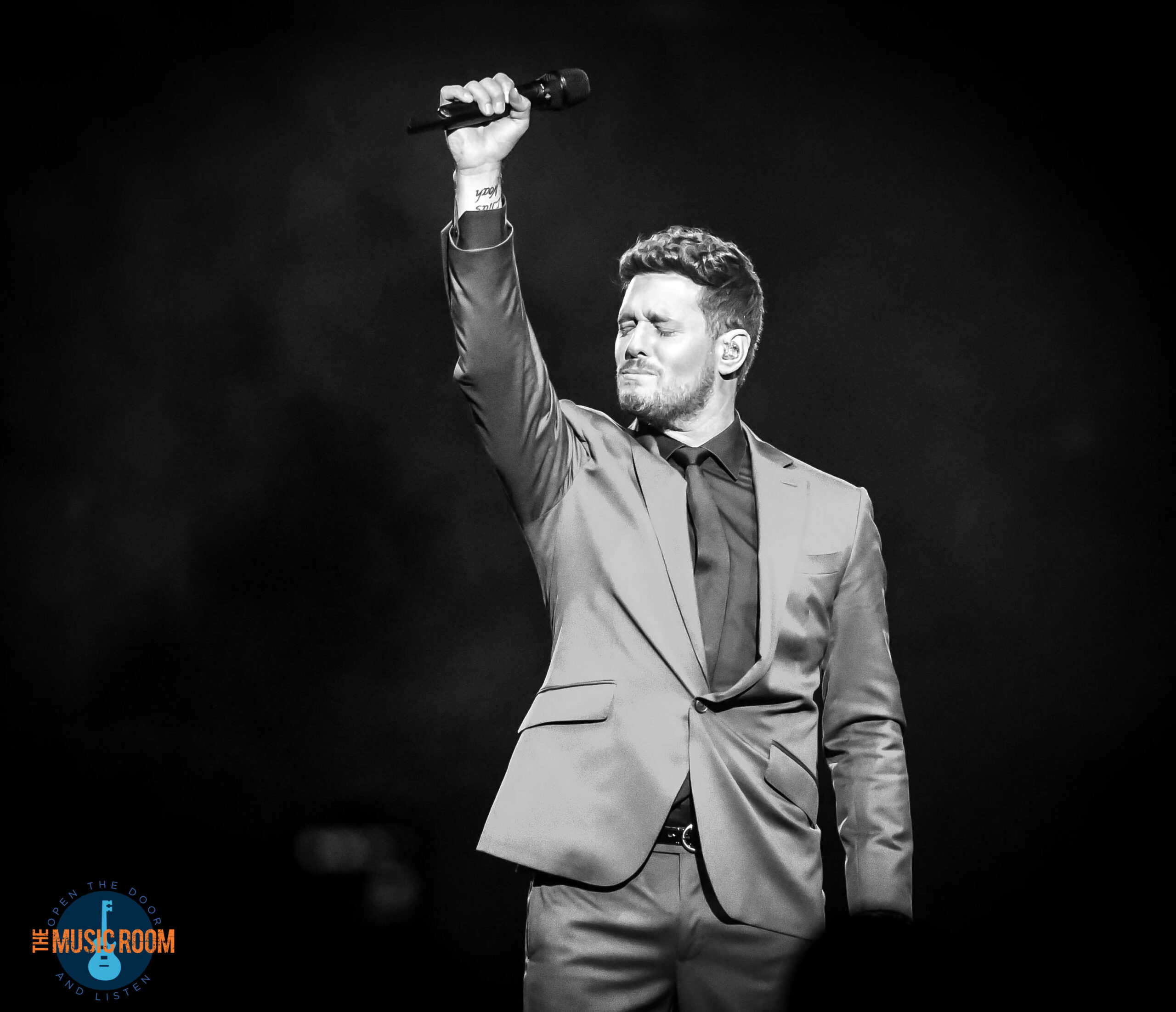 Setlist
– Feeling Good
– Haven't Met You Yet
– L-O-V-E
– Such A Night
– Sway
– When Your Smiling (The World Smiles With You)
– Home
– Everything
– Higher
– To Love Somebody
– Hold On
– Smile
– I'll Never Not Love You
– Elvis Tribute: Fever / One Night With You / All Shook Up / Can't Help Falling In Love
– You're My First, My Last, My Everything
– It's A Beautiful Day
– Bring It On Home to Me
Encore:
– Save the Last Dance For Me
– How Sweet It Is (To Be Loved By You)
– Cry Me A River
– Always on My Mind
Photo Gallery 
As an affiliate marketer, we may earn from qualifying purchases. If you choose to purchase an item we have shared, we may earn a small commission at no additional cost to you.