As I sit here trying my best to come up with the words to describe the experience of seeing Pink during her Summer Carnival tour stop here in Cincinnati, I find myself struggling. If you were there, you know that you were a part of something truly special, that perhaps surpasses words. But as I continue to search for words, I keep coming back to the title of Pink's latest album, Trustfall. A trust fall is described as an act of intentionally allowing oneself to fall trusting that someone else will catch them. To me, this sentiment perfectly captures what happened between an artist and her 36,000 fans, or friends in attendance.
These big stadium shows can sometimes feel very impersonal where it feels like the performer is miles away from the audience. But that was not the case for Pink. Rather, this night felt more like you were there to visit an old friend that you haven't seen in a while. Maybe since 2007, the last time Pink played Cincinnati. Over the course of 2 hours, the superstar and her guests talked about life. There was laughter. There were tears. And of course, there was plenty of music. GREAT MUSIC.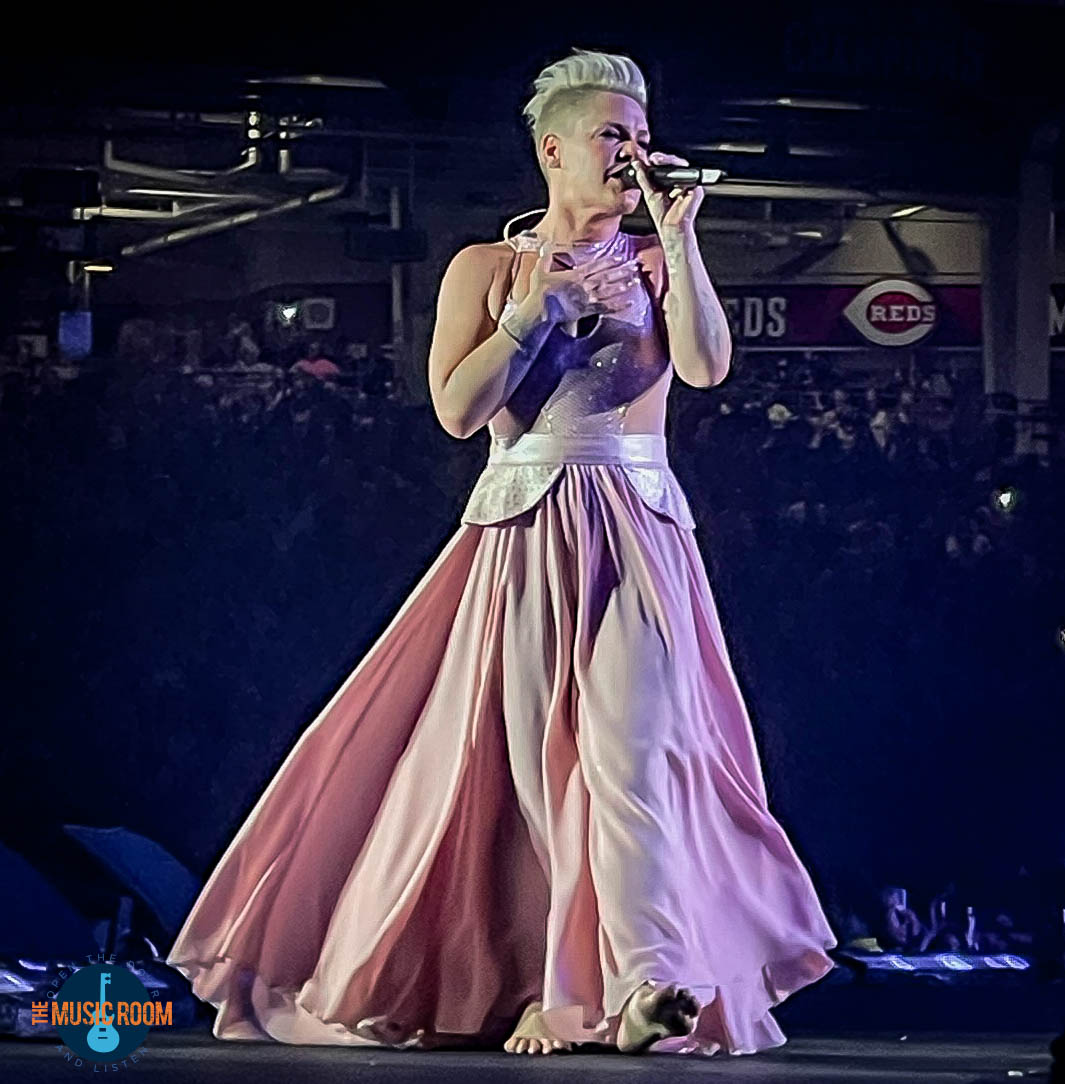 When Pink wasn't ascending or dropping from the sky, she would tell us about her kids. After delivering one of her iconic songs, she was accepting gifts such as socks, paintings, and aprons from her fans. As big of a production as the Summer Carnival was, the night always felt loose, free, and real. Yes, real is another word that perfectly captures the evening as well. I feel very strongly there was no script for the evening. The engagement from the stage was an honest and genuine reaction to what Pink was receiving from the crowd. My belief is that no 2 nights on the Summer Carnival tour are the same.
Our show here in Cincinnati also was special as it was held on the same day the world found out about the passing of the Irish singer-songwriter, Sinéad O'Connor. After explaining she use to sing O'Connor's songs in her car as she was cutting her teeth as a young singer, Pink brought out her friend Brandi Carlile for a cover of "Nothing Compares 2 U" written by Prince, and made famous by Sinéad O'Connor. The moment was truly moving which caused goose bumps, chills, and plenty of tears.
I have only scratched the surface of what it was like witnessing the Summer Carnival tour. You can be sure that Pink sounds better than she ever has. You can know that you will be entertained, no matter where your seats may be (keep your eyes to the sky…you never know who may fly by.) And you can count on that Pink is everything you want her to be and more. Get ready to laugh, cry, sing, and dance…sometimes all at the same time. And if you are going through some stuff and need some love, Pink is waiting with a TRUSTFALL.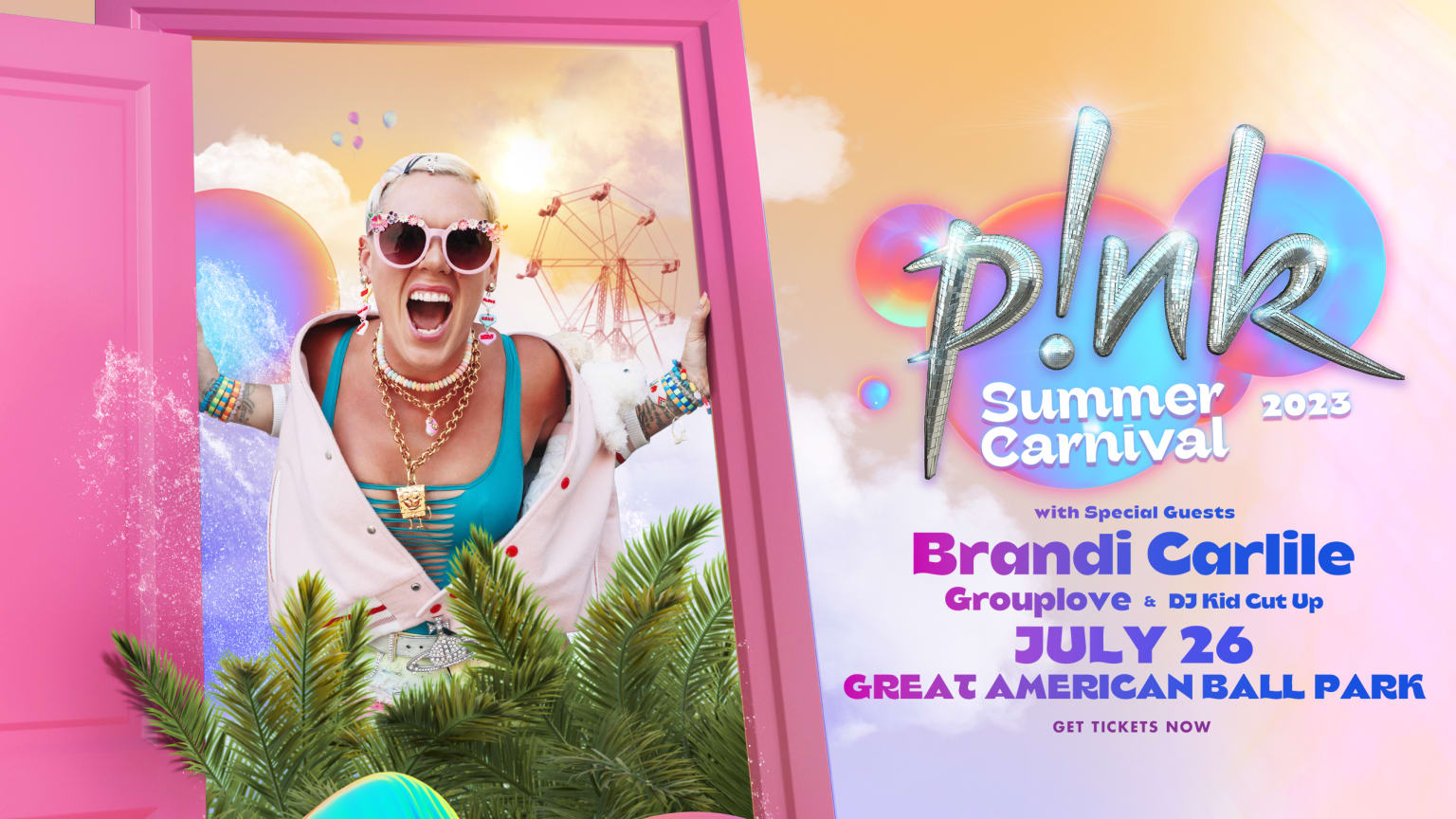 Cincinnati Setlist – Great American Ballpark
– Get the Party Started
– Raise Your Glass
– Who Knew
– Just Like a Pill
– Try
– What About Us
– Turbulence
– Make You Feel My Love (Bob Dylan cover)
– Nothing Compares 2 U w/ Brandi Carlile (Prince Cover)
– Just Give Me a Reason
– F**ckin' Perfect
– Just Like Fire /Heartbreaker (Pat Benatar cover)
– Please Don't Leave Me
– Kids in Love
– When I Get There
– I am Here
– Irrelevant
– No Ordinary Love (Sade cover)
– TRUSTFALL
– Blow Me (One Last Kiss)
– Never Gonna Not Dance Again
Encore: 
– Last Call
– So What