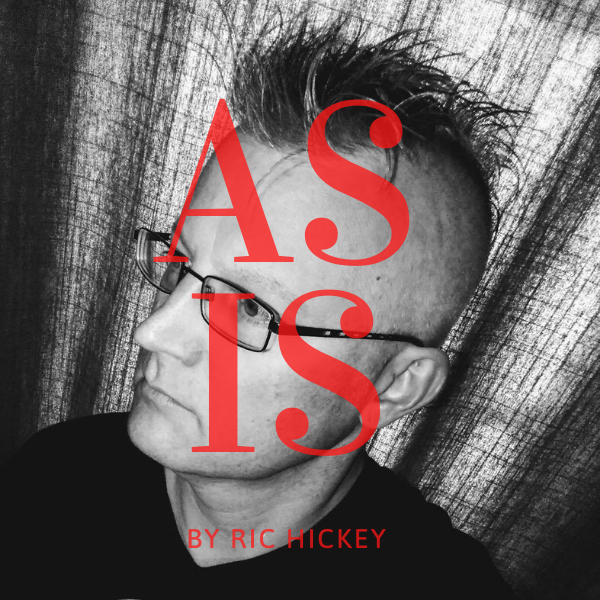 My Career In Record Stores – Part III
By Ric Hickey
1985 brought with it the arrival of the first CDs. Originally they were packaged in the long box blister packs and all of us at Record Bar (except Alex and his lizard heads) thought they were bullshit. We got a CD player for the store and busted open a copy of Fleetwood Mac's Rumours. A fan of the original band with Peter Green, my buddy Paul said, "Now you can really hear how shitty this record is." In the band's defense, that first issue of Rumours on CD is now notorious for its poor transfer from analog to digital. It may actually have some value on the collector's market today, but back then it just sounded like a bad cassette copy and it only fed our suspicion that all was not as promised with this new format. Record industry marketing mavens claimed that CDs were unbreakable and supposedly you couldn't even scratch them. I think we put the lie to those claims within the first hour after their arrival in the store. They also promised that the fifteen dollar list price would eventually come down as initial production costs leveled out. That was 35 years ago and most of the things are STILL $15 new. CDs would eventually kill off cassettes for good. And they nearly did the same to vinyl records. But now – how many decades later? – CDs are no longer the belle of the ball of course and many say they'll go the way of the Dodo in the near term. But at this point, it could be argued that CDs, LPs, and downloads have happily co-existed in the market place long enough now to suggest a standoff in the long-running format wars.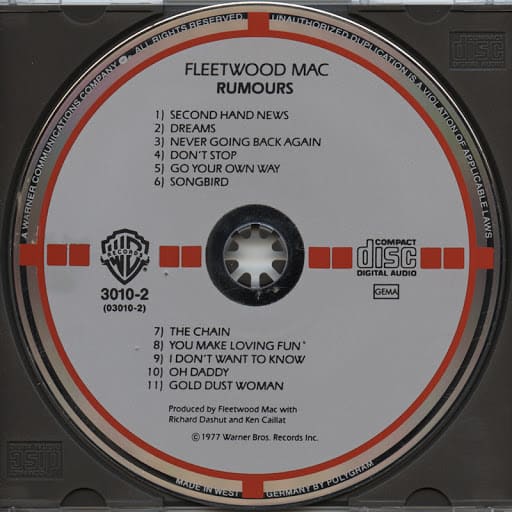 Claiming allegiance to no single genre, my taste in music was all over the map when I was a teenager. Working at a record shop in the mall, I was the proverbial kid in a candy store. In 1985 alone there were releases that are now considered legendary from John Fogerty, Phil Collins, The Firm, Prince, Stormtroopers of Death, Dire Straits, Motley Crue, Sting, John Cougar, Tom Waits, The Jesus and Mary Chain, the Highwaymen, Robert Palmer, and "We Are The World", to name just a few. But it was a band from Minneapolis called the Replacements that caught my attention over all the others. I was still interested in Hard Rock and Heavy Metal more than anything else. Growing my hair out for the first time since leaving home, it was faded jeans, Converse Chuck Taylors, and black t-shirts that were my uniform then as now. Van Halen was still my religion. But, as David Lee Roth left the band and their future seemed uncertain, there was a lot of watered-down overproduced garbage Hair Metal flooding the market. For the first time in my life, I realized that the real sparks were flying outside of mainstream popular music. Pretty much all bets were off after my buddy Paul snuck me into the Jockey Club to see the Dead Kennedys. Up to this point in my life, virtuoso musicianship was purported to be the unique province of Heavy Metal and Progressive Rock musicians. When I saw the Dead Kennedys I was just a kid. The mosh pit, slam dancing, and stage-diving scared the Bejesus out of me. I'd never seen any shit like that before. But as I watched the band performing that night at the Jockey Club, I remember thinking, "These motherfuckers can PLAY!"
The Replacements' Let It Be LP came out in 1984 and it remained in heavy rotation at Record Bar throughout the following year. We wore the groove out on that thing. Just grinded it down. In retrospect, it's funny to think about how the Replacements' ramshackle rendition of the KISS song "Black Diamond" from that LP drew a clear line in the sand. At first, I hated it. Thought it was sacrilege. But it was the rare joke that got funnier every time you heard it. KISS was so fucking lame in the 80s they made it easy for me to turn my back on them. Meanwhile, the Replacements packed more raw power into 90 seconds of "Tommy Gets His Tonsils Out" than KISS would be able to muster again for the rest of their career.
An ambitious teenage guitarist and songwriter coming of age in the mid-'80s, it was just a matter of time before I discovered Bob Dylan. The cheesy synthesizers and piss poor production of Bob's 1985 LP Empire Burlesque couldn't overshadow the great songs and brilliant lyrics therein. Paul said, "Shit. That's nothing. Check this out," as he handed me a copy of Blood on the Tracks. Though it was expressly forbidden by company policy, we used to regularly crack the cellophane on LPs we had on the shelves so we could play them in the store. I can still remember dropping the needle for the first time on "Tangled Up In Blue". That was my first step down the path to becoming the obsessive Bob Dylan fan that I still am today. Rolling into 1986, Paul would also introduce me to the music of the Stooges and Iggy Pop. The Punk thing was getting into my blood.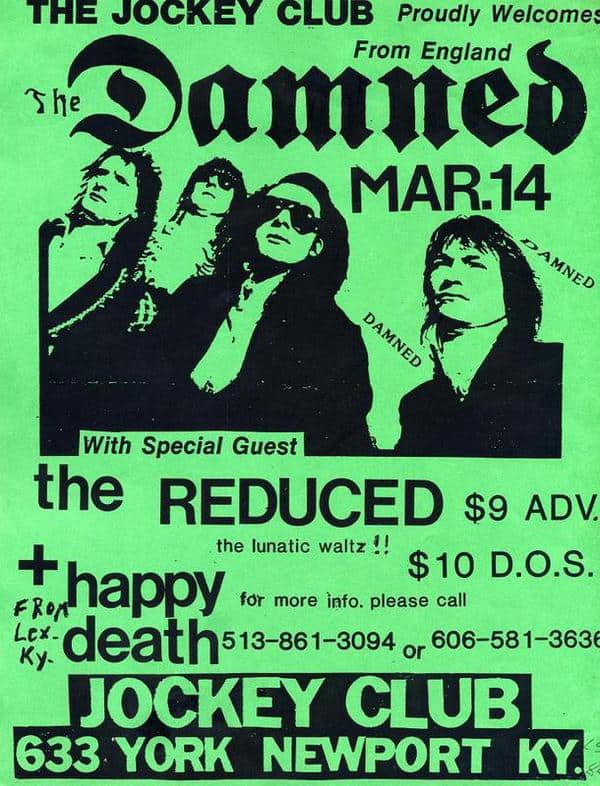 It was early in 1986 when Paul began conspiring to bring British Punk legends the Damned into Record Bar for an in-store appearance. With the band already booked for a show at the Jockey Club in March, we were shocked to find their record label was reluctant to promote them at all. Paul and I called every MCA Records regional office around the country until we finally found a label rep on the West coast who was willing to help us. They sent us a ton of promotional materials and we plastered posters of the Damned all over the store. When the big day finally arrived (March 14, 1986), the mall was literally overrun with Punk Rockers and Goth kids. You have to remember, this sort of scene was totally unheard of back then in Cincinnati. The mall regulars, little old ladies, and suburbanites were in no way prepared for the sight of several hundred sulking kids with mohawks, leather jackets, torn jeans, thick eyeliner, combat boots, and facial piercings. It was like an alien invasion. At the appointed hour a tour bus pulled up behind the store and the band tumbled in through the back door. Their road manager rolled in a giant cooler and soon cold bottles of lager were being passed indiscriminately around the store with no one checking IDs. Instead of taking their seats behind the table that we had set up for them, the band members sat on the table or stood greeting the hundreds of fans waiting in line to meet them. The Damned's music blasted in the store for the next few hours as they graciously signed autographs and posed for pictures. When the crowd thinned out the band members began to browse around the store, eventually settling on some Classical music and Stevie Ray Vaughan cassettes to listen to on the tour bus. Drummer Rat Scabies called his family back home in England on our phone, running up hundreds of dollars in long-distance charges. Onstage that night at the Jockey Club, singer Dave Vanian said, "This one goes out to all the slobs at Record Bar" as the band launched into their rendition of Iggy Pop's "Lust For Life". Only two weeks earlier in the same venue, Paul had introduced me to legendary New York Dolls' guitarist Johnny Thunders when he came through town. I was 18 years old.
Stay tuned for more from Ric!