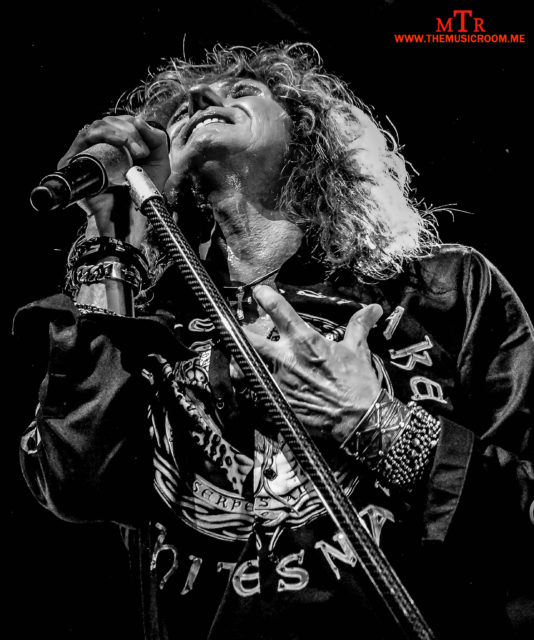 English gentleman by day. Rock n' Roll bad boy by night. David Coverdale is truly the James Bond of the rock n' roll world. Mr. 007 brought Whitesnake into Cincinnati's PNC Pavilion this past Tuesday night for a stop on the band's "Greatest Hits Tour." As if the June evening was not hot enough, Coverdale and his comrades made things even hotter because they were on fire during their set.  While the band had played in the area last summer, unlike so many other bands coming to the area, Whitesnake put on a completely new show for their die hard fan base. Last summer's tour saw the band focus on Coverdale's days with the legendary Deep Purple, this year's tour was all about Whitesnake. From "Slide it In" (the second song of the set) to "Still of the Night" (last song played), just about every song could have been an encore performance. This fact speaks to the depth and quality of the Whitesnake catalog.
While the songs are important, they only go as far as the passion behind which they are played takes them. While a band going through the motions may fool a casual fan who is at the show to hear that one song, a true music fan cannot be so easily fooled. The Cincinnati rock n' roll faithful are largely made up of those who know every note, every lyric, and are not easily fooled. At least once a summer concert season, a band rolls through and puts on an uninspired show. We call these performance money grabs. Social media is lit up minutes after the show with scathing reviews. This was not the case with Whitesnake. While David Coverdale carries a lot of responsibility as front man, he has a formidable and talented group of musicians playing with him who elevate the music to the level of greatness. The duo of Reb Beach and Joel Hoekstra working seamlessly trading off the iconic Whitesnake riffs and blazing leads. Meanwhile Michael Devon on bass and the legendary Tommy Aldridge on drums provided a tight and thunderous rhythm section. Michael Luppi also added to the bands sound with his work on keys. Each member of the band had their chance to show off their talents center stage with a solo spot during the set. It just shows that after 38 years, Whitesnake has always been about top notch musicianship, as well as great tunes.
There has been talk that David Coverdale may retire in 2017,  which would bring a close to the recording and touring for Whitesnake. If this is the case, Whitesnake will definitely be going out with its head held high. Anyone who catches the band on this tour will be left with memories they will not soon forget.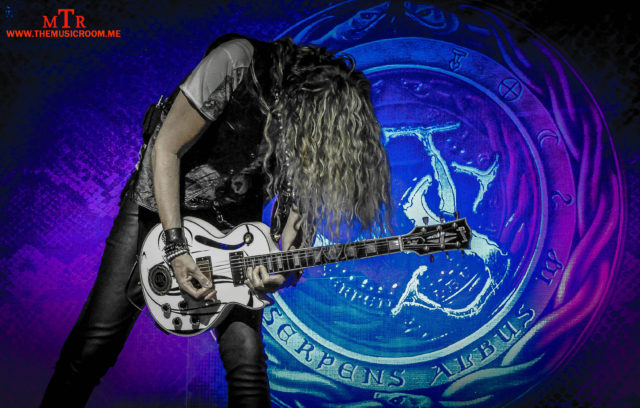 Whitesnake Set List – Cincinnati, OH – 6/14/16
– Bad Boys
– Slide It In
– Love Ain't No Stranger
– The Deeper the Love
– Fool for Your Loving
– Sailing Ships
– Judgement Day
– Guitar Solo
– Slow an' Easy
– Bass Solo
– Crying in the Rain
– Drum Solo
– Is This Love
– Give Me All Your Love
– Here I Go Again
Encore
– Still of the Night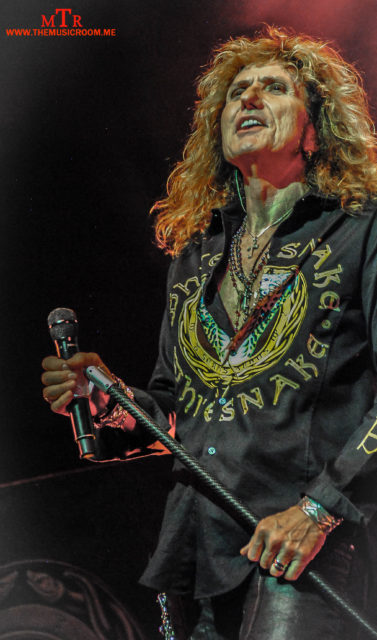 www.facebook.com/Whitesnake.official
https://twitter.com/davidcoverdale