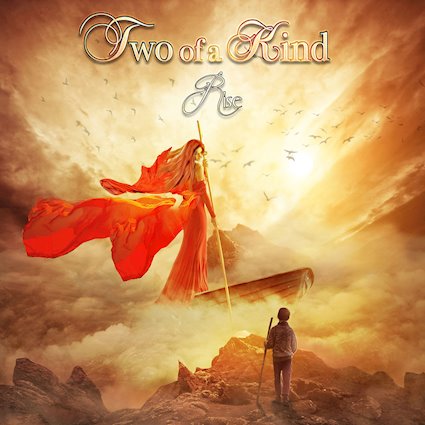 If you are like me, you likely have never heard of the band, Two of a Kind. Luckily, we are about to change all of that. Two of a Kind is a band from Holland who has just released an amazing album by the name of "Rise." Released on July 13th through Frontiers Music s.r.l., "Rise" is a collection of big songs that draw the listener in with the strong melodies and powerful performances. With the longest song on the album clocking in at just over five minutes, the songs hit you with a punch and leave you ready for more.
Two of Kind are headed up by not one, but two dynamic front women, Esther Brouns and Anita Craenmehr. Given the chemistry between the two women, it is hard not to draw a comparison to the Wilson sisters of Heart. They are just that good. But that is just one piece of it. The vocals can only go so far without a strong musical bed for them to rest on. The musicality of the record does not disappoint. The band is made up of Gesuino Derosas (guitar), Hans in't Zandt (drums), Fred Hendrix (bass), and Ron Hendrix (keyboards). The band takes you on a musical journey that is fun to listen to throughout the eleven songs. There are hints of Yes mixed in the album, some Benatar moments, and maybe even a little Abba here and there. While the influences are undeniable on "Rise," Two of a Kind definitely have their own sound that needs to be heard. If you like big chourses, crafted musicianship, and strong songwriting…this record is for you.
While I would not recommend skipping any tracks off of "Rise," some of our favorite tracks include the rocker, "Touch the Roof," the prog vibed anthem "Rise," and the album's first single, "Naked." Order your copy of the album here. 
www.facebook.com/twoofakindmusix/