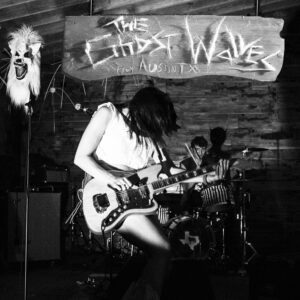 The Ghost Wolves are a duo out of Austin, Texas who have just unleashed their new record, "Man, Woman, Beast."  The record is a collection of brash yet infectious songs that will get stuck in your head after the first listen. The Wolves are made up of married couple Carley Wolf (guitar/vocals) and Jonny Wolf (drums/vocals). The couple's hybrid wolf, Winter, provides the woofs and howls on the record. If their marriage is as harmonious as their music, they are in for a long and happy life together.  Proof of this comes on the first track off the record, "Shotgun Pistol Grip."  The beats from Jonny's drums provide a solid foundation for Carley's big crunchy guitar riffs. The same is true for the vocals on the album. Jonny's vocal provides the perfect balance to those of his wife, which is both dynamic and playful.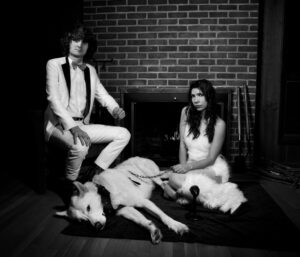 From the moment you hit play (or drop the needle down) on this record you are in store for a rush of adrenaline. The songs are fast paced and raw. But don't dismiss this band as just a garage rock act. There is much more to this talented duo (not that there is anything wrong with garage rock). The group describes their sound as "Stomp and Roll." Throughout the record you catch influences of deep delta blues in songs like, "I'm Yo Mudda," and "Attack, Attack, Attack." The sound of these songs leans toward the flavor of blues great, John Lee Hooker. There are also subtle country influences on the song, "Dangerous Moves."  The song is a classic country done wrong song on speed.
All and all, "Man, Woman, Beast" is a fun record from start to finish. It is hard to believe that such a big sound can come from only two people (and Winter of course). While there is not a weak song on the record, the standout songs are "Gonna Live," "Baby Fang Thang" and "Itch." The performances on "Man, Woman, Beast" are inspired and uncontrived. You get the feeling that the two stepped in the studio, hit play, and just did whatever struck them at that moment. The final product is a rock n' roll record that packs quite a bite.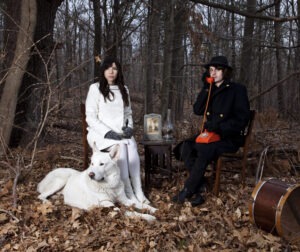 Fun facts:
Carley was raised among hybrid wolves on her family's ranch.
The album was recorded at Austin's Arlyn Studios, where the great Stevie Ray Vaughan , Ray Charles and Willie Nelson also recorded.
The last three bonus tracks on the album were recorded live during the bands set at this year's SXSW.
The band's record label, Plowboy Records, is run by Eddy Arnold's grandson, Shannon Pollard. The label was established to promote the legacy of Eddy Arnold and to provide a home for projects that focus on American music, regardless of genre.
www.facebook.com/TheGhostWolves
www.twitter.com/theghostwolves