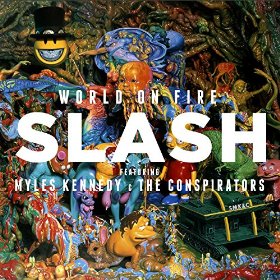 If you have ever read an interview with Slash, you know there is always a question posed about a reunion of the classic Guns N' Roses line up.  And no matter how many times the guitar legend says it's not in the cards, the question gets asked over and over again. Slash more convincingly answers the question with his new record, "World On Fire." The top hatted axe man is too busy rocking with Myles Kennedy & The Conspirators in the present, to think about going back in time.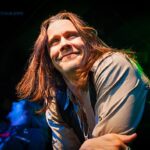 From the opening riff of the album, you will forget all about yesterday as you get sucked into the groove of this record. The band delivers a straight forward rock n' roll record that is current and fresh. While Slash signature guitar riffs are all over this record, this album is truly a band effort. There are no hired guns here. In 2010, Slash's debut solo record was released and it featured several guest vocalists and musicians from Ozzy to Fergie. One of those vocalists who appeared on the record was Alter Bridege's, Myles Kennedy. When Slash hit the road, he took Kennedy with him to front his touring band. The chemistry between the two was undeniable, so when it came time for Slash to record his next album, 2012's "Apocalyptic Love," Myles Kennedy was the man for the job. When something works that well, you don't mess with it so it is only natural that Kennedy returns to handle vocals on "World on Fire." Kennedy's presence on these records elevates them from being dismissed as just a side project to a legitimate band. But there is still more to this band than the front man/lead guitarist dynamic. The Conspirators, who were also featured on "Apocalyptic Love", are back in full force with Todd Kerns on bass and Brent Fitz on drums. With two albums and extensive touring under their collective belt, these four musicians have come together to form one amazing rock n' roll band.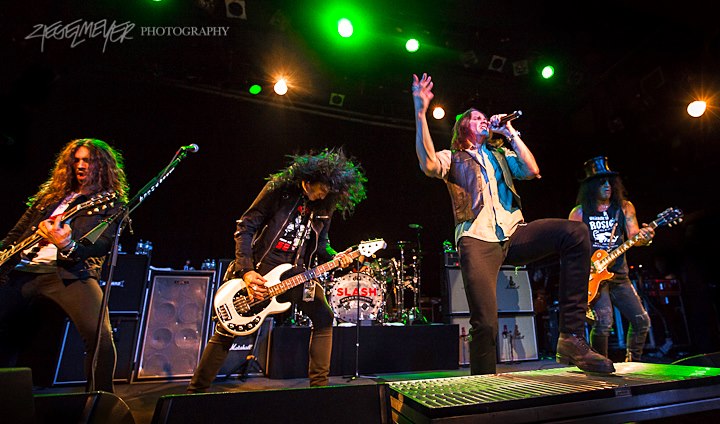 "Apocalyptic Love" was a blistering record of hard driving rocks songs and is certainly a hard act to follow. Slash and company prove that they are more than capable of delivering the goods again. "World on Fire" picks right up where the previous record left off. There are no surprises to be discovered on the record. The band has not tried to reinvent themselves or the music. There are guitar riffs a plenty, melodic choruses, hooks around every corner and guitar solos….oh the guitar solos! It is the kind of record you can put on and turn all the way up and just get into. Unlike the last record, the band has mixed in a few slower songs into the mix. They are not bad songs, but do kind of interrupt the flow of the album at times. Considering the album comes in at seventeen songs, it seems that the track list could have been trimmed down to ten to twelve songs to prevent any lag that may be present. But then again, who's going to complain about getting the most out of their money? Again, it is not an issue of quality, but rather of flow.
Make no doubt about it, "World on Fire" is well worth a PURCHASE (the record will be available on vinyl 9/30). Once people hear this record they should be able to leave the past in the past. Guns N' Roses undeniably made some of the best music of the hard rock genre, but there is much more to Slash than nostalgia. After listening to "World On Fire" it should be clear that a Guns N' Roses reunion just doesn't make sense. Slash is playing with perhaps the most in-demand vocalist in rock n' roll today (just ask Jimmy Page). And the years have certainly put a strain on Axl's vocal abilities. Just do a YouTube search for a recent Gun's live performance and you will see what I mean. Guns N' Roses perhaps put it best in their song "Yesterdays" when they said:
'Cause yesterday's got nothin' for me
Old pictures that I'll always see
Some things could be better
If we'd all just let them be
The Music Room favorite tracks are "Wicked Stone," "Bent to Fly," "Stone Blind" and "Withered Delilah"