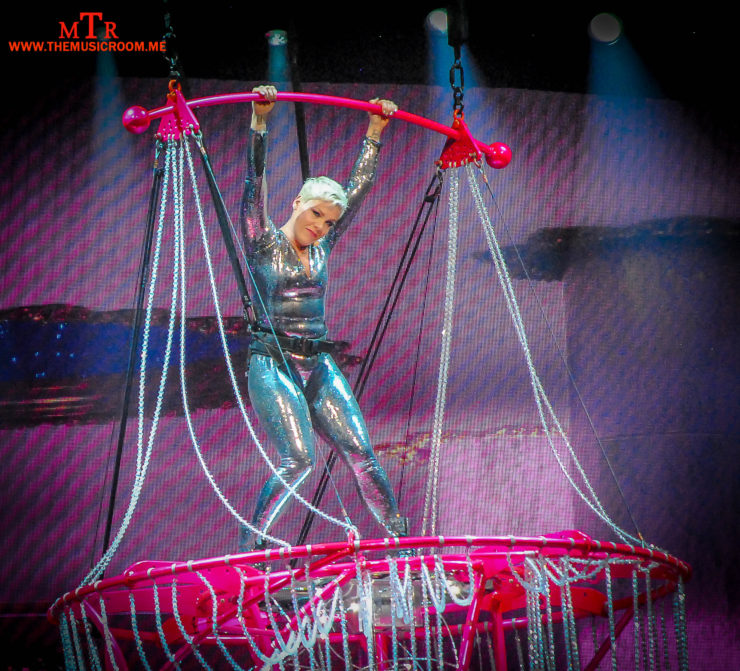 P!NK: KFC Yum! Center, Louisville, KY – March 27, 2018
Pink delivered the top album of 2017 with "Beautiful Trauma," and now she has delivered the top concert experience of 2018 with her "Beautiful Trauma" World Tour. I realize that is a big claim to make only three months into the year, but I feel confident in making that statement. Pink is one of the artists who has been on my bucket list of artists to see now for a while, and last night in Louisville, KY I made that wish a reality. What I experienced was so much more than a concert.  It is actually hard to find the words to describe…but considering that is what I am here for, I will do my best.
I suppose the best place to start is to explain that the stage on which Pink and her band performed on (or above) was shaped like a heart. This was not just a cool visual effect, but rather a symbol of the entire evening. From the moment the superstar hit the stage there was an outpouring of love and respect from the artist to her fans and in return from the fans back to her. Pink had been forced to postpone the two tour dates prior to the Louisville show due to illness. She made it very clear by her words, and the big smile on her face that she was glad to be back performing for her fans. And from the reaction she received from the massive crowd, they were glad she was back. A special moment occurred early in the set when a young fan presented the singer with a framed American Flag. Through social media posts, it was revealed that the girl's father was deployed overseas and flew the flag in the singer's honor at the request of his daughter. It was clear that Pink was genuinely moved by the gift. It was a very special and real moment.
To the fans who were supposed to attend the shows that were postponed in Montreal and Detroit, once you see this show, you will understand why Pink couldn't perform for you at the time. During the show, she does so much more than sing. From the very beginning of the night, she descended from a chandelier and performed acrobatics while suspended in mid-air. I would say she spent at least half of the night floating above the stage and crisscrossed her way from one end of the KFC Yum ! Center to the other. On this night a basketball arena in Kentucky was turned into a mixture of Moulin Rouge and Cirque du Soleil. The show was visually stunning. While I have never performed these types of feats before, I can only imagine how draining they must be. It would be hard enough to do at 100%, but likely impossible to do while also battling the flu. Pink at her best is like nothing else you have ever seen. I promise it will be worth the wait.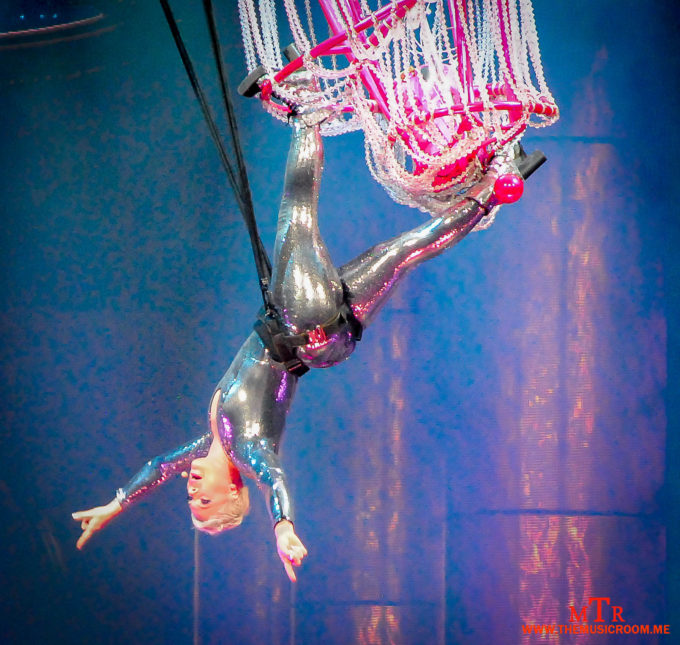 I have talked about a lot of things, but have failed to mention the most important part…the music. I mean that is why we are here, right? As visually breathtaking as the production was, and as much love that was in the air, the music was the true highlight of the night. People think of a lot of things when it comes to Pink. Attitude, strength, image and determination all come to mind. All of these things are true, but at the top of that list is talent. To put it quite simply, girl can sing her butt off. It was the music, after all, that made me want to see her in the first place. All of the cool visuals and lights were a bonus to the evening, but the songs and Pink's performance of them were incredible. In fact, there were times during the night when I just closed my eyes to take in her voice. I think that over the course of her career her voice has only gotten stronger. In addition to her powerful voice, her long repertoire of songs is impressive. The highlights for me were some of the tracks from "Beautiful Trauma" such as "What About Us," "Barbies" and a fun duet, "Revenge." She also surprised me by throwing in a cover of Nirvana's "Smells Like Teen Spirit." Before going into the song she told the crowd that she was going to blow our minds for the next four minutes. She did not lie. While some call Pink a pop star, I declare that she is a full-fledged rock star.
I have done my best to tell you about Pink's "Beautiful Trauma" tour. There were just so many "oh wow!" moments that there is no way to capture them all here. To me, seeing this show took Pink to a whole new level. I have always been a fan of her music, but I never got just how real she is. On this night in Louisville, KY I did not get the sense that this was just an entertainer putting on another performance. Rather, this is a superstar (who probably would never call herself that) at the top of her game doing what she loves in a way that nobody else is doing. There was no B.S. No going through the motions. It was 100% P!NK.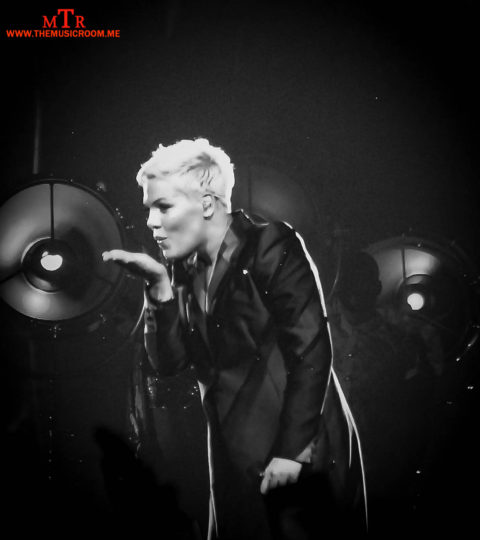 P!NK – Louisville, KY – March 27, 2018
– Get the Party Started
– Beautiful Trauma
– Just Like a Pill
– Who Knew
– Revenge
– Funhouse / Just a Girl
– Smells Like Teen Spirit (Nirvana cover)
– Secrets
– Try
– Just Give Me a Reason
– I'm Not Dead
– Just Like Fire
– What About Us
– For Now
– Barbies
– I'm Here
– F**kin' Perfect
– Raise Your Glass
– Blow Me (One Last Kiss)
Encore:
– So What
– Glitter in the Air