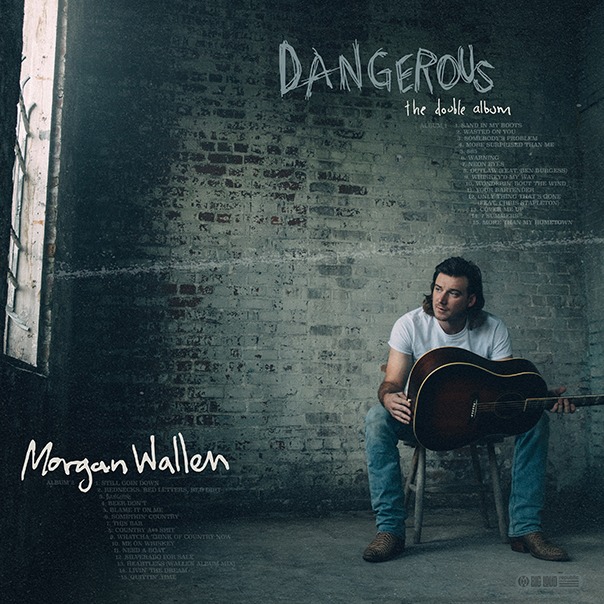 Morgan Wallen Dangerous Album Review
Welcome to our Morgan Wallen Dangerous album review and vinyl unboxing. I did not too much about Morgan Wallen a day before we sat down to write this review. It's not that I am not a fan of country music, but we have just grown a little leery about passes for country music. So when I heard the name Morgan Wallen, I made the mistake of assuming that he was just another auto-tuned, bro-country act hiding behind a shtick. I am happy to report that I could not have been more wrong. Morgan Wallen is the perfect country-music singer for 2021. He carries on the tradition of the country music that I love while making it accessible to a new audience by doing his own unique thing. Morgan Wallen's Dangerous is evidence that you can change with the times, but still remain true to the hear of country music.
Morgan Wallen's Dangerous is a double album made up of 30 songs. 32 if you pick up the Target exclusive edition. I kind of figured that I would get burned out on the album at least by halfway through. Wrong again. The album only gets better as it goes on. Some of the best songs fall towards the end of the record. The songs are short and effective. There is a guest appearance by Chris Stapleton on the track, "Only Thing That's Gone." Another highlight of the record is when Wallen cover's the Jason Isbell song, "Cover Me Up" from Isbell's landmark album, Southeastern. There are so many great moments on this record. Morgan Wallen does better with 30 songs than many artists can do with 10.
As I said before, I could not have been more wrong about Morgan Wallen Dangerous. I was wrong about his talent. I was wrong about his songs. And most of all, I was wrong to judge an artist before I heard his music. I hope that this will be a lesson for me in the future. I also help it can help you who are reading this to be more open to new music. I never want to be one of those people who shut out everything past an expiration date that I self-imposed. If you love country music, you owe it to yourself to give a listen to the Morgan Wallen Dangerous album with open ears. And maybe Morgan Wallen fans from today will go back and listen to George Jones, Waylon Jennings, and Willie Nelson with open ears as well.
Order Your Copy Here!

---
Vinyl Unboxing Video
---
Dangerous Track Listing
DISC 1
1. Sand In My Boots
2. Wasted On You
3. Somebody's Problem
4. More Surprised Than Me
5. 865
6. Warning
7. Neon Eyes
8. Outlaw feat. Ben Burgess
9. Whiskey'd My Way
10. Wonderin' Bout The Wind
11. Your Bartender
12. Only Thing That's Gone feat. Chris Stapleton
13. Cover Me Up
14. 7 Summers
15. More Than My Hometown
DISC 2
1. Still Goin Down
2. Rednecks, Red Letters, Red Dirt
3. Dangerous
4. Beer Don't
5. Blame It On Me
6. Somethin' Country
7. This Bar
8. Country A$$ Sh!t
9. Whatcha Think Of Country Now
10. Me On Whiskey
11. Need A Boat
12. Silverado For Sale
13. Heartless
14. Livin' The Dream
15. Quittin' Time
BONUS TRACKS
1. "This Side Of A Dust Cloud"
2. "Bandaid On A Bullet Hole"