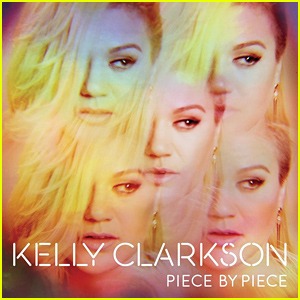 While the music world seems to be filled with self professed pop royalty, Kelly Clarkson should be titled the pop warrior. In her thirteen year career as a recording artist she has created a reputation as being a determined, strong willed, yet likable diva in the rough. While her first two records, 2003's "Thankful," and 2004's "Breakaway," were made under the watchful eye of record and television honchos, by 2007 Clarkson was ready to do things her own way on her album, "My December,"  and that is just how she has done things ever since.  Though she may sometimes use a  tongue in cheek delivery with a catchy pop hook, Clarkson has no problem letting the world know just how she feels.
Kelly has kicked off 2015 by releasing her seventh studio record, "Piece by Piece." The songs on the record take the listener through a very personal journey through the singer's life. From having a father walk out on her as a child, to having a child of her own, the 32 year old songstress reflects back on the  peaks and valleys of her life and pulls no punches along the way. The record kicks off with the hook-heavy "Heartbeat Song," that could be easily dismissed as a feel good pop song. But if you listen to the words pouring out from Clarkson, the song sets the tone for what's to come with the rest of the record.
There are several themes that are present on the record…survival, self-realization, and empowerment. There are also lessons to be learned from the songs that make up "Piece by Piece."  The track " I Had a Dream," is a warning  to girls that all of their action have consequences that will forever impact their lives. "Let Your Tears Fall," offers lessons how to be a good friend by just being there for someone and letting them fall apart. And guys, don't think that this a record just for the girls. Clarkson has a lesson or two for us as well.  The title track, "Piece by Piece" draws a parallel between the father who walked out on her and the husband who restored her faith that a man can live up to his responsibilities in life. Kelly Clarkson makes it pretty clear how a man should treat a woman, and how a woman should be expected to be treated.
"It's too bad, you can't see what you're worth
Spreading your legs instead of using your words
Character is shown by the things that we do
The one thing you're never gonna hide is the truth" –  I had a Dream
"Piece by Piece" is a fantastic record that showcases Clarkson's powerful voice and ability to connect with her listeners. The album features an electronic feel to it that can best be described as Industrial-Pop. It gives the record a different feel from her previous ones, while still sounding distinctly Kelly. While some may dismiss pop music for its lack of depth, no one should ever dismiss Kelly Clarkson. She has proven over and over again that she always has something to say, and that she has a powerful voice to say it with.  There is no question about it, "Piece by Piece" is a must buy record. The songs create an amazing album as a whole with no filler.
www.facebook.com/kellyclarkson
www.twitter.com/kelly_clarkson