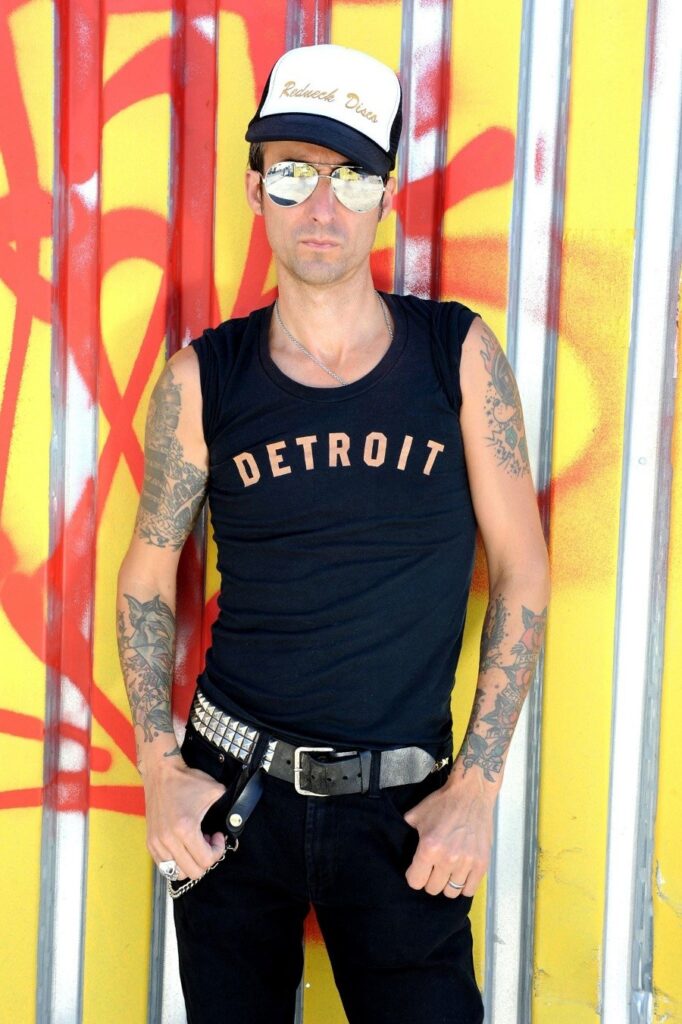 In 1994, the Detroit, MI rock band Sponge released their debut album, "Rotting Pinata." The album quickly became a hot seller due to great songs like "Plowed" and "Molly." While many bands from the same time faded away, only to reappear for a familiar "reunion tour," Sponge never stopped making music. Lead by front man, Vinne Dombroski, the band has continued to put out new music over the twenty-one years since Pinata. To celebrate their debut record, the band has released "Rotting Live," which is the "Rotting Pinata" album played live in it's entirety.  The band will be playing MVP in Cincinnati on May 15th. I had the opportunity to talk with Vinnie Dombroski to talk about the show, as well as the past, present and future of Sponge. Read our interview then make plans to attend the show. It promises to be a great night of music.
The Music Room: In 1995 I went to a festival in Indiana called X-Fest to see Bush. That was my main concern that day. There were a bunch of bands playing on the bill, and one of those bands was Sponge. As I watched you guys play, I was so excited. I couldn't wait to go out and buy your record, which of course was "Rotting Piñata." I have been a fan ever since, so it is a real honor to get to talk with you today.
Vinne Dombroski: I appreciate that man. It's funny, over the years doing shows with some of the other groups who were out there and actually having the privilege of converting some of the fans that had never heard of the band before. It's pretty cool.
TMR: The first thing I want to talk about is the live album, "Rotting Live." What made you want to go back and revisit that record and dedicate an entire live album to that material?
VD: I think initially, like a lot of groups have done over the recent years…you're out there playing your entire first record, and it's funny what the first album means to a lot of people. A lot of bands…"ah, that first record. That's the one I connected with and got me introduced to the band." We decided to go out and do a tour playing the whole first record. We had done it so many times, we thought maybe we should try to record this thing. A number of tracks from the first record have been available live before, but never the whole record. Including the hidden track on the record, "Candy Corn," and "Pennywheels," it's all there.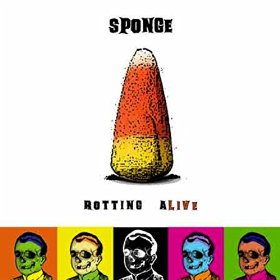 TMR: You've already mentioned your peers from the mid-nineties and on. A lot of the bands had stopped for a period of time and have just gotten back together for some type of reunion, but Sponge….you guys have never stopped. I think the longest between a release has been maybe around three years. What do you attribute that to? What has kept you going through all the ups and downs in the music industry?
VD: Well, I think we've learned how to do it smart over the years.  We were out on tour with The Melvin's in 1996 with Lollapalooza. They were great guys. I recall a discussion when they came to Detroit to play at Lollapalooza. Buzz basically said that they put out a record and they tour and they make a living out of it. They get in the van, that's how they roll, but their able to do it.  Something resonated with me about that. Certainly we've all been on tour buses. We've traveled like that. We've stayed at very nice hotels and had our own rooms. But at the end of the day it's the music that we love. We love to play the gig so we're doing everything from festivals to clubs. We're hopping in the van like we have been for the last, I don't know man…ever since 2000. I think we've had one or two tour buses for a tour in the last fifteen years, but it's pretty much a van and a trailer. We're able to tour smart and economically and we're still able to get out there and do it.
TMR: Considering the changes in the music industry of the last few years and the fall of the big record companies, you get a lot of the established bands out there saying that they are not going to make records anymore. For a band like Sponge, have the changes helped you or hurt you?
VD: Frankly, we were making our own records years ago. We had our first album nearly recorded when Columbia came into the picture. So we've always been very proactive and accustomed to getting into the studio, whether we had a label or not, and making a record. I've got to say that the resources of a major label, they're good to have around without a doubt, but we're still able to pay for the record ourselves. Distribution these days…I mean, all of the mom and pop stores are gone for the most part. A lot of the major chain record stores are gone. Distribution is done digitally these days via iTunes, Amazon, people downloading albums and songs. Because of that digital distribution we're able to upload these records into a system and they are available to people. We weren't able to do that twenty years ago, without a doubt. The downside is that we're lacking the resources that we used to have financially, but the upside is we're able to own the masters and put the masters out onto the internet for download.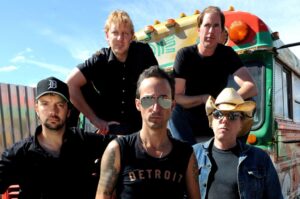 TMR: You guys have always waved the flag for Detroit.  You've been proud of your Michigan roots and even put out the Live in Detroit record. There has been a lot of talk about the decline of the Detroit music scene. You even have people calling out guys like Jack White and Eminem for abandoning the city. What are your thoughts on the music scene up there?
VD: Detroit has always been the perfect place to be an artist and musician. Lacking opportunity, I think that is one of the big reasons that I was able to get my feet cemented in the idea of playing music, getting it in my head that I was going to do it all my life because we really didn't have much of anything else. The audiences in Detroit kind of demand that you're doing your own thing. It's frowned upon to play cover songs. Some of the club owners will tell you they will throw you off of the stage unless you play your own music. That's a great thing and it doesn't happen everywhere. Detroit has the clubs you can go into and you're not playing four sets of cover songs. Because of that, it's a motivator for creativity. Certainly the artists who want to abandon Detroit say that there is no scene in the city anymore. Despite what people might say, Detroit has always delivered fantastic music over the years. Whether it's been techno music, Motown music, punk music, garage music, rap music, whatever you want to call it, I don't think any other city can compare to be quite honest with you. I still think that exists in places that Jack White is unaware of, but it will come out. It always does. It's Detroit man.
TMR: I have a great friend who lives up there and it seems like he is seeing a great show just about every night in places like St. Andrew's Hall or The Magic Stick. I have been fortunate enough to go up there a few times to see some great shows.
VD: Oh, absolutely. I mean, you have Whitey Morgan out of Flint coming out with an outlaw country thing. There is just so much great music coming out of the area…of all kinds. I know it's going to keep going. I don't know where, I don't know who, but it's going to happen.
TMR: Yeah, I just bought that Whitey Morgan Live from Flint record. It's killer.
VD: I saw him live at St. Andrew's Hall about a month ago. It was great.
TMR: I like to ask my readers if they have any questions they would like me to ask. One came up about you guys opening for Kiss at Tigers Stadium. Can you tell us anything about that?
VD: We were able to take advantage of a situation that existed because of Scott Weiland not being able to perform at that gig. Stone Temple Pilots was to be the opener, Alice in Chains was second, and Kiss of course to headline.  Scott had some issues and we were asked to fill that slot. It made a lot of sense because we were Detroit boys and we were thrilled to do it.  We jumped in right away. Of course that seems to be a part of history at this point and we were blessed. What a great day.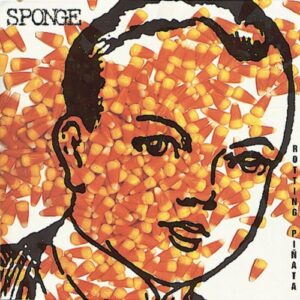 TMR: Like we talked about, a lot of people are very familiar with "Rotting Pinata," and even your second record, "Wax Ecstatic." For someone who just now realizes that there is a lot more to Sponge, where is best place for theme to reconnect to the band? Should they go to "New Pop Sunday" (1999) or maybe "Stop the Bleeding"(2013)?
VD: Well, when you mentioned earlier bands questioning whether or not they should make records anymore…we certainly had that same questions ourselves. We put out an E.P called "Destroy the Boy," which eventually turned into a full length record which we really didn't plan on making. We're like, do we really want to make a full length record? We finally said yes, we'll do that. If I get my head wrapped around why we're going to make a record…If I would do anything regarding a new Sponge record now, direction wise, I would say it would certainly be a strong balls out rock record.  That interests me. Nothing really super polished, but just a  balls out rock record. That interests me. So, if we're able to get the resources to put another record together, which we probably have the time to begin to do that until late this year, early next year, like I said, it would certainly be a strong rock record.
TMR: "New Pop Sunday" seemed to be a little bit more polished. So would you say that "Stop the Bleeding " is a better representation of the band today?
VD: It's funny because I look at those two records in a very similar way. I really thought that the "New Pop Sunday" record was a great Sponge record. I thought the guitars were fantastic. The arrangements were great. I think it really represented what we were doing at that time.  The "Stop the Bleeding" record, I think there are some really quality tracks on there. We spent some time really making a great record. Both those records are certainly a bit more polished than maybe  the first and second records. They're not as raw rock wise.  I'm really super proud of them. But like I said, I think maybe the next logical step is to make something really raw, rockin' and fun.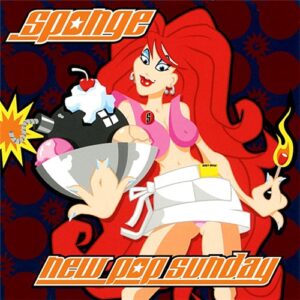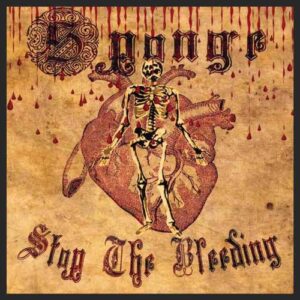 TMR: Man, you guys are going to be here on May 15th at MVP in Cincinnati. Can you give us an idea of what we can expect from the show? I know it is being billed as a cd release party for the "Rotting Live" record. Can we expect a lot of material from that record?
VD: Oh, absolutely…yeah, a lot of that music.  We're not afraid to play the familiar songs…the hit songs. We also play some kind of deep cuts from all of the records. What it boils down to is we are taking requests, especially from that first record. If some yells up play "Fields" from the first record, of course we'll play that. If they want to hear "Pennywheels" we'll play that. It that want to hear "Neenah Menasha" we'll play that . We're always interested in playing the hits, but it turns into an all request hour.
TMR: I know everyone is excited here for the show. It's a great venue, I think you guys will dig it. Plus it's a Friday night. I think we're in store for a great night.
VD: Yeah man, we're  really looking forward to it.
Click the poster to buy your tickets now!!!