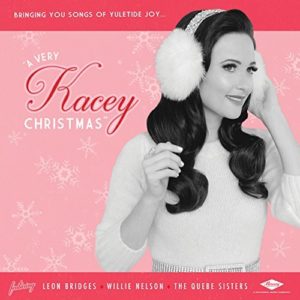 Kacey Musgraves: "A Very Kacey Christmas"
While for many Christmas time means hustle and bustle, Kacey Musgraves seems to approach the season easy and cool. The country music trail blazer has just released her very first Christmas album, appropriately titled,  "A Very Kacey Christmas." The record is an eclectic mix of traditional favorites, and new original songs, all done in Musgraves' signature style. No matter what your Holiday listening tastes may be, Kacey Musgraves has you covered.
On one side, the album features Holiday standards such as "Let it Snow," "Have Yourself a Merry Little Christmas," and "Christmas Time is Here." While you may have heard these songs countless times in the past, Kacey's performance of the classic songs offers something new to listeners. Musgraves explains, "It is really intimidating to cover a song that Ella or Bing sang. Those are incredible, legendary singers that no one could ever replicate, and I didn't want to copy and paste something that someone else had done. So it made me a better singer, singing these songs 50 or 60 times each, really wanting to get it right."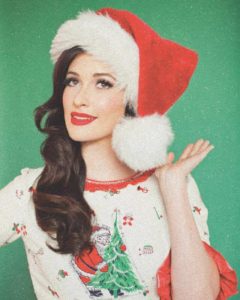 "A Very Kacey Christmas" is a collection of songs that span time, place and genre through the use of creative arrangements . The albums has a large Hawaiian vibe throughout, but its Musgraves' version of "Mela Kalikimaka" that will  transport you to the beach of Waikiki with the trade winds blowing on your face. In similar fashion, the album's rendition of "Feliz Navidad," will make you feel like you are in a Mexican cantina celebrating the season with your amigos. Unlike other performers attempts at these songs, there is nothing cheesy or trite about theses cuts. Like all of Kacey's music, the songs sound genuine and refreshing. Meanwhile,  tracks like "I Want a Hippopotamus for Christmas," and "Rudolph the Red Nosed Reindeer," will bring out the kid at heart thanks to Musgrave's whimsical delivery. There is no doubt that Kacey Musgraves is a country girl thanks to the Texas swing featured throughout the album, however Musgraves throws in elements of pop, R&B and jazz…all quite successfully and tastefully.
While the Holiday classics make the album an enjoyable listen, it's the new original songs take the record over the edge to must buy status. "A Willie Nice Christmas,"was penned in tribute to Musgrave's hero and friend, Willie Nelson. The track even features an appearance by the legendary country singer. The Motown flavored, "Present Without a Bow," features guest vocals by the amazing Leon Bridges. Surprisingly enough, perhaps the most powerful original song on the album is the melancholy, "Christmas Makes Me Cry." The singer explains, "I don't think it would really be "A Very Kacey Christmas" if there wasn't an element of sadness. That was important for me to incorporate, because to me the holidays can be a little bit sad, and I feel like no one really wants to talk about that and as a songwriter, I wanted to tap into that. We miss loved ones who aren't there, maybe our expectations don't get met sometimes. So the song called "Christmas Makes Me Cry"speaks to that." But the sadness will soon be erased by the upbeat and catchy, "Ribbons and Bow."
In a market that is flooded with Holiday releases, it is hard to know which ones to add to your collection and which ones to pass over. "A Very Kacey Christmas" is a must add to any Christmas music collection. For our vinyl loving friends out there, this album was made to be played on a turn table. A vinyl issue will be released on November 18th. So, while others are fighting off mobs at the mall on Thanksgiving night, do yourself a favor…dim the lights, light a fire, pour the eggnog, drop the needle on the record and have yourself "A Very Kacey Christmas."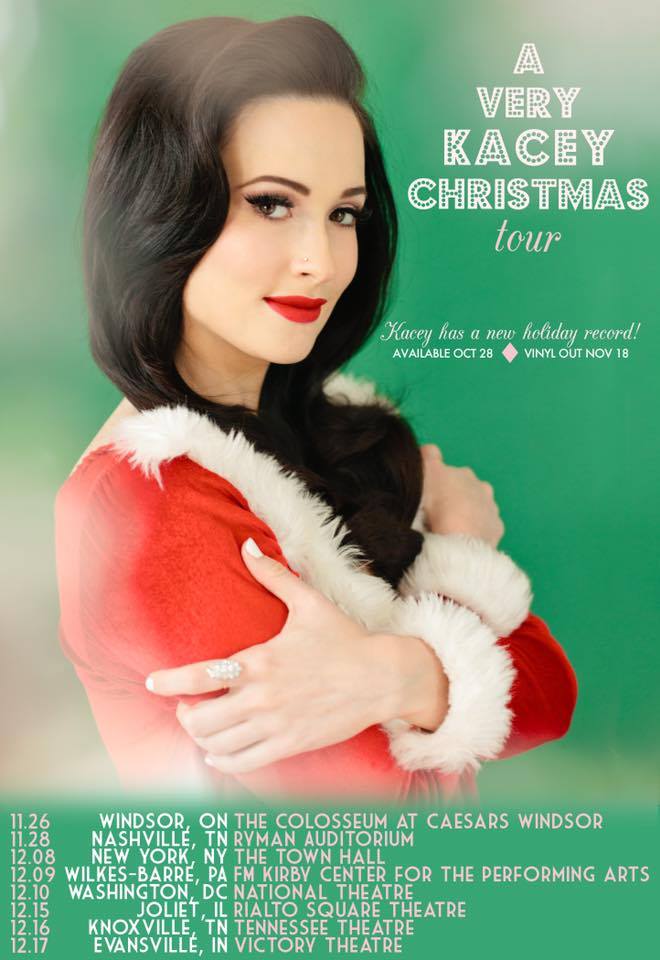 www.facebook.com/KaceyMusgravesOfficial
https://twitter.com/KaceyMusgraves