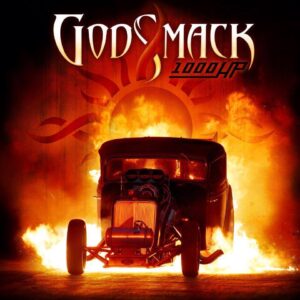 It's been four years since Godsmack released their last studio effort, 2010's "The Oracle." But the Boston metal legends are back with their new record, "1000Hp." In their true fashion, the band is not coming back quietly. Filled with massive guitar riffs, thunderous drums, and aggressive vocals, "1000Hp" lives up to its title. From the sounds of the engine starting up at the beginning of the album's title track, the band has the petal to the floor. It is a ten song joy ride that reminds the listener why Godsmack have managed to endure since their 1995 self-titled debut.
The opening track, "1000Hp," is an autobiographical rocker that goes back to the band's days of playing empty clubs in Boston. Sully Erna also offers the best piece of advice for listening to this record when he sings "turn that shit up louder." Trust me… you will want to take Sully's advice. There is nothing shocking to this record. It is exactly what you would expect from Godsmack. It is loud, heavy, pissed off and unapologetic. Anything else from this band would be disappointing. It is clear the four year gap in records allowed the band to come back fresh and re-energized. The playing on this record is excellent. If you have ever seen Godsmack live, you know how important percussion is to the band. It is the core of their sound. Drummer Shannon Larkin has laid down a crushing performance on "1000Hp" and has given a solid foundation for the other members of the band to do their thing.
"1000Hp" stands as a solid album from start to finish, with only a couple of moments stuck in neutral. There are some definite standout tracks on the record. "Something Different" lives up to the title. It has a catchy vocal hook from Erna, some strings mixed in, and it is about as "poppy" as Godsmack has ever been (not to fear, it is still a long ways away from being Nickelback). "Locked and Loaded" is a fierce and abrasive song which has Sully Erna sending out a very direct message to someone, promising to break their face. The mystery of the songs muse is revealed when Erna asks, "How do you like that Frank?" at the end of the track. Erna has had a very well publicized feud with Motley Crue bassist, Nikki Sixx since the bands toured together on 2009's Crue Fest 2 Tour. Nikki Sixx' given name is Frank Carlton Serafino Feranna Jr. Coincidence…? "I Don't Belong" may be the strongest song on the record. It is quintessential Godsmack. If I had one song to play to explain Godsmack to someone who had never heard them before, this would be that song.
There is no question about it, "1000Hp" is a solid record that is worth a purchase. The band has put a true effort into every aspect of this record, from the songs to the album artwork. This is one that you should purchase a physical copy of to truly enjoy. As a special bonus, the record is available on vinyl!
Godsmack will be on tour this summer headlining the 2014 Rockstar Energy Uproar Festival. Check here for dates.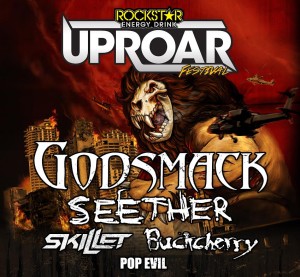 Cincinnati, you will get your chance to see Godsmack, along with Skillet, Buckcherry, Pop Evil and more when the Uproar Festival hits Riverbend Music Center on Sunday, August 17, 2014. I have experienced Godsmack live when they played Riverbend on the infamous Crue Fest tour. All I can say is, the plastic of a cd can only contain so much of the band sound. You have to see this band live to get the full experience. Riverbend is offering Lawn 4-packs for just $64!!! Check out www.riverbend.org for all of the details!