LOUDER THAN LIFE returns to Champions Park near downtown Louisville October 3 & 4, 2015 for the second annual celebration of the region's culture and cuisine, once again featuring award-winning bourbons and spirits, Gourmet Man Food, and a powerful music lineup.
LOUDER THAN LIFE's premier selection of bourbon, whiskey, craft beer and Gourmet Man Food is curated personally by festival creator Danny Wimmer. The spectacular music lineup of rock legends and breaking talent includes Rob Zombie, ZZ Top, Godsmack, Shinedown, Lynyrd Skynyrd, Slash featuring Myles Kennedy & The Conspirators, Breaking Benjamin, 3 Doors Down, Bring Me The Horizon, and many more.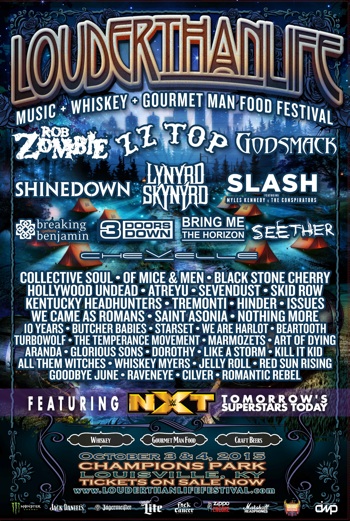 LOUDER THAN LIFE is expanding in 2015 by adding another stage. This year's bands will perform on four stages, while attendees will enjoy bourbon exhibitions and sampling, along with more than 70 food and beverage vendors that will help celebrate the bourbon culture and culinary heritage of this unique American city. In addition to music performances, LOUDER THAN LIFE will feature live, in-ring matches with WWE®'s NXT Superstars, as well as interactive experiences such as artist autograph signings at the Monster Energy Hospitality Rig, the Monster Energy viewing area with beverage sampling, The Crazy Dave's Music Experience, Jack Daniel's Experience, and Zippo Encore Music Experience. In 2014, over 40,000 people—including locals and the tens of thousands that traveled from around the U.S. and as far away as Australia, the Netherlands and South America—were in attendance for this one-of-a-kind experience.