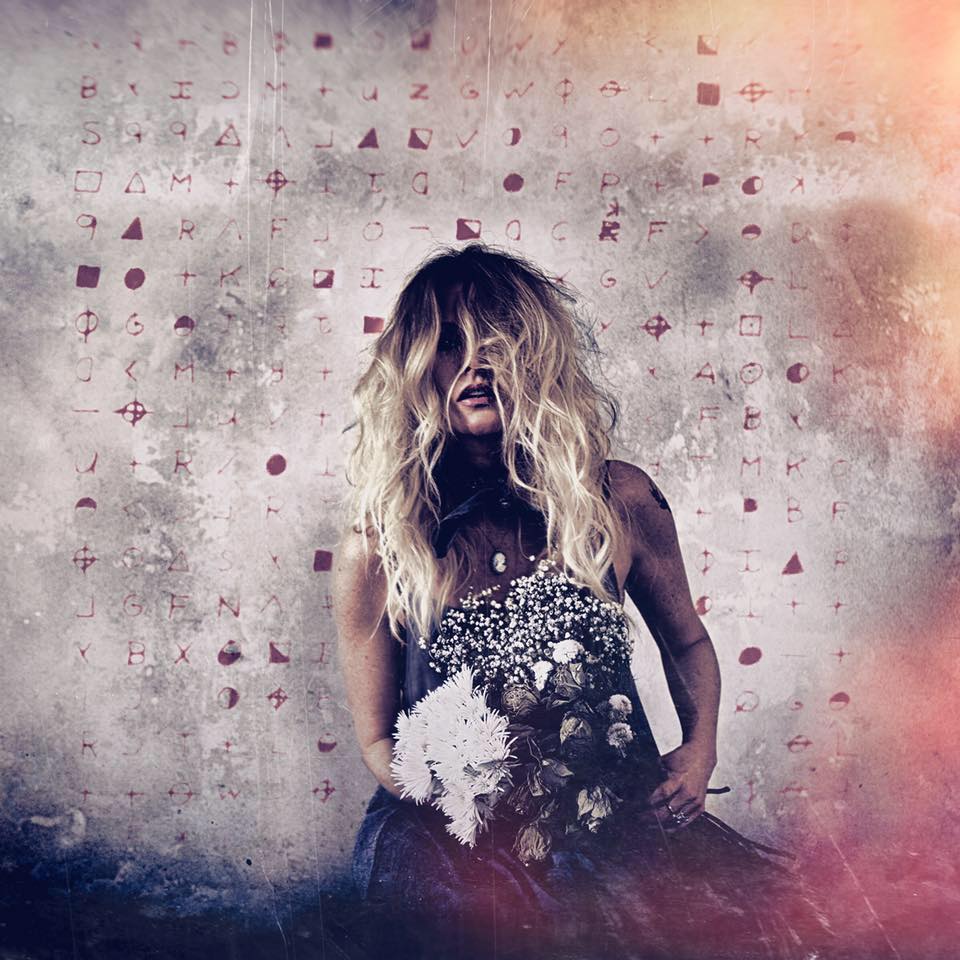 The Music Room: I had the pleasure of meeting you about fifteen years ago at the CMA Musc Festival (aka Fan Fair.)
Elizabeth Cook: At the CMA Fest…no sh*t?
TMR: Yeah, you were at a table there in the Nashville Convention Center and you played me some of the stuff from "The Blue Album." I went over to Ernest Tubb's and bought a copy later that day.
EC: Woa…must people don't even know what that is. That's cool.
TMR: Yeah, that one is my favorites of yours. But with every album you put out after that, you have added to your repertoire. I wondered if you could talk about how you have evolved from then to the artist you are today.
EC: You know, I think you get formed and molded by your experiences. The crazy stuff happens and then other crazy stuff happens. You meet different people and you collaborate. You keep discovering music. I mean for me, I keep discovering music. Sometimes older music or sometimes someone new coming on. For me it seems…it's not deliberate, but it seems if you're going to be honest and give an unfiltered interpretation on your experiences, it's going to sound how wherever you are is. If that makes sense. It's a really odd word choice. But if you write songs, you write songs that sound that way. Sometimes you're more in a rock aggressive mood, sometimes it's more of a country-folk mood. I think all of that dictates how the record sounds.
TMR: It seems like you really stepped up your game between the "Balls" and "Welder" records. Was there something about that time that caused that to happen? Or was it just a part of that evolution?
EC: I think so. If you go from the Blue record, there was the "Hey Y'all" record and the white record (This Side of the Moon.) Those albums were decidedly… almost tethered to Music Row. I was very conflicted with the responsibility of having mainstream radio hits because I was being paid money to do that. It wasn't my natural artistic tendency to fall into that kind of music making. So I was very conflicted. Once "Balls" happened, I was very liberated as a songwriter.
And then when everybody had a MySpace page, on my MySpace page I could blog. I got way into blogging and writing the equivalent of little short stories. And that really, I feel like shifted my songwriting into a more advanced place in terms of how I used words and structure and those types of things. Then it became…instead of being short little lines that rhymed real quick, verse-chorus, verse-chorus, I became more of a storytelling songwriter.  I had kind of done it before. Even on "The Blue Album" there was "Fade Away" and "Moma You Wanted to be a Singer Too." They were songs that had more of a quirky narrative to them. Once I got into that blogging, I went from writing short little country ditties to writing more like "Heroin Addict Sister" and "Rock n' Roll Man."
TMR: "El Camino."
EC: Yeah! Just a little more…I don't want to say sophisticated, more involved lyrically.
TMR: You already kind of touched on this, but one of the questions I have is that with the fall of the record business as it used to be…I know Music Row is still strong, but with the internet, the music business has changed from what it used to be. From what you have said, it sounds like that was a good thing for you and your career.
EC: It was a great thing for me artistically. It gave me a lot of freedom, which is what you want. It was like being a commissioned painter before, instead of getting to paint whatever I want. I had the freedom to do that thanks to Thirty Tigers. The "Balls" album sort of launched that. It was kind of the perfect storm. Thirty Tigers started. The Americana music scene started gelling. Then Nacy Griffith took me out on tour with her and Rodney Crowell. That helped aligned me with the country-folk singer-songwriters that I was a fan of and interested in becoming like. Then I opened for Todd Snider for the first time and that blew my mind.
TMR: It does seem like with the fall of the traditional business model of the record business, the genre walls have kind of fallen down as well. Especially with country music. It's such a mess right now. You have radio country and the all of those other things going on. Like you said, it has to be liberating to not be labeled into one corner.
EC: Yeah, I don't want to be tethered to that. I just want to be really free. I feel like if people can hear your song and they like the sound of your soul…what does it matter? I don't think it matters. At least to me, it doesn't matter.
TMR: I know when I met you, you were doing quite a few spots on the Opry. As you have gained more freedom musically, have they still embraced you? Do you still get to do those spots?
EC: I do. I still play the Opry. When "Balls" came out, that was a turning point for me because there were discussions with Opry management of certain songs that I would avoid that were not appropriate for the Opry brand. Which I was more than happy to oblige. I have a great affinity for the Opry and the tradition there. I respect it. There's plenty of stuff that I can do. I'm playing the Opry, the Opry's not playing me.
TMR: One of my favorite recordings is you doing "I'm not Lisa" live from the Opry. I believe it was one of the bonus live tracks from the "Hey Y'all" album.
EC: You know, I've revived that song in the past month. I don't know if you've heard of Cafe Rooster Records, but they put out a little compilation and they asked if I would contribute something. They just did a volume 2 and I did an acoustic version of "I'm Not Lisa." People responded really well to it. It was cool.
TMR: Oh wow, I am going to check that out. So the last time I saw you was at the 20th Century Theater here in Cincinnati. It was at the end of the "Welder" tour. I know you took a little break after that. But you have a new band playing with you now, don't you?
EC: Right now I am out on a solo acoustic tour. But I did have the band with me this past spring. I started doing solo acoustic shows for the first time. I did that this summer, but I had most of the summer off. I just started back this fall and am doing another round of that. I'll probably have the band back out with me in the winter. It's going to be me and a guitar sitting on a stool telling stories. There's nothing going on but my voice and the song. I enjoy that a lot.
TMR: You have a few albums out now, how do you choose a setlist? Do you draw from all of your material? Will we get to hear stuff from the first couple of records?
EC: Actually, I have a lot of new songs that I'm working out that haven't been recorded yet. So, I've got those in the set. It changes from night to night, but basically, I pull it  from "Balls", "Welder" and "Venus."
TMR: You said you are writing new stuff. Is there a plan for the future in regards to a new record, or is it more of just seeing where those songs take you?
EC: I'm probably a little less than halfway through accumulating the material that I need to go in. I hope to wrap that up this winter. So it will just depend. But there are definitely plans in the works, but we haven't formed anything yet. The material will dictate when that decision gets made.
TMR: I love the "Exodus of Venus" record. It's definitely the most personal record from you that I can recall. I love seeing your progression as an artist and I can't wait to see what's next.
EC: Thank you, Tony. I appreciate your time and your interest and for you following along.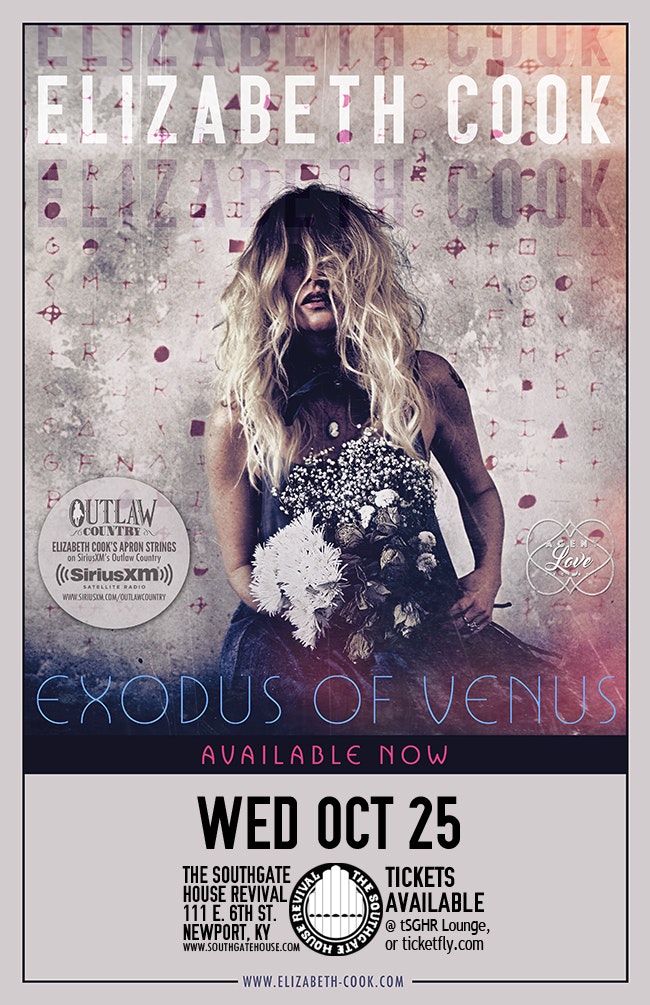 www.facebook.com/ElizabethCookMusic
www.twitter.com/Elizabeth_Cook