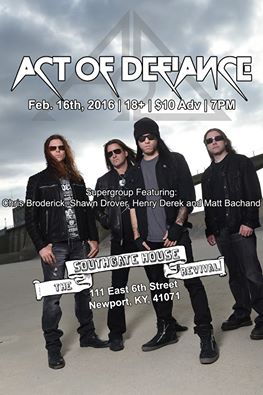 A band works hard. A band starts to find success. A band makes a record that catches on and that band finds massive success. The band is accused of "selling out." But what is it called when members leave the security and comforts of a majorly successful band to pursue their artistic passion? Hmm, there's not really a common expression for that, is there?
Well that is exactly what happened in April of 2014 when guitarist Chris Broderick and drummer Shawn Drover quit Megadeth. The split came as surprise to the fans considering Drover had been with the band for ten years and Broderick seven. Of course speculation arose that there had to be drama involved and the search for dirt began. To the dismay of the Blabbermouth crowd, Broderick and Drover didn't slam Megadeth master-mind, Dave Mustaine. Instead, the guys explained that they had music that they wanted to make that being in Megadeth didn't allowthem make. It simply came down to a matter of artistic integrity. Yeah, there is a term you don't hear often, let alone see.
In December of 2014 Broderick and Drover joined forces with vocalist Henry Derek (Scar the Martyr) and  bassist Matt Bachand (Shadows Fall/Times of Grace) and Act of Defiance was born. In August of 2015 the band released their debut record, "Birth and the Burial." The album was an aggressive metal record that proved that the guys were not out to play it safe. Broderick's riffs and shredding and Drover's assault on drums were made complete by Derek's intense vocal performance  and Bachand's solid rhythms. While the band's sound is loud, and at times brutal, Act of Defiance is a refreshing change in the metal world. Instead of being a band compromising to find success, this band is uncompromisingly making the music they want to make. Even so, given the quality of the record and their live performance, success should come their way. Success on their own terms.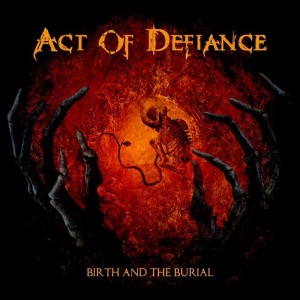 On Tuesday, February 16, 2016, Act of Defiance played The Southgate House in Newport, KY. Just like the music the guys have made, their live show was just as uncompromising. Despite the intimate nature of the show, the band delivered a big and ballsy rock and roll show. From the time front man Henry Derek took the stage, he just unloaded an authentic performance. It was clear that he was not a guy who was caught up with any case of LSD (Lead Singer Disease.) Derek is believable as a singer as he is not just singing words, but rather he has something to say and he is saying it. Bassist Matt Bachand not only delivered on bass, but he laid down some growling background vocals that added to the bands aggressive sound. Shawn Drover stayed low key behind the drum kit, but laid the solid foundation to the band's intensity with his playing. While the other guys brought the brood and attitude, Chris Broderick brought the brash and the flash. A big smile rarely left the guitarist face as he made his way  from one end of the stage to the other delivering big riffs and killer solos. After watching the band's set, it was clear that Act of Defiance is band of four equal members who each bring something critical to the band's sound. While the amount of talent is evident, the presence of big egos is not.
Considering the fact that Chris Broderick and Shawn Drover played to hundreds of thousands of people while in Megadeth, many would dismiss their decision to quit the legendary band to basically start over and play to largely smaller crowds as foolish. But if the doubters have a chance to see Act of Defiance in action, perhaps they will change their minds. Just the smile if Chris Broderick's face speaks volumes. Sure, the band is playing smaller  shows at the moment, but given the strength of their record and live performance, it is only a matter of time before they will be on large festivals and bigger tours. And as each milestone comes, the guys in Act of Defiance can take satisfaction in knowing that each success was earned by being uncompromising and doing things their way.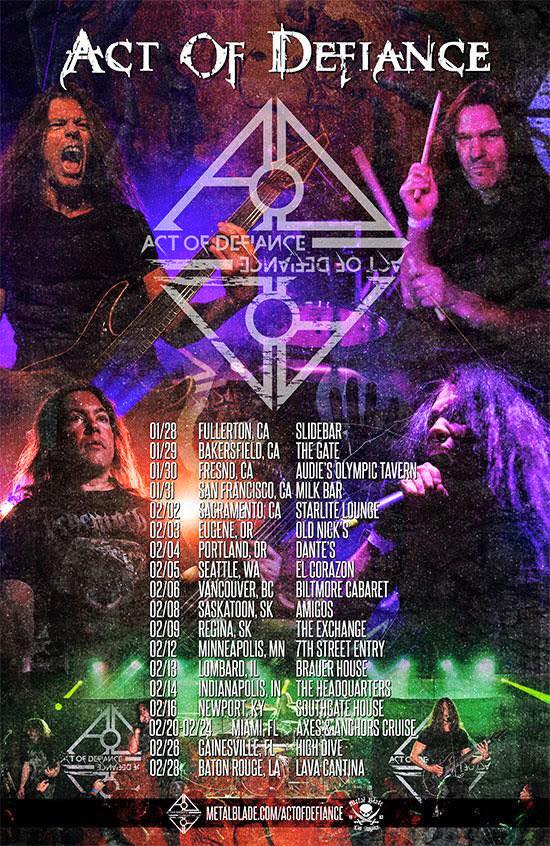 Act of Defiance Set List – Southgate House – 2/16/16
– Disatrophe (A New Reality)
– Legion of Lies
– Thy Lord Belial
– Refrain and Re-Fracture
– Crimson Psalm
– Obey  the Fallen
– Poison Dream
– Birth and the Burial
– Dead Stare
– Throwback
– Ace of Spades (Motorhead cover)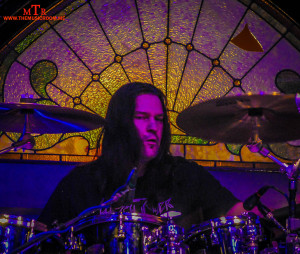 www.metalblade.com/actofdefiance
www.facebook.com/actofdefiancemusic
https://twitter.com/actofdefiance1