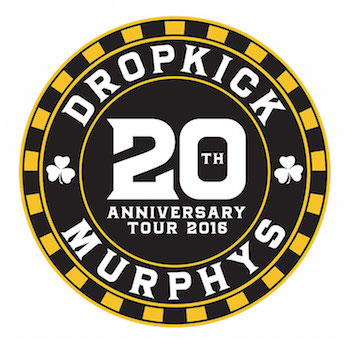 The Dropkick Murphy's are to St. Patrick's Day as to what Bing Crosby is to Christmas. That is why it was so special to have the band play Bogart's on March 6th, less that two weeks from the day of green. As if that was not enough of a special occasion, this tour stop was a celebration of the band's twentieth anniversary. Look, any Dropkick Murphy show is special, but this one was a do not miss show if there ever was one.
With the special things mentioned above, the boys from Boston proved that there are some constants when it comes to a Dropkick show…no matter what time of year they play. First, the band always delivers the goods. The Dropkick Murphy's delivered a adrenaline rasing set that spanned their twenty year career. The band performed with a ferocity and energy of a band of twenty years olds. The only time they slowed down was about half way through for a short acoustic set. It was during this handful of songs that the guys showed that they are no gimmick band. Each member excels at their craft and have the talent to back up their success.
The other constant is that there is something very special about the relationship between the band and their fans. As I was standing in the photo pit before the show, I noticed a platform that was placed between the stage and the barricade. The purpose for that platform did not remain a secret very long because almost from the time the band took the stage, Al Barr and Ken Casey took turns on the platform to get close to their loyal fans. The fans showed their devotion and appreciation for the band right back by singing and moving to the music all night. At the end of the night, the band invited fans up on stage to close the night out. Of course, this is common practice at a Dropkick show.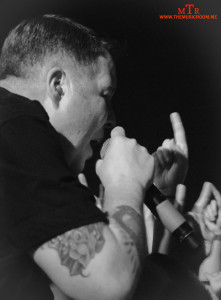 There were a few other special moments that made up this memorable night of music with one of my favorite bands. When the lights went down, before the band came out, fans were treated to a short documentary type film that documented some of the highlights of the band's first twenty years. During the brief film fans were treated to a reminder of the band's passion for people, music, and for their Boston heritage. I can only hope that a longer version of this film will be coming out later this year. Next, after playing a couple of songs, Ken Casey revealed that his doctor advised him that he should not be playing bass in order to allow a tendon injury to heal. For the rest of the night, Casey made his way from one end of the stage to the other with a mic in his hand.While it was very strange not to see Ken with a bass in his hands, it was cool watching him and Al Barr tag team front man duties.
I could try to explain what makes a Dropkick Murphy's show special, but there are just somethings that words can't explain. All I can offer is a piece of advice. If you see that Dropkick are playing your city, go! All it takes is one show and you will get it. Given the performance that the band put on at Bogart's, you will have your chance to get your Dropkick fix because the band is showing no signs of slowing down.
LET'S GO MURPHY'S!!!  LET'S GO MURPHY'S!!!  LET'S GO MURPHY'S!!!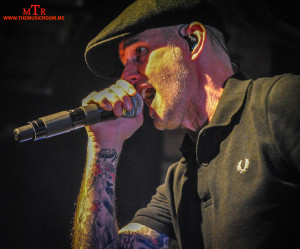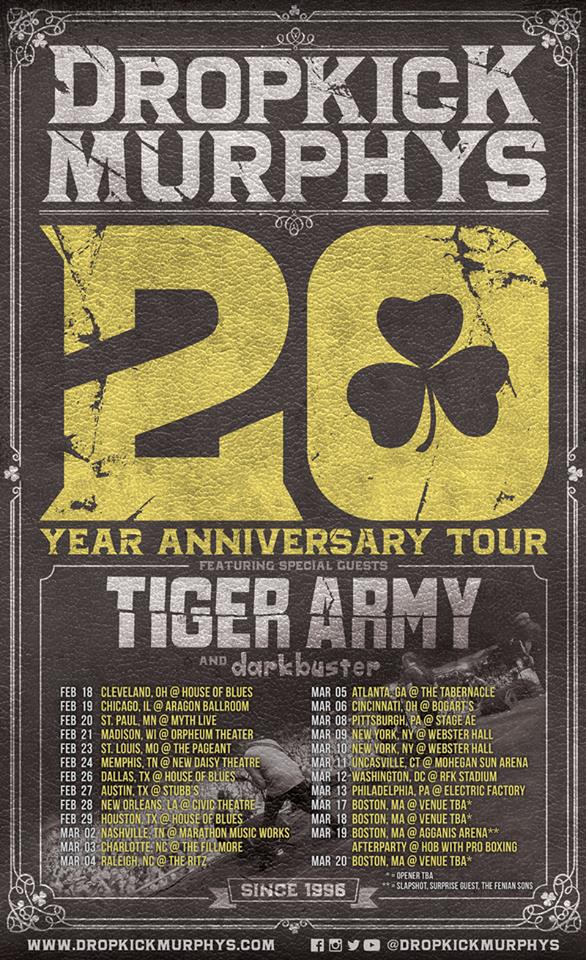 www.facebook.com/DropkickMurphys
https://twitter.com/DropkickMurphys