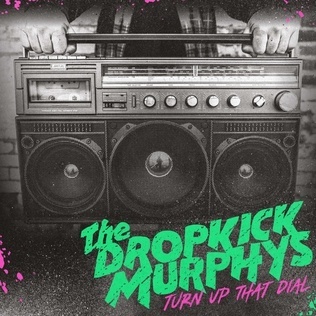 Welcome to our Dropkick Murphys album review. Turn Up That Dial is the brand new record from The Dropkick Murphys to mark the band's 25th anniversary. And what a way to celebrate! We could really sum up our Dropkick Murphys album review in 3 words….it is awesome! If that is all you need to know, you are welcome. Click here to buy your copy of Turn Up That Dial. But, if you would like to know just a little bit more before you make up your mind, allow us to expand on our sentiment.
Turn Up That Dial is a big, bright, and loud album. You can tell the band was just bursting with creative energy during the past year while being locked down. That creative energy is evident from the moment you drop the needle down on the Turn Up That Dial vinyl. The album just sounds happy. It makes the listener feel good as they listen to the new Dropkick Murphy songs at a loud volume. The subject matter of the songs is all over the board. The tracks speak of a love of music, love of country, love of state, and a pretty funny tune about the hate of birthdays. For that one, you have to check out the tune, "H.B.D.M.F." There is also a great tune that describes when Mick Jones of the classic band, The Clash, stole some pudding. Again, listen to "Mick Jones Nicked My Pudding" to hear for yourself.
These 11 songs are fun. Listening to them will just make you feel good. And let's face it, after the year we have all had, that is something we all need. The Dropkick Murphys have been there with us since the very beginning of COVID when they streamed their annual St. Patrick's Day show right when the world started shutting down. They did two more streaming shows after that. It feels like Dropkick Murphys was the band that was with us through it all, and now they are with us as we start to regroup and move on.
So there you go, either with the shorter version or the slightly longer version, the findings of our Dropkick Murphys album review for Turn Up That Dial are the same, it is a record that you should definitely go out and buy. And to save you the trip, we are providing links below so you can order your copy right now. And be sure to check out the Dropkick Murphys Turn Up That Dial Album Release live stream on May 1st sponsored by Death Wish Coffee.
Order You Copy Now!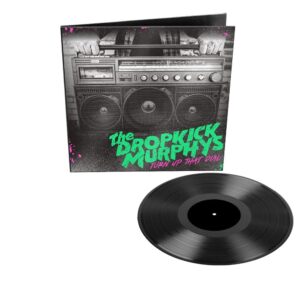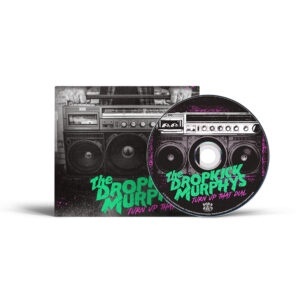 Vinyl Show & Tell
Tracklisting
1. "Turn Up That Dial"
2. "L-EE-B-O-Y"
3. "Middle Finger"
4. "Queen of Suffolk County"
5. "Mick Jones Nicked My Pudding"
6. "H.B.D.M.F."
7. "Good as Gold"
8. "Smash Shit Up"
9. "Chosen Few"
10. "City by the Sea"
11. "I Wish You Were Here"