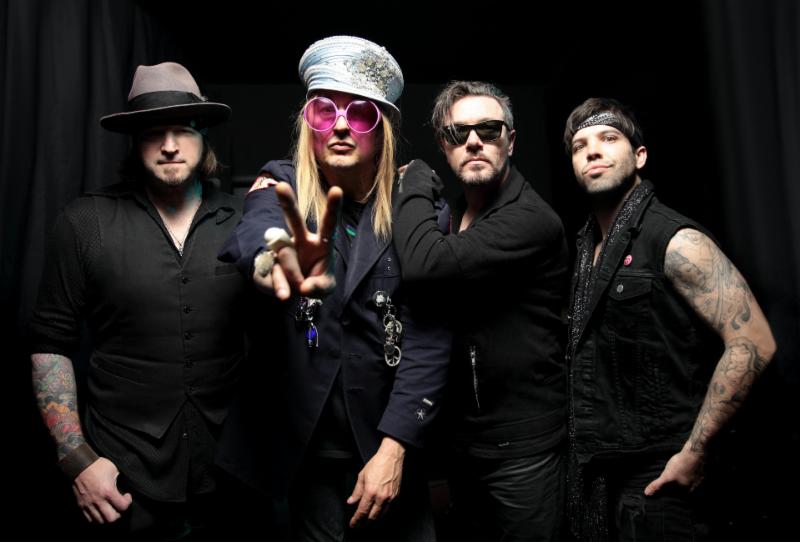 With his long blonde hair and big round glasses, Chip Z' Nuff is one of the most recognizable figures in rock n' roll. Chip and his band, Enuff Z' Nuff have been making their own signature style of rock n' roll music since 1984 without stopping. The band has just released their latest record,"Diamond Boy" this week on Frontiers Music SRL. The album is a diverse collection of songs that takes listeners on a sonic journey. The band is also getting ready to hit the road with Jack Russell's Great White and the Bullet Boys on Sirius XM's Hair Nation tour. With so much going on, we wanted to hear all about it from the man himself. Sit back and enjoy our conversation with Chip Z' Nuff…the go our and get our copy of "Diamond Boy!"
Click above to hear the interview or read the transcription below
---
The Music Room: Hey Chip! This is Tony from The Music Room out of Cincinnati, OH.
Chip Z'Nuff: Hey Tony, how are you? How is Cincinnati doing?
TMR: It's good man. It's a little rainy here, but we're all right.
CZ: Beautiful bro. Thanks for taking time to want to speak to me about the new album.
TMR: Oh no, thank you. It's an honor to talk to you.
CZ: I know we're going to be coming through your neck of the woods this year, so I hope to see you at the show.
TMR: You know it. October 26th at Bogart's. We are looking forward to it.
CZ: That's beautiful. Can't wait. Great room to play.
TMR: Yes, it is going to a fun night. But before then we are looking forward to the new record, "Diamond Boy" coming out on August 10th. I had a chance to listen through the album a few times. What a dynamic collection of music. Congratulations on that.
CZ: Thank you very much. It's certainly a strong record for us. It was a lot of fun to make. No pressures. I think people will be pleasantly surprised when they hear this album. I call it glitter rock.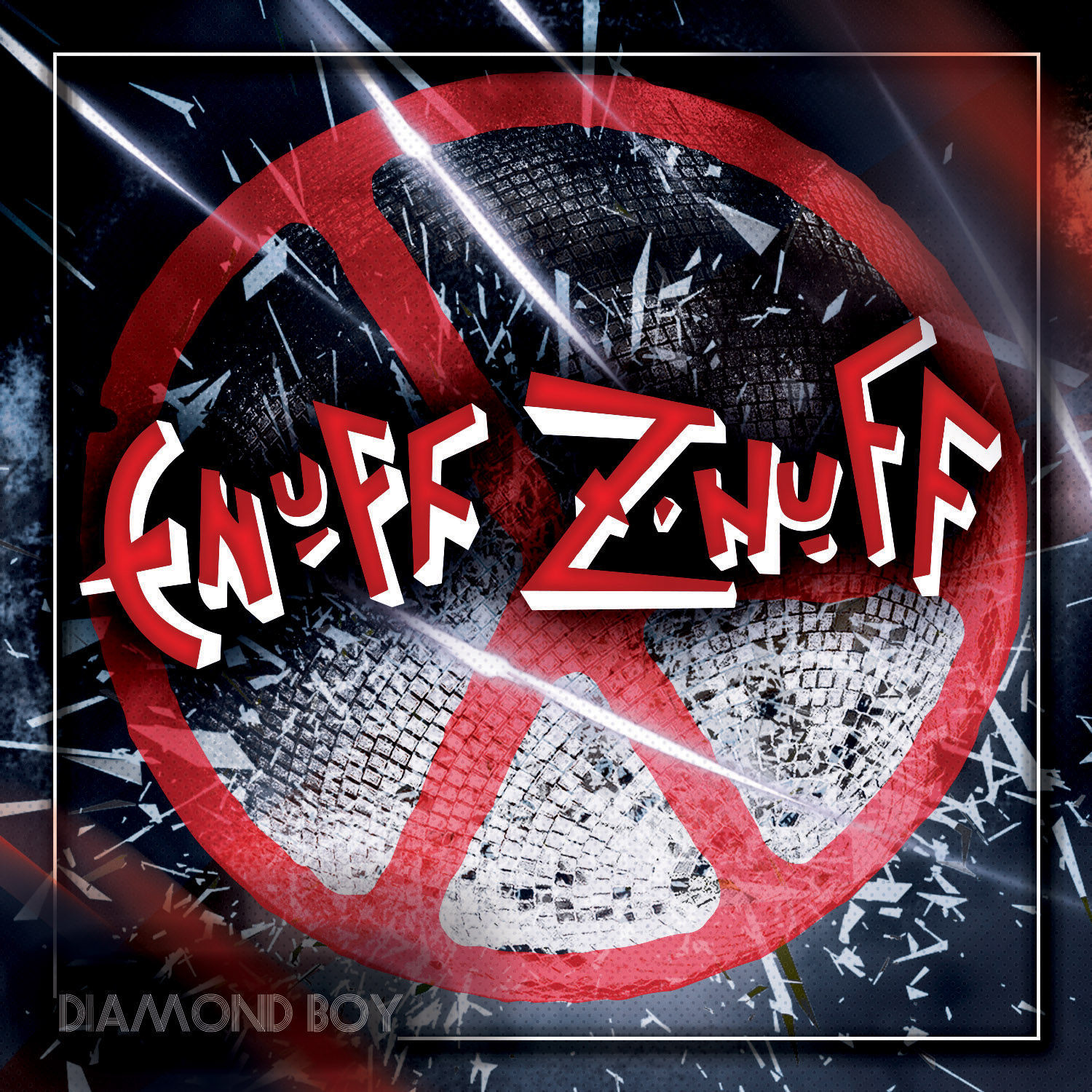 TMR: Oh yeah. I think that there is a tendency to put bands in certain genres. Like Enuff Z 'Nuff, you could say they are an '80's band. But when you listen to the record, it's anything but an '80's record. If anything, I think it leans more towards the '70's.
CZ: That was my approach to the album when we first started recording. Let's make this a '70's record. Real Lo-Fi/Hi-Fi, right in your face songs. There's plenty of subject matter to write about. I think we've come up with some good stories. It's not necessarily a record that's about us. I think I'm picking off the bones of a lot of different stuff. When you put the record on the turntable or you put the cd in, you don't see smoke machines and people shaking their asses. You just hear the music and the songs. I took the approach of writing a lot of stuff about other people, not just necessarily myself.
TMR: I think this one of those records that is going to sound phenomenal on a turntable. (YES, IT COMES ON VINYL!!)  I can't wait to hear the warmth that the vinyl brings to it.
CZ: We took the approach like we did in the old days when we had a big budget. It's an analog record. We recorded it on two-inch tape. It sounds sparkling. We went into the studio and played together as a team. That's the reason why it came out so wonderfully. There are not a lot of overdubs on this record. We didn't go crazy and try to make a record where there are a lot of parts that we couldn't reproduce live. Each song is really strong in concert. Speaking of that, we can't wait to get out there and take this record to the streets.
TMR: Yeah, I can't wait to hear them live. Like I said, the dynamics of the record….there are a lot of peaks and valleys on there. You go from something like, "Down on Luck" then you get into something like "Faith, Hope & Luv." It's a journey. It really is. 
CZ: And that's what records are supposed to do. In the old days we'd go out and buy a record and we'd sit around our house with our friends or family members and we'd listen to the record all the way through. Nowadays that attention span isn't quite there. I believe that since we have a chance to go out to play these songs live, radio stations around the country may be embracing some of these songs. I'm looking forward to seeing what the future holds for Enuff Z'Nuff.
TMR: You are one of those bands that have held in there the whole time. Even during the dreaded age of grunge, I think the longest you guys have gone without putting out a record has been six years. What has been the catalyst to keep it going? Because a lot of bands packed up and were done. How did you get through the lean years?
CZ: It's certainly a blessing and I owe it to perseverance. You're right about making records consistently throughout our career. The reason it took so long to make this record was that we needed to find a home. We're at a time right now in the music business where there are so many bands out there that it's difficult to find a home and put out a record that will cause a little commotion. We were lucky enough to find Frontiers, or they found us. Either way, you want to look at it. It's a wonderful label that has bands like Journey, Night Ranger, Whitesnake, Sebastian Bach, Inglorious, Last in Line…the list goes on and on of some really cool bands that have sold millions and millions of records. We have our work cut out for us. The first thing was to make a really great record. And now it just so happens that we found a really nice tour that works in conjunction with the album's release. We're going to go out and take it around the country. We're going to go everywhere. We're not just going to keep it in the United States. We're going to go over to Europe as well because that its a big celebration of life here for Enuff Z' Nuff. I can't wait bro, I'm so excited about what's coming ahead. That's the secret of life…to be surprised and take it day by day. Half of the work is out of the way. The other half is to going out playing these songs live every single night.
TMR: It feels like a good time to be a rock fan right now. It feels like the pendulum has shifted and that we are on the upswing right now. That's a very cool feeling.
CZ: I'd like to believe that. I think you're absolutely right. I think the pendulum is swinging up towards rock n' roll. In the old days, we would have MTV, VH1, and all of those music channels. Everyone was really pushing rock. We went through a time when other music came in there, and some of it was really good, but the rock bands got pushed to the side. But it didn't seem to deter the fans from coming out to shows. You had Guns N' Roses out playing huge stadiums. Then you had the Def Leppard/Journey tour this year. I know Cheap Trick was out with Poison. There's a ton of great tours out there. Then you have the new bands that are out there like Rival Sons and Greta Van Fleet. Then there is the killer new band, The Struts who are out there with Foo Fighters right now. Those bands are all carrying the flag as well. I believe that there is strength in numbers. There's a lot of great rock n' roll music out there. Ghost, the new Dee Snider record…the list goes on and on. People are going out to see these shows and they are embracing their favorite bands. It's nice to be in that little circle.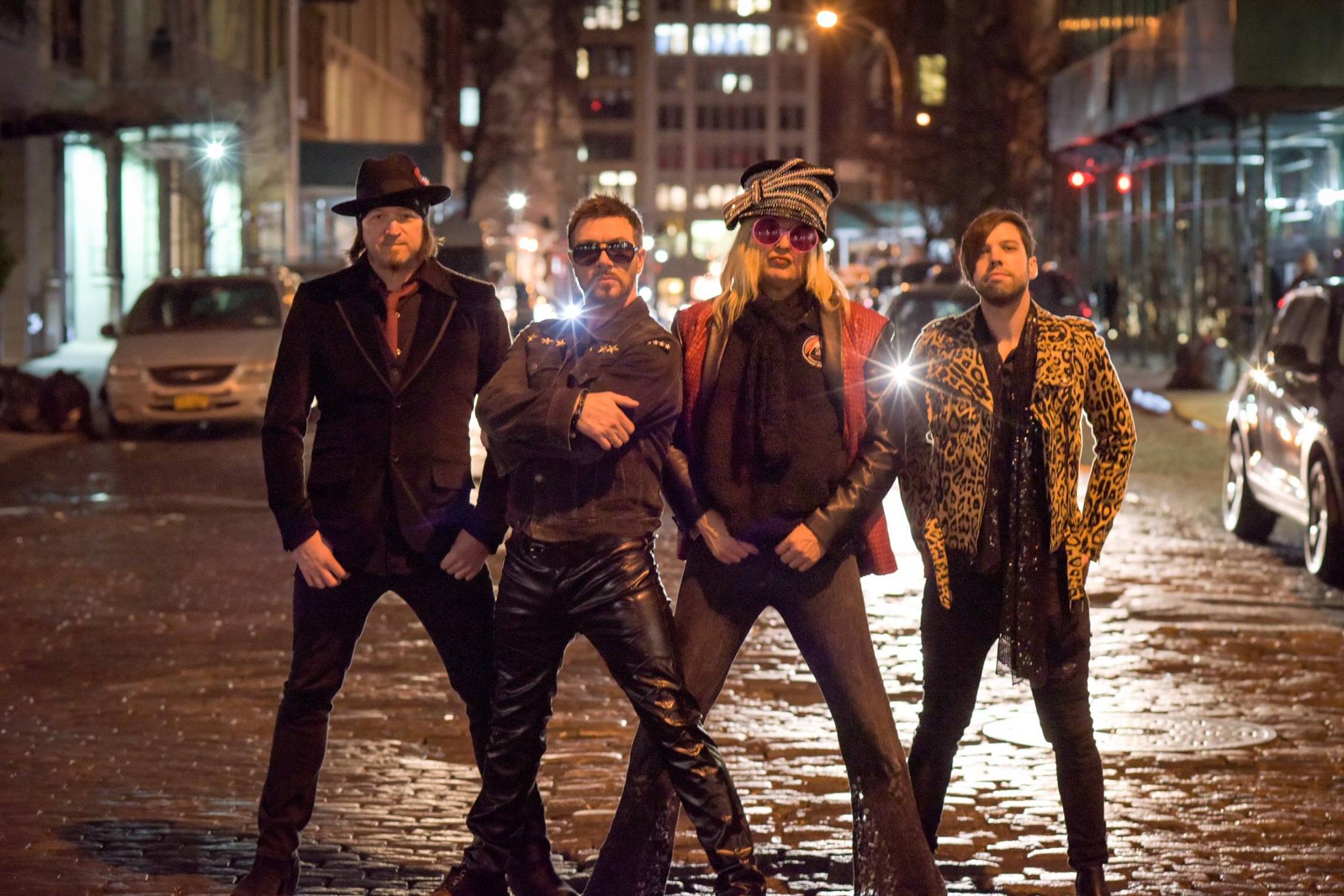 TMR: One thing that bands have lost out on is the fact that the music is one thing, but there is also a style and an image to uphold. The thing that has always been cool about you is that there is never any denying that that is Chip Z'Nuff right there. You've always had style and that image. How important do you think that has been along the way to have the identity that you do? Do you think newer bands miss out on that?
CZ: It's a natural evolution for us. We started making records in the late '80's and we had some success. We found ourselves walking through the pitfalls of what happens in the music industry with the changing of the guard. Other bands come in there and you lose your support. But our fans have spoken, and they are screaming loud. They want to hear rock n' roll. This is a great potpourri of pop, rock, alternative, heavy metal…it's all mixed together. We've always been like that. We've always been straight ahead and honest to our fans and to ourselves as a band. That's what kept us going right there. That and the blessing from above. Nothing else. 
We went through a ton of turmoil. In the early days, the band was full of piss and vinegar. We were partying and burning the candle at both ends. We had the big tour bus and were going into debt every single day, but we had MTV touting the band. They were playing the records, showing the videos, and that sustained us for a long time. When those stations went away it was really about us making a record and going out there touring around the country trying to reach as many people as possible. Opening shows for the biggest bands in the world, or playing a club to a couple hundred people a night. But we were grateful to be out there gigging. So we worked ourselves all the way up to the point we are right now. We're still healthy, the band's on fire, and we're going to go out there and kick ass every single night on this next tour. It will be a celebration of playing the songs from the early days to right now. I think people are going to be pleasantly surprised when they see the band. Every night we come out kicking ass.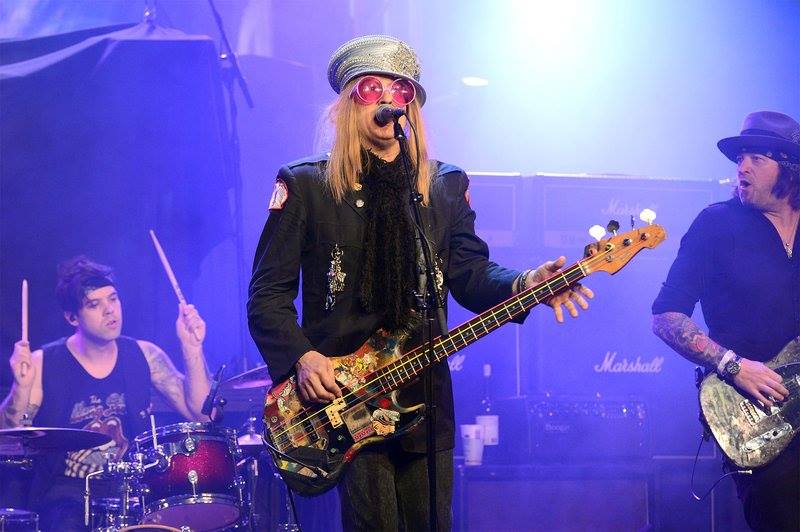 TMR: On this record, for the first time ever, you handled all of the lead vocals. I wanted to get your feeling on how that was for you and if it is something you see continuing in the future.
CZ: I think that it's a natural evolution. If I'm a baseball team, I guess I'm the third guy up. It's time to bat. I'm swinging and going for the fences. It was quite a challenge. As far as I'm concerned, my little brother (Donnie Vie) was the quintessential singer of our generation. One of the greatest out there. A wonderful songwriter. A great singer. He decided that he wanted to step aside and do his solo stuff and not worry about the rigamarole of the road. I had no choice. I could have taken the approach of Styx, STP, Foreigner, or Journey…all of those great bands that have sold tens of millions of records. But I looked at Genesis. The only other band that's done what I'm doing. When Peter Gabriel stepped aside, Phil Collins came in and start singing the songs. I'm not comparing myself to those great and wonderful singers, but that was my template. Instead of going around the country trying to find that guy, I said I'm going to do it myself. I've sung some on all of the albums, and lead on a couple of songs on certain records. But this is the first one where I said okay, I'll take it over and see where it takes us. My approach was pretty much the same as it has been for years, which is going in there and sing the songs as best I can. To tell my story, and do it in a live setting. There are not a lot of overdubs. There are not a lot of guitar parts, and keyboards, and synthesizers and stuff. It's just the band playing live right in your face.
We did the album in two weeks…to record the album. Then a couple of weeks to mix it. We did here in Chicago out of the Chicago Recording Company. It's funny, we did it in one room and in the room across from us was Chance The Rapper and Kayne West. I have to be honest with you, it was a real freeing and loving environment. Everybody got along fabulously and we were all rooting for each other to make a great record. I think we nailed it. I don't want to sound unmodest, because there is a lot of great stuff out there. I certainly believe that we made a strong record for 2018 and the audience is going to be pleasantly surprised. And there will be videos that will follow the record as well as a huge tour. 
TMR: After listening to it, I think you made the right call on that. Again, we are really looking forward to seeing you guys live when the tour rolls into to town. 
CZ: Yeah, we're on the Live Nation tour that starts in September. Live Nation and Sirius XM Presents the Hair Nation Tour, which is Jack Russell's Great White, the Bullet Boys of Los Angelas, and Enuff Z' Nuff. Shows will be co-hosted by Eddie Trunk on select dates. It will be a celebration of life. Live Nation took a chance and said you know what, let's bring it all back to Sunset Strip days, and that's exactly what we're doing. You'll hear all of those iconic songs from all of those bands. Jack Russell's Great While…they are absolutely terrific. Jack is singing better than ever right now. The Bullet Boys, they come out there on fire. Torien is singing his ass off. And Enuff Z' Nuff. I think that there will be an opening band in every single city. A band will win a chance to open on the show. 42 dates and it starts on September 12th in SanDiego. Then we come out to Cincinnati in October at Bogart's.
TMR: October 26th at Bogart's. Yes, sir!
CZ: What a great venue. I played there 20 years ago opening for Warrant. We're really looking forward to this show. I've always loved Cincinnati. Listen, in my old days when I was a kid I had scholarships when I was playing baseball. I tried out for the Milwaukee Brewers, the Chicago White Socks, the Kansas City Royals, and believe it or not…the Cincinnati Reds. So here I am now, almost 30 years later coming back. But I'm a singer now, not a baseball player (laughs.) When I think of Cincinnati, I think of one guy. Johnny Bench. I loved him. The greatest catcher of all time. 
TMR: Chip, like I said…everyone is really looking forward to the tour and the new record. It is an exciting time to be a fan, that is for sure. 
CZ: Thank you. There is strength in numbers. We will see you when we get out there in October my friend.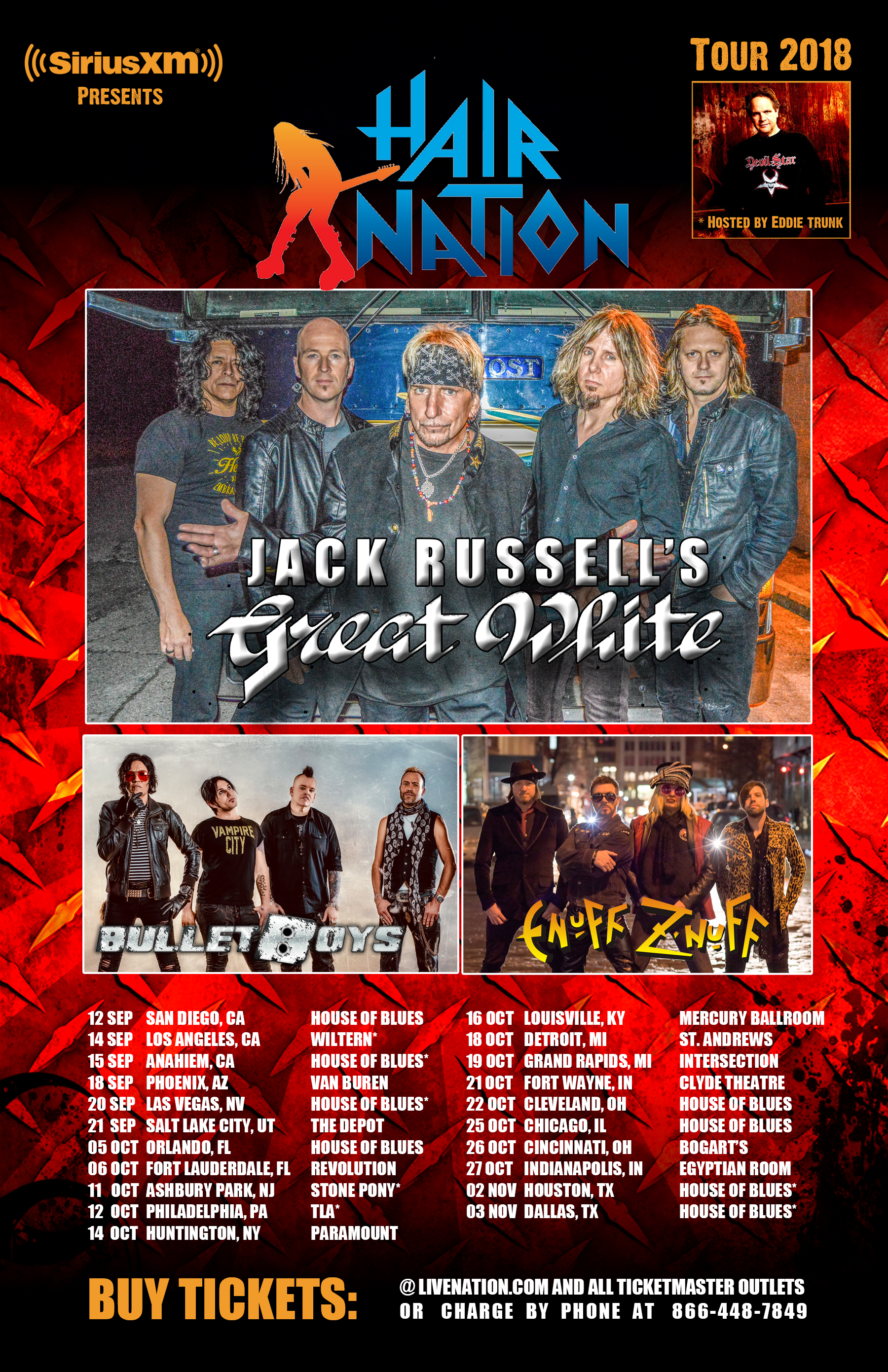 www.facebook.com/EnuffZnuffOfficial
www.youtube.com/channel/EnuffZnuff