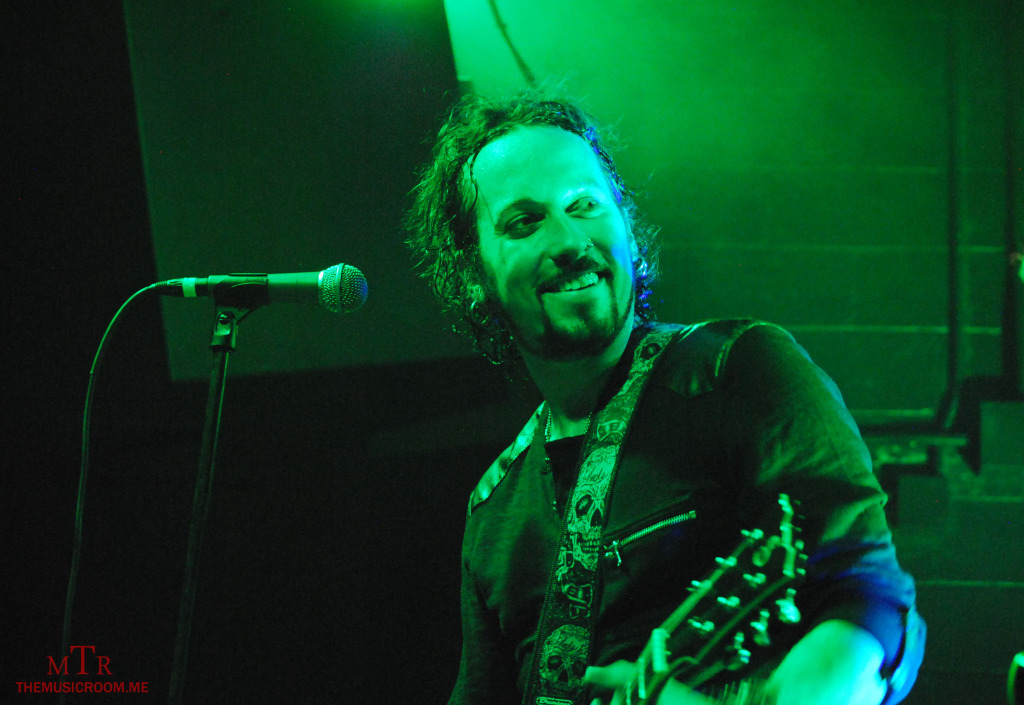 On September 7, 2014, a new band by the name of Devil City Angels took the Never on Sunday stage at MVP in Cincinnati, OH. The band was made up of some of the biggest names in hard rock. Tracii Guns from L.A. Guns on Guitar, Eric Brittingham from Cinderella on bass, and Rikki Rockett from Poison on drums. But who was the guy up front singing all of these classic songs? He was not from a huge group like the rest of the guys. Well, it didn't take long to learn that this guy was Brandon Gibbs, and that he absolutely rocks. Brandon took command of this"super group" and showed that he is the perfect guy to be fronting this great new band. It also didn't take too long to learn that in addition to being a great performer, he is also a great guy. It is for those reasons that we are all excited to have Brandon return to MVP on February 27th for a special acoustic performance along with his band mate, Rikki Rockett. I had the pleasure of talking with Brandon about Cheap Thrills, joining a band with rock n' roll heavyweights, the upcoming DCA record, and what to expect from the February 27th show. I hope you enjoy reading the conversation as much as I had having it!
The Music Room: Before Devil City Angels, you were in a band with Eric (Brittingham) called Cheap Thrills, right?
Brandon Gibbs: Yeah, I started that band, wow…three and half, maybe four years ago now. I moved to Nashville and started promoting myself. I sold a song to ESPN, which inspired me to get back into music. So I called Eric and was like, you know what, I want to take something out on the road. I did't know what it was yet. Get a couple of guys together from other bands and let's go out and see what we can do. It turned into being a career. We had a team of people behind us pushing us. Eric and I were never really thrilled about the name….we hated it actually. We were just known as the Cheap Thrill guys for some reason. It was a great experience and we still surface from time to time. It's a fun show and a fun band to watch. It's a revolving cast of characters. Sometimes you can see (John) Corabi in there, Troy Patrick Farrell , different members of Staind and Collective Soul. You just never knew who you were going to see when we would go out, and when we still do go out. So that's kind of the gimmick behind that band. We're not going to tell you who's playing this week, you're just going to have to show up and figure it out.  (Laughs)
TMR: That sounds like a win-win with all of those guys you mentioned.
BG: Yes, and it's fun. 
TMR: How did things evolve into you and Eric doing Devil City Angels?
BG: Devil City Angels kind of came about…I got done with my European tour and I was kind of over the Cheap Thrills shows. We do a lot of covers and a lot of fun things, but I was wanting to make a record and get my head space back into being original. I was actually going to tell the guys in Cheap Thrills that I was going to take a break, and do this personally. I'm not kidding you, I looked at my mom and said," I think this is a decision I am going to make. I'm going to step away from it for a little bit." And I literally got a text, probably fifteen to twenty minutes after I told her that from Rikki Rockett. He said, "Hey man, you, me and Tracii Guns…let's start there." I said I am interested in hearing what you have to say. That night Tracii called me and said,  "Man, I've You Tubed you, I've researched and listened to you. I love it, you're the guy."  Probably four or five weeks later I was at a car show with Eric and he got the call from Tracii. Well, I got a text message saying, "Hey,  I want to talk to Eric about being our bass player" and I said that's funny cause I'm standing right next to him, give him a call. So they called Eric and he and I were flown out to Los Angeles. We did a song that me and my twin brother wrote called, "All My People." We re-did it with Devil City Angels and that was our first song and kind of our single I guess you could call it. It was a wonderful, wonderful time in just the building process and meeting each other…again. Everyone  already kind of knew each other, but spending time with each other, living with each other…you know, you're joining a band again, and being in a band of brothers for lack of better words. It was fun.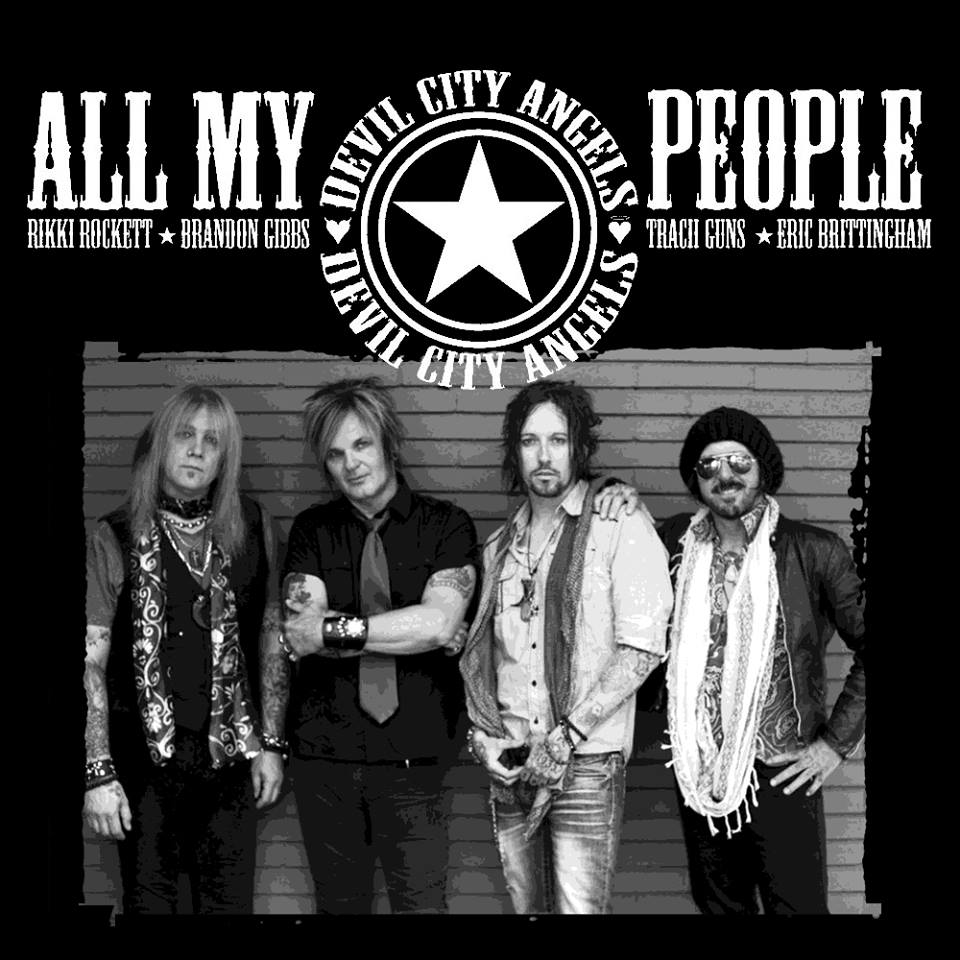 TMR: I was going to ask how intimidating it was being in a band with a guy from Poison, a guy from Cinderella and a guy from L.A. Guns. But now knowing about your experiences with Cheap Thrills I wonder, was it an intimidating thing for you?
BG: It was a little intimidating. Tracii, I didn't know quite as well. I was looking forward to getting to know him, but I didn't know what his expectations were until I got in the same room with him. And he was just like, "You know what? Just be you. You're Brandon. Just bring it and do what you do." I was like alright, I think I know what that means. Basically, I don't have to try to mock any singer of any other band. I can just put my own spin on it and they're comfortable with that. I think the audience likes it that way. That way I'm not a casino act or something like that. I'm not being something I'm not. I'm being Brandon playing these iconic songs and the band members are comfortable with that. So once I got past that I was fine.  It was still a little intimidating…I'm thirty years old and these guys have established themselves through the years. I guess you could say I'm the guy with one foot over the fence and one foot on the other side still. (Laughs). I had to get through that and it was painless. They're beautiful people and they helped me through that part.
TMR: We had the opportunity to see you guys this past summer when you played MVP. It really had a great vibe to it. It wasn't like a cover band just going through these old songs. There was new life to the songs and to the guys. The job you did as front man was awesome. You won over a lot of fans that night. We see a lot of Devil City t-shirts these days.
BG: I love hearing that!! I got to tell my mom (and manager) about that. Sorry, I know that was really unprofessional. (laughs)
TMR: No  way, we're just two guys talking about rock n roll.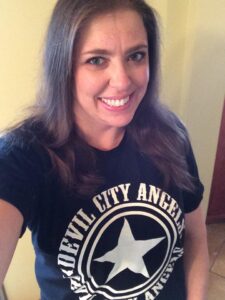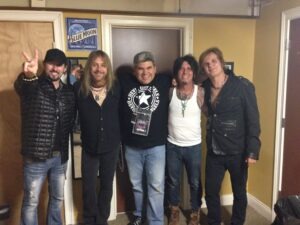 TMR: Did things take off faster than what you guys were thinking? I know I had heard talks about that band and then all of the sudden you were on Facebook. Then you were going to do a couple of shows. Then you're doing a whole tour. Was it your plan to move that fast, or did you just ride the momentum that was built?
BG: It was not our initial plan. When we went out to California for the first time to talk about the business we were just standing in Tracii's studio and Tracii said, "Let's record something," just nonchalant. Nine times out of ten in recording you have to get engineering and the whole process. He just said, "I'll do it. I'll do it right now, right this second. Brandon, put on a guitar." I was like, okay. Everything happened so quickly…instantly. The NFL embraced our song for Monday Night Football. Then it was like, lets' go play shows. We can't just do two or three. We have to do forty of them. It kind of did happen quickly. I wouldn't change anything, I really wouldn't. We went out there and became a band. I learned what Rikki was doing on his drums…it's just one of those things, you just have to know how these people play. We all did it together in front of everybody and that was kind of the beautiful thing about our tour. Everyone was like, "Oh My God, it's these guys and these guys."  Really what we were doing was becoming a band right in front of your eyes. There is a lot of footage, we made it look funny. None of us really drink that much, but we would take Jack Daniels and take pictures of us like we were nervous before the show. It was just funny. It was just us becoming a band in front of everybody and I miss it. I miss becoming a band, it was cool.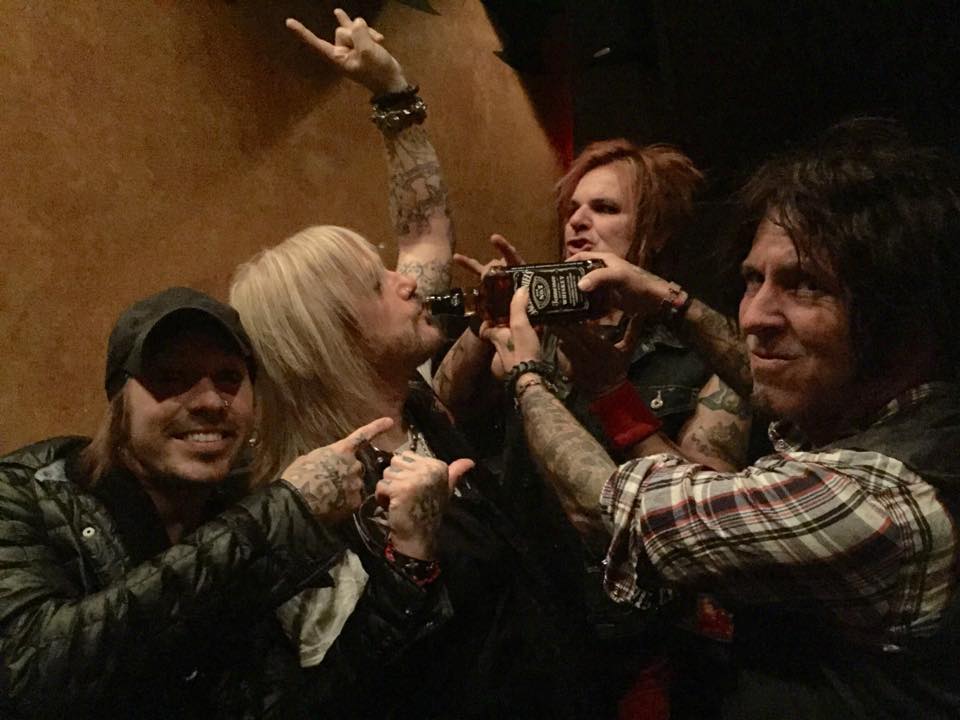 TMR: You guys actually have a house together, right? What is the Devil City House like?
BG: We have two actually. Well, we did. Now we have one. We had a house in Palmdale. It got bought by someone who was making a wolf sanctuary or something like that. So we moved out of that and moved into Rikki's. He has a couple of different lots at the bottom of his property where we made our studio now. It's crazy. We stop and make turkey sandwiches, veggie sandwiches, or whatever we have to do. Coffee it up and get right back into it. Our living room is literally a PA system and a stage. You walk from the kitchen to the living room and you're on stage. I wouldn't have it any other way. It's homie and beautiful. You can go on a jog if you want. It's not as crazy as people might think, but it's louder than you could ever think.
TMR: Let's talk about the record. How is everything going with the recording, and where are you in the process? When are you aiming for it to come out?
BG: I actually leave next Wednesday to finish it. It's a great record. It's a little bit of old school rock n' roll…it's a little bit of wear your heart on your sleeve lyrics. I think people are really going to dig it. I can't wait to release it. I'm not entirely sure when the release date is. I'm thinking possibly mid-summer, that's what we're talking about. But it's just great. If you like guitars, you're going to love it. If you like anthem rock, you're going to love it. If you like soulful blues songs, you're going to love it. I think there's something in it for everybody. I'm not just saying that because everyone says that, but there really is. You can work out to it, you can probably cry to it, you can do whatever you want to it. I'm just going to leave it at that before I go to far outside of the box (laughs).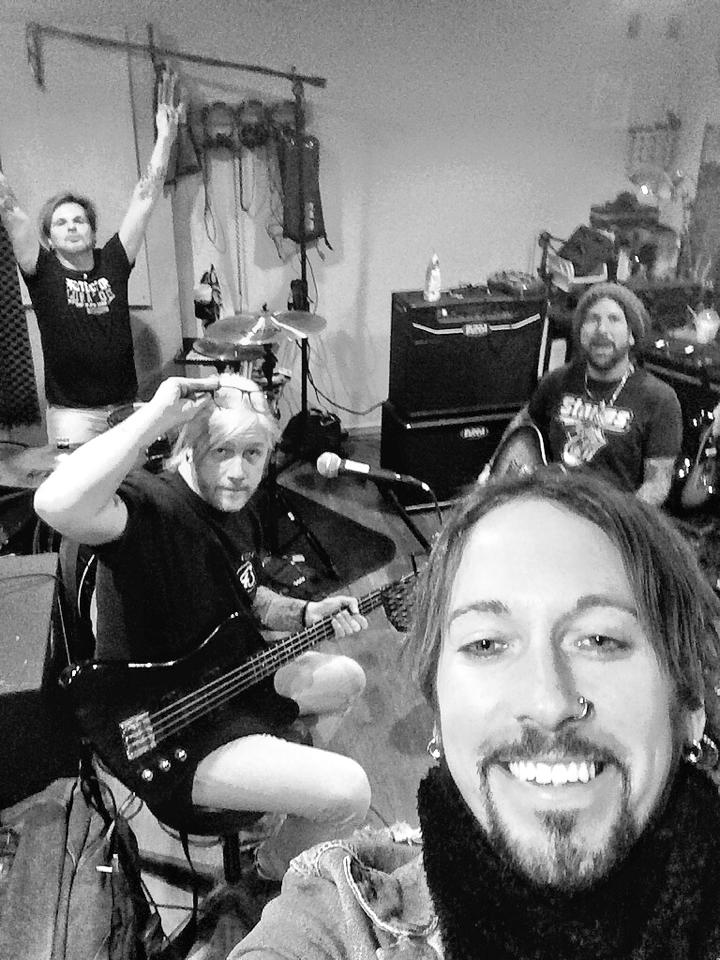 TMR: Will the few songs that have been out there on the ReverbNation page be on the record?
BG: The ReverbNation songs are going to be on the record. We leaked those songs almost instantly after we did them. We put them up to say hey, we're a band…here are some new tunes. The thing is that we got a record deal very quickly into the game and we had to pull them off and finish the record before we leaked anymore stuff. So yes, if you already heard them they will be on the record.
TMR: There are a couple of things I want to ask you about, just because there is some stuff out there. If you want to address it, that is great. If not, I understand. It seems like anytime there is something good going on, you have people that want to piss on it. There are already rumblings that Tracii is out, or Tracii is leaving the band. What's up with all of that?
BG: I hate to sound like a jerk, but nobody knows what's going on. The general public, they get fed this crap from different web sites  and stuff like that. But the fact is, no one knows. The day that came out, I was having a group text message with Tracii Guns and we were just talking about shop. We're talking about amps, we're talking about line six, we're talking about everything. It's bull shit and… it's a conversation piece, I understand that. Tracii is a musical guy and he doesn't want to sit home at all and not play. Well, this recording process takes time. We've been touring a little bit in between but we're just really trying to buckle down. If I fly home and Tracii does a gig or something, we support him. It's not that he's leaving the band. It's Tracii going out as Tracii. He never left the band. He's always been in the band. He's been a very instrumental piece in the band. And he'll most likely always be in the band, I'm hoping, until he says he doesn't want it anymore. We love the guy and that's what's so funny. Rikki and I are sitting there scratching our heads saying just because he's taking a gig here or taking a quick tour doesn't mean he quit the angels. It's junk. Don't worry about it.
TMR: Okay, lets talk about something positive. February 27th you have a show at MVP. Originally it was just you playing an acoustic set and then Rikki jumped on. Let us know what we can expect from that show man.
 BG: Well, it's way different, I'll just put it that way. It's not a heavy rock show. It's a guitar in my hands….if everyone could sit cross legged I would encourage that (laughs). It's like, have a cocktail and I'm gonna talk a little bit about my career and things that have brought me to where I am now. Rikki may say a few things and we're going to play some acoustic songs. We're going to make it kind of earthy and organic. If someone says, oh, I have a question, I might just stop and answer it. I want to have fun with it. Rikki and I kind of put this together as a break from recording. We were doing two weeks of recording and were like, let's go have some fun. Let's reach out and do this thing. The acoustic thing just made sense. It will not be like a Devil City show, but that doesn't mean it's going to be a bad thing. It's kind of like a story tellers type of a night.
TMR: That will be cool. MVP had Eddie Trunk there not too long ago doing something similar and it went over really well. I think people are going to dig it.
BG: I'm just going to try and pick songs that people might  know of, but might not. Maybe I'll surprise them a little bit. It will be more of a vocal performance rather than a smash your guitar on stage type of show, but it's acoustic, you know? I think it's going to be fun. I'm looking forward to it. Rikki, once in a great while, will go out and play percussion for his wife, so he is very familiar with it. A lot of people don't know, but after I got out of the Gibbs Brothers I spent a lot of time traveling around the country doing acoustic shows. So I like to get back to them every now and then. Rikki said that he wouldn't mind exploring that with me and I was like sure, come along I think people would really love it. So far the response to him joining up with me has been great and I can't wait to do it with him.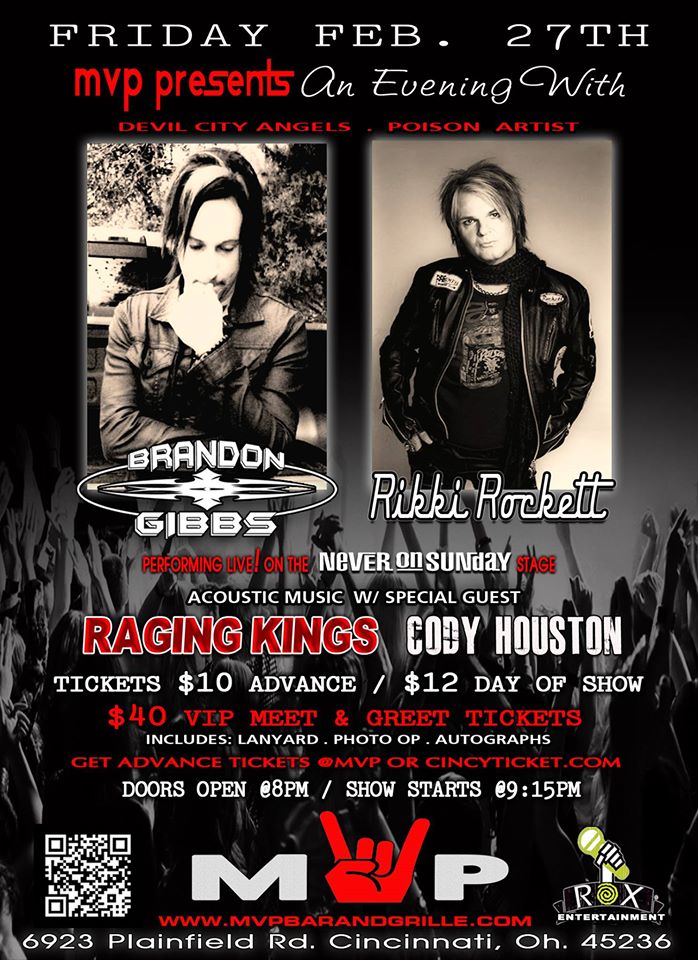 Pre-order the Devil City Angels record and get some cool items here…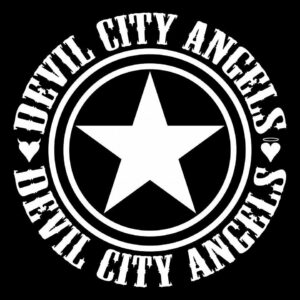 Read our interview with Rikki Rockett from this past summer here…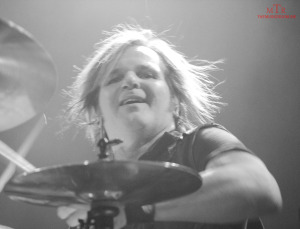 www.facebook.com/DevilCityAngels