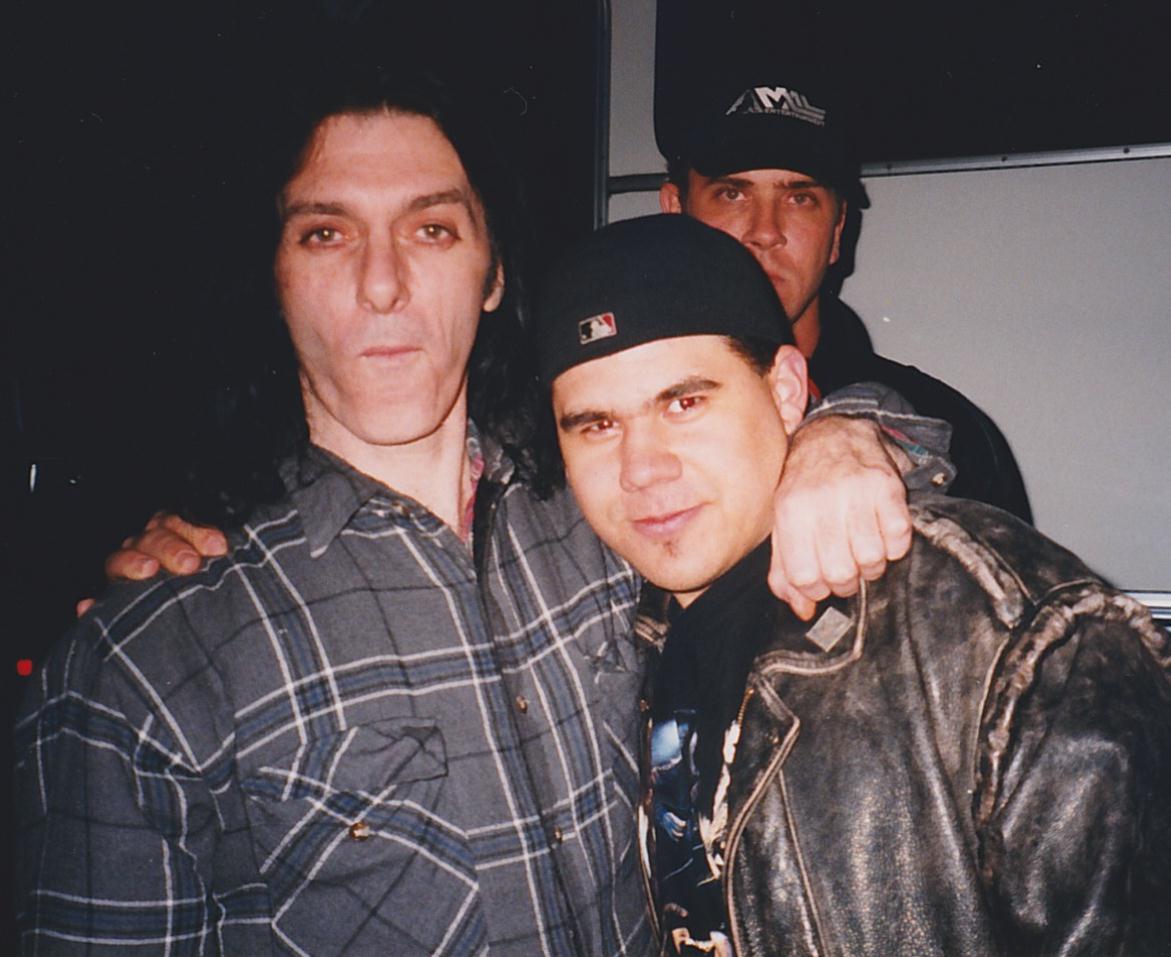 Steve Riley Interview: L.A. Guns & Renegades
Here is our brand new Steve Riley interview! Ever since 1983, there has been an L.A. Guns. Sometimes, there have been more than one version of the band. One thing that has remained a constant during the life of the band L.A. Guns is the name, Steve Riley. Steve Riley has been the drummer of L.A. Guns since the classic line-up formed in 1987. While members have come and gone over the course of the past 3 decades, Riley has remained behind the kit for L.A. Guns. 2019 saw classic L.A. Guns members Steve Riley and Kelly Nickels reunite to play the M3 Festival in Maryland in May. Six short months later, Riley, Nickels and their L.A. Guns were in the studio recording the upcoming album, Renegades. The band released the first single from the record, "Crawl" at the end of August. Judging from the sound of the first song, L.A. Guns are returning to the classic sound that has made them a favorite of the rock n' roll faithful over the years. We were honored to have the chance to talk to Steve Riley about the upcoming record, Renegades, as well as the future of L.A. Guns. 
---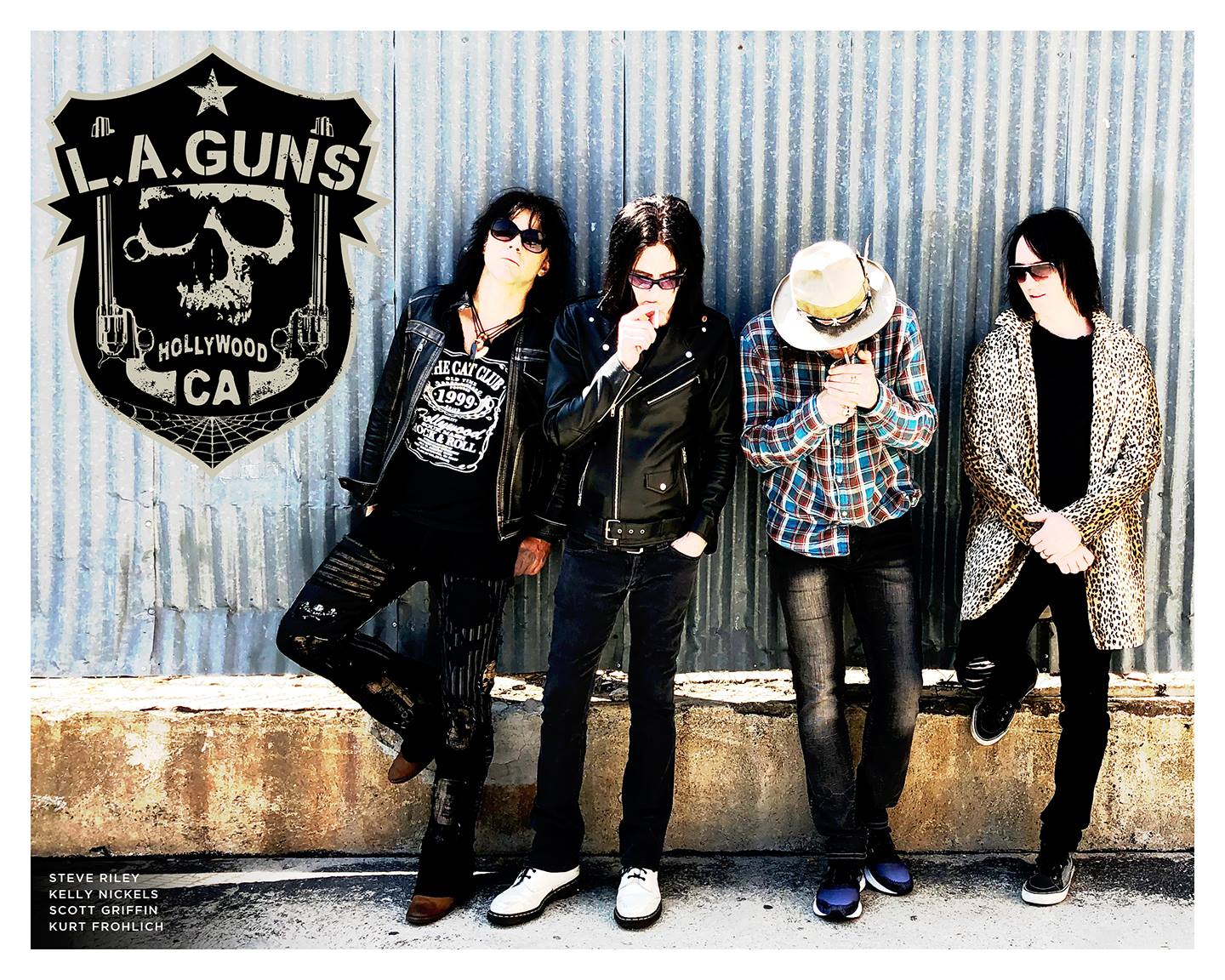 The Music Room: Hey Steve! Man, I really appreciate you taking time out to talk with me. How are you doing during this crazy time?
Steve Riley: Man, it is crazy isn't, Tony? I'm telling you. Especially in the business us guys are in. Everything is so up in the air. We've got dates moving around, not really knowing when… We've got dates supposed to start in August now. We were supposed to already be out on the road, but everything is moving back. We don't even know if August is going to happen. We're just lucky. Kelly (Nickels) and I feel really lucky that we got Renegades done and that we can work it. Or else we would just be sitting around.
TMR: That is nice. I know a lot of artists are holding off putting out new material right now, so to get the new single, "Crawl" was a good treat for music fans. So thank you guys for putting that out.
SR: Oh man, I'm glad that you like it. The response has been really good. Kelly and I were really hoping that we could stay true to the L.A. Guns sound. People are really digging on it. We have another single off the Renegades album that will probably come out in June and we'll work that. Then hopefully we can start these dates in August. We'll see what happens.
TMR: When you hear the current single, "Crawl" one of the things that really stands out to me is that groove between you and Kelly. I mean, it's been a little while since Kelly has been in the band. But you can't deny that bass line, and just that rhythm section on "Crawl." How does it feel playing with that guy again?
SR: It's awesome being back with Kelly. Not only do I have one of my best friends back with me, and one of the classic guys back with me…but he's my battery mate too. He is my rhythm section partner. We have such great chemistry. We knew we did, obviously, but playing with him again is just awesome. We felt like we could power anybody who plays in front of us.

TMR: Do you think you would be able to do this now without having someone like Kelly with you who you've played with for all of those years?
SR: You know what, it's just better with Kelly because of our history of recording and touring together. But I've played with some really good musicians since Kelly left. Hopefully, we were powering it well too, whoever played bass with me. But there is no substitute in L.A. Guns than playing with your battery mate. There is something special with us playing together. This is the first thing that we've done together in a while, and we just clicked automatically. The two of us together as bass player and drummer, we just clicked. We know how to play off of each other.
TMR: I know you guys kind of got things rolling with M3 last summer. Was a full album the original intention, or was it more of a let's see what happens approach?
SR: The whole thing with M3 was Kelly and I wanting to get the band together to play that show and feel it out. Right from that show to see what we wanted to do and see how it went over. It went over so well that it lead to New Breed Management contacting us saying that they wanted to manage us. They got the Golden Robot record deal right away. Things snowballed really quick from the M3 show going over good. We ended up going from M3 in May, to the studio in November recoding. So it was a real quick thing. We knew that we wanted to record and do something, but we didn't know that it was going to happen that fast.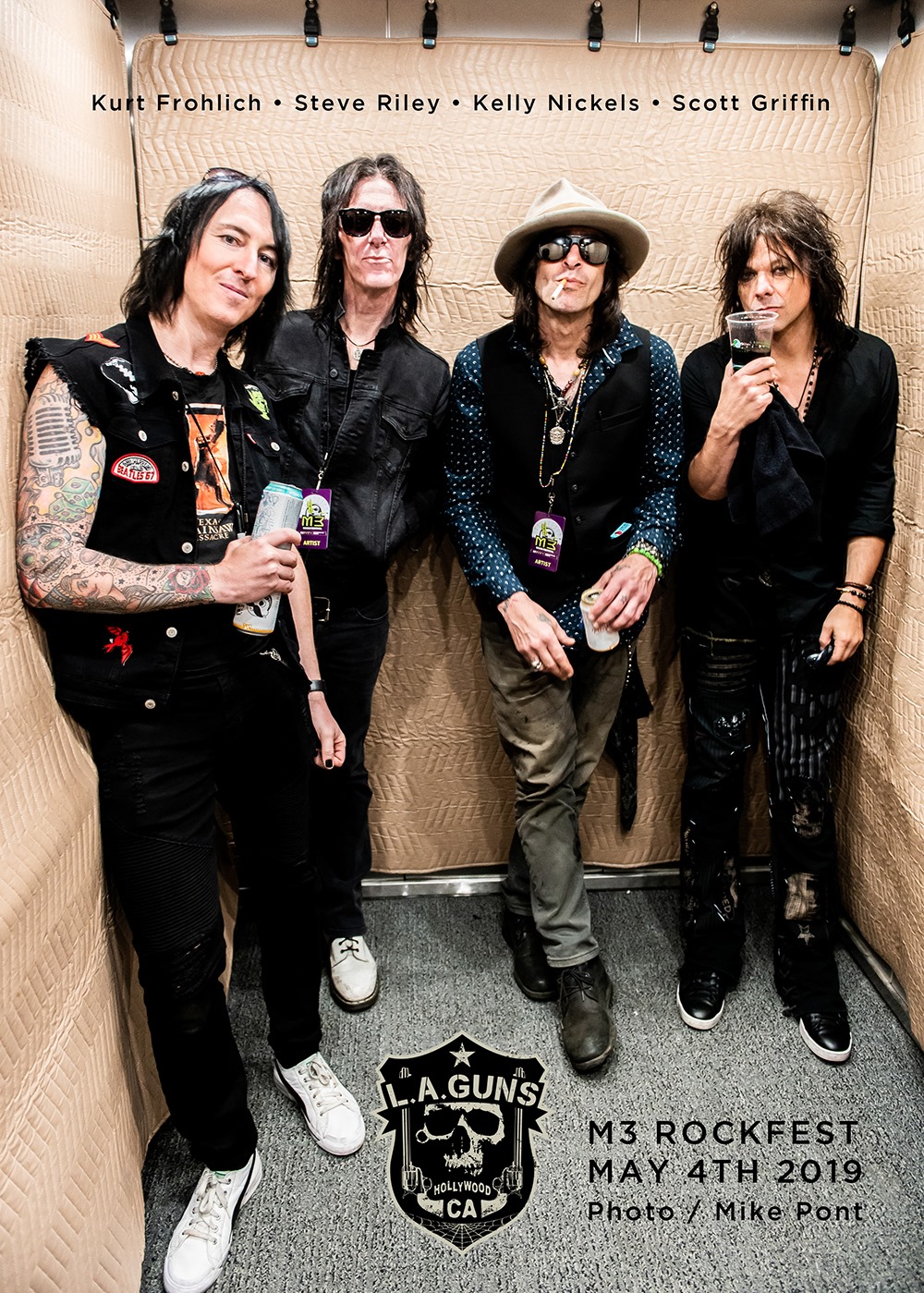 TMR: What is the dynamic for songwriting in the band? How did the songs come about?
SR: We really utilized the internet, bro. It was something special because you had one guy in Florida, one in New York, one in Vegas and me out in L.A. After we did the M3 show, and got management and the record deal, we started trading ideas and songs that we were sitting on. And all 4 guys in the band, we all write. We all had material that we were just sitting on that hadn't been recorded yet. So, we started trading ideas and making suggestions for like, 2 months. We whittled down about 30 songs that we had traded back and forth. Everybody contributed to this album. Everybody brought in 2 or 3 songs. We share credit on all of the songs because everyone would finish them all together. It's a really nice organic little situation that we have where everybody writes and we all work together.
TMR: Another thing I love is the branding of the band. I love the new crest, or logo. I also love seeing the cool merch you guys are putting out. This feels like a real band thing, not just throwing a record out there. Everything seems to be coming together.
SR: Yeah, and Kelly is such a great artist too. He designs all of the merchandise, and he designed…It was a very consciousness thing. We wanted to make sure we weren't going to confuse anybody. We took the badge and we let Kelly go at it and design kind of a new logo/badge. It was the L.A. Guns badge, but it was done over with a different style. So Kelly does all of the artwork for the merchandise, but he did all of the artwork for the album too. I got to produce the album and Kelly did all of the artwork for it. We are moving on as we would normally do in L.A. Guns. We wanted new merchandise. We wanted a new badge. We wanted to make sure people knew who was in this band. Yeah, there's a real effort going on to make things happen right now. It's nice. It feels really good.
TMR: That logo is awesome. It just screams for some killer merch.
SR: It's killer. I think he did a great job on it. He stayed true to the actual badge, but he did it in his own style. I dig it so much. I love what he's doing.
Check out the new tune, "Crawl"
TMR: You mentioned not wanting to confuse people…I think you can do all of this stuff, but there are people out there who have their heads buried in the sand. I know it's frustrating when I go on to your Facebook posts and see those people who just don't get it. They don't seem to understand the…history of L.A. Guns. How is that for you? You guys are making a very strong effort to say, this is our L.A. Guns. This what we are doing. But you always have those trolls. How do you deal with that?
SR: You know what? Obviously, if you are going to be in this business you are going to have to take the good with the bad. Some people are really going to like something, some people are not going to dig it. That has been the case with me forever. I've had to deal with it and get tough and take it. The deal is, with L.A. Guns…this is L.A. Guns, with me and Kelly Nickels in it. Kelly wrote the biggest song that L.A. Guns ever had with "Ballad of Jayne." So, this is L.A. Guns. I never quit the band, bro. I was the only member of the classic lineup that never quit. I'm the one who kept the band going. I have been running the business forever. From the very beginning, I've been running everything. So, when people left, I just kept the band going. I never stopped. When Phil (Lewis) left this time, I kept L.A. Guns going. I started writing right away with Kelly and getting things ready for L.A. Guns to continue on. We know that they are doing something in the other camp, but we want to make sure that there is no confusion. So everything Kelly is doing artwork wise, he pretty much has it on there, Steve Riley, Kelly Nickels, Scott Griffin and Kurt Frohlich. He's making sure that people know. That's why he did a different type of a badge too. He wanted people to know that we are not going to try and confuse anybody. We're going to put out great L.A. Guns music and stay true to the style. I think "Crawl" stays true to L.A. Guns' style.

TMR: Another thing that I appreciate about you guys is that you always seem to take the high road. I don't see you guys taking potshots, and you seem to rest on what you are doing now.
SR: You know what brother, you will never see me go on the internet and tear anybody up. I don't do that. I don't like it. I think that the fans are very aware of people acting like that and saying stuff about people and putting people down. That's not Kelly and my style. We don't do that. We don't sling dirt. We don't say that person sucks, or that person sucks. That's just not us. When we read it…we're a little disappointed in it, but we know that it happens. I think that the fans are very aware of us taking the high road on everything, and not slinging mud. We just won't go that route. We won't go down that road.
TMR: Enough of that kind of stuff, let's look to the future now. When all of this stuff clears up, have you guys thought about what kind of setlist you're going to put together and what you are going to draw from?
SR: We're such a classic rock band now because of how long we've been together, so when we put a setlist together there are 7 to 9 songs that we have to do. They are the ones that the fans are expecting to hear, from "Ballad of Jayne," "Never Enough" and "Rip and Tear." All of that stuff, they want to hear those songs. We love playing those songs. Three-quarters of the set will definitely be songs that most L.A. Guns fans are familiar with, and that just goes with the territory. You have to go there. We're proud to go there. We never wanted to step out of there. Now, with the new album, Renegades, we're able to pepper the setlist with, maybe three, four, or five new songs. We're excited about that too. We're just so proud of this new Renegades album…we can't wait!
TMR: Well, I just have one request to throw into the hat, and that's getting Kelly up there doing "Nothing Better To Do."
SR: Yeah, dude. We had him do it at M3 and it went over great. It's such a great straight-ahead rock song. It's Kelly to the core. It's great to get him up there doing lead vocals on a song…and that song is such a fun song, too. I think that it should always be in our set with Kelly. He should always be singing that.
TMR: I know you have a lot of these today, so I want to end things on a good note. With L.A. Guns and the history of the band, there has been a lot of drama. People like to take shots with all the line-up changes. But the fact is, L.A. Guns is a killer band. In your history, do you have a moment that stands out above all the others? The one that you can't believe happened, or the one that means the most to you?
SR: Yeah, I'll tell you what…when we came off of that world tour off the first album and we went in to do the Cocked and Loaded, that was a real stand-out period for the band. We were so dialed in with each other and having such a good time. Cocked and Loaded was such a great recording and tour. That whole situation with that album was such a great period for the band. We were on such a high. We had written "Ballad of Jayne," "Never Enough," "Rip and Tear" and "I Wanna Be Your Man," and there was a lot of good energy coming out of the band. That whole tour for Cocked and Loaded too. On that world tour we went out with a number of bands. That was a really stand-out period. I just remember that very fondly. I'm digging what I'm doing right now, but if I have to go back to what the classic lineup did back in the day, that right there is a stand-out period. The whole Cocked and Loaded experience. It just really gelled and was a really nice thing.
TMR: Thank you for sharing that, and thank you for your time, Steve. From your time in W.A.S.P to Cocked and Loaded, and now to Renegades…I love everything you have done and look forward to seeing what else you guys do.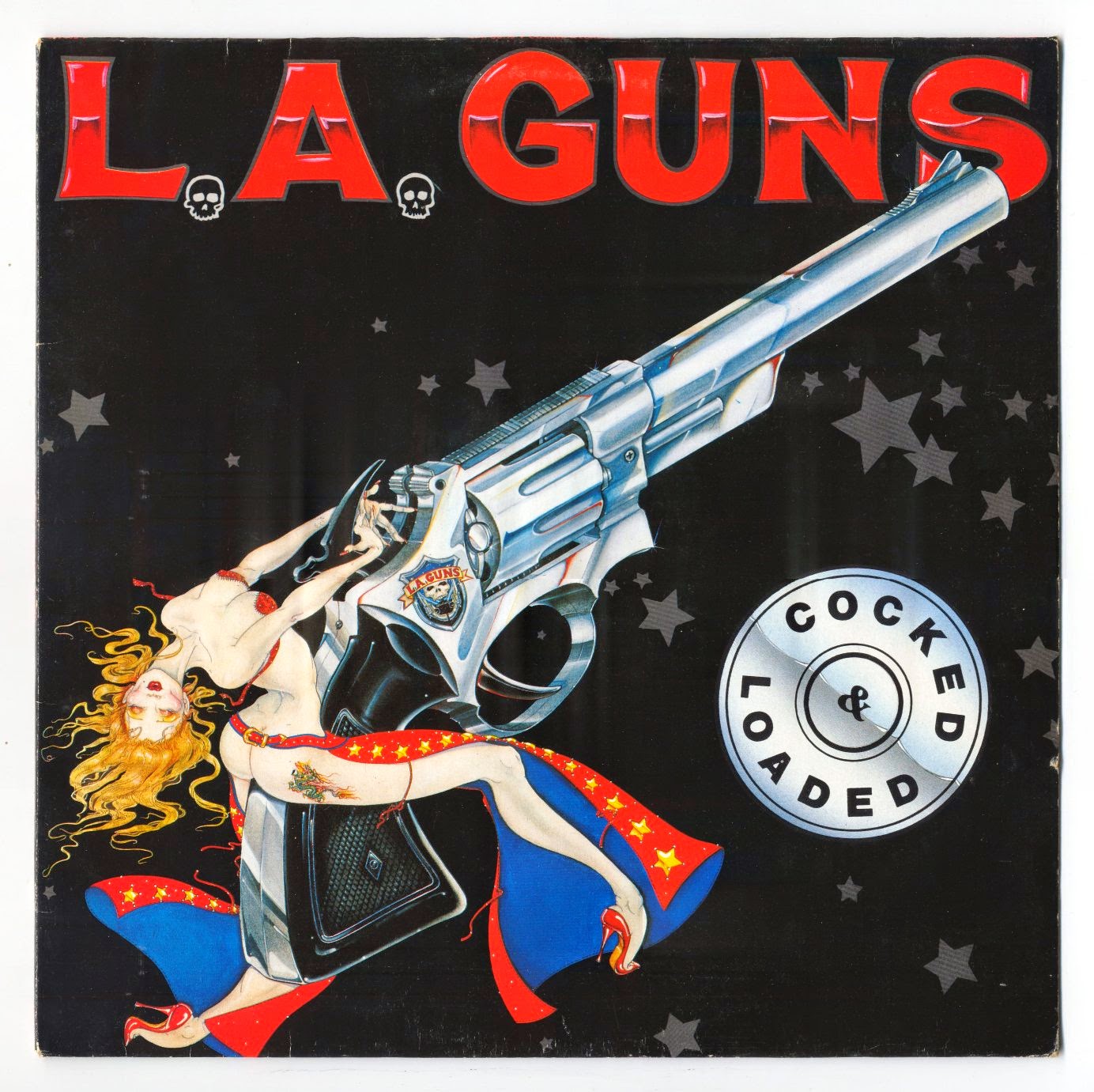 We hope you enjoyed our new Steve Riley interview! Stay up to date on all things L.A. Guns!!
www.facebook.com/officiallaguns