During the last weekend of March, Ryan Broshear returned home to Cincinnati, OH to play two night's at Toby Keith's I Love This Bar and Grill. In between arriving at the venue and taking the stage on Saturday night, Ryan sat down with me to discuss his love of country music and his career thus far. During our conversation, we were joined by Ryan's wife and manager, Amie Broshear. Talking with the couple together offered a unique look at their relationship as husband and wife versus artist and manager. One thing is certain, they have a strong partnership in each dynamic.
I know your parents got you started in country music, tell me a little bit about that.
Well my parents obviously are a big influence with the country music in different ways.  My father was in construction. He would play it every morning before he would leave to go to work. I was lying in bed and would get woken up before school every morning at like, five in the morning listening to all of these songs and they were permeating my brain. The other way was that my dad… he wasn't one of those dads to say, "I love you" or really tell you how he feels a whole lot, but what he would do is set me in front of the record player, literally a record player, and he would put on a record and say, "listen to this." Then he would go sit back in his chair and smoke a cigarette, drink his coffee and kind of hope that I would soak in the message of what he was telling me. One of those messages was on a song from Kenny Rogers, "Coward of the County." That's how he told me you don't have to fight to be a man, but there is a time not to back down when you have to stand up for yourself. And he also kind of told me that he loved me with the song "Love Without End, Amen" from George Strait. So that was kind of how dad influenced me.  Mom was kind of the same way. She always had it on the radio in the car. When I was in first grade we moved to Texas and we lived right between Midland and Odessa, Texas . We'd be going on these long car rides and she'd just have country music on and I started singing along in the backseat. My cousin, we both went to school together, he was a year ahead of me. He would sing harmony and I'd sing the lead. So we were just in the back seat of the car singing along. That's kind of how it first hit me. My mother was always encouraging of my music. She never told me to hush when I was in the back seat of the car singing at the top of my lungs. She never told me it was a waste of time. She always encouraged me. So, that's kind of my parent's role in it.
I know you started playing guitar when you around 14 years old. When I met you, we were in college and you were doing songwriting contests. When was it that you thought, this is what I want to do with my life?
I think my junior year of high school is when I truly kind of envisioned that I want to do this for a living. We were doing this school project where it was a time capsule. They were like, "Okay, tell us where you envision your life being at in ten years." I forced myself to think where I would be in ten years and what I wanted to do, and I manifested that I wanted to be a country music artist. It's taken a little longer to get this far but that's where I first kind of envisioned I want to do this.
You talk about how it took you longer than you thought. Was there ever a point between then and now where you thought, it's not going to happen?
I moved to Nashville first in 2000. I was there a little less than a year and I went through a divorce. I went back to Nashville in late 2001. I got a record deal with a small record label. That folded up pretty fast and left me with no direction. I went kind of broke down there. That's when I wrote a song called "I'm Rich" cause I was down there living and I didn't have electricity. My truck got repoed when we were on tour because I couldn't afford to pay the bills. It got kind of rough, so I moved home with the intentions that I probably wouldn't go back to Nashville again. It took until maybe 2010 when I was playing in cover bands that Amie (Broshear's wife today) kind of said, "If this is what you want to do I can't support this, but if you want to do something more and follow your dreams, I can support that."  (During this portion of the interview we are joint by Amie Broshear) And that's when I started writing again. We decided that once we had written some songs, this dream isn't done yet.
I'm glad that you walked in. I can kind of see what you two go through for this. Every weekend you're packing up and you're doing it. You're making it happen. When did your paths first cross? Was it music that brought you together?
Well, when I first met her it was because of music. I was playing with a guitar player who turned out to be a lifetime friend with her father and who played in a band with her father. We wound up booked on the same gig. I was opening for her father's band, and that's the night that I met her. Amie had spent her whole life being around music and bands. That the fun aspect of entertaining and watching her father perform… she grew to be a big fan of music and was exposed to so much that when she came to be around me and my music, she had a lot of existing knowledge of it already. Couple that with really good business sense …
I wanted more for you.  He was playing around locally. He had been to Nashville twice and kind of felt rejected. He came back home and was playing around town, which is fine. But I saw so much more in him because he had that one original song "Make Each Moment last" which is amazing and everyone loved it. They'd say play one of yours and he'd play that one. Then they would say play another one and he'd play it again! It was all he had and I said what do you want out of this? We're going out every weekend and we're sacrificing a lot for you to play and do that. He said I really want to make my own record, and I want to do it the way I want to do it. I said I'm not an expert, but you need to do something different. If you want something different, do something different and I think you need to write another song as good as "Make Each Moment Last" if not better.  He had a ten year writer's block. So he sat down one night, an occasional drinker but not to be cliché, but he got out a bottle of Beam and put together a fantastic song while I went out for the evening. It ended up being "Country Thing." I came back and it was almost the way, of course less the production, you hear it now. I said that's good, give us more. I just couldn't support him just being the big fish locally when he has so much more to offer and the world would really love to hear Ryan Broshear's music.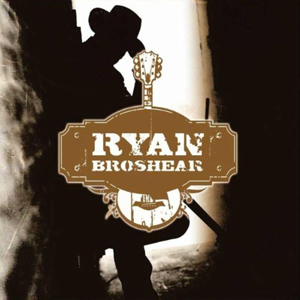 We didn't move back down to Nashville until 2012. We had been dipping in and out, but we decided that's where it's at and that's where we need to be. We both have family up here and I have two children so we're in this area a lot to support my children and very much be a part of their lives. But we have to be down there where music is being made. We started hiring all of our Nashville musicians and touring out of Nashville. It was tough because a lot of my musicians will go out on large tours. We just lost a drummer to tour with Tyler Farr. We've lost people to Craig Campbell and The Band Perry Tour. We've lost guys to really big tours but we're grateful for them to play with us when they're not on those big tours.
Talk about your relationship with Joe Nichols. I know you have played with his band, and you have opened up for him on occasions.
Joe's band performed all of the music on my record.  Joe's band played a couple of shows with me in Nashville to back me up and celebrate the record and what we made.  I finally got to open for Joe for the first time last year in Kentucky at the Alexandria Fair Grounds. And then we got to do another show in our home town in Oxford, and we're booked on our third show with Joe Nichols in Michigan this August. It will be almost exactly a year from the first date that we did. But Joe and I have started to become friends. Joe even came to one of my shows here at Toby Keith's the last time that I was here.  There's talk of things in the future. We'll have to see what grows from it. We might work together on a project.
That's quite a nod to have someone like Joe Nichols, who's been around for a while and has had success, come check you out for no reason other than he wanted to come see you.
Yeah. He took a limo here. He was done with his show, and could have just went to sleep or gone anywhere, but he drove across town to come here. He's also been on two radio interviews mentioning me taking his valuable interview time to talk about me and what I'm doing. I 'm totally flattered because I'm a huge Joe Nichols fan. His voice and style are very much like mine. 
He told me right here in this spot watching Ryan finish off his show that Ryan was his favorite in country right now.  It really solidified our relationship with him knowing that he came to see us out of his way. That we're not just mutual friends with some folks, we're now friends, and it means a lot.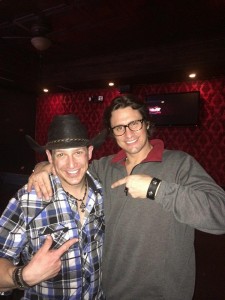 A lot of people think that because you have moved to Nashville, you put out a great record and you are touring places like Texas and New York that you have "made it." I know that there is a lot of hard work that goes on that people could never realize. I would like to get a behind the scenes snapshot of what a typical week is like for you two.
I think you made a very valid point that a lot of people do think we have made it. You know, Billboard magazine wrote me up as one of the top ten new artists to watch, we're out touring the nation, we've got Joe Nichols in our corner…but really there's so many levels of "making it." We're very, very grateful for what we have, but we've got so much farther to go before music is the income and what it generates as far as a business before we have truly made it in that regard. Touring is very costly, radio tours are very costly, all of those cost a lot of money. They're fun. We enjoy the heck out of them, but all the hard work… as soon as we come off the road, that's when we're really working cause we're trying to line up the next tour. We're trying to make sure we drive 1500 miles one way to play one show and then turn around to come back to Nashville. That's difficult because as a new artist you're building relationships everywhere you go. You're unproven in new markets and many places. Just because you had a thousand people at your show in Chicago doesn't translate to a thousand people at your show in New York. But you have to go out and meet people one relationship at a time, one fan at a time. That's kind of what we're doing. Have we broken down a lot of barriers? Yes, but we're still at the very beginning of this journey.
I've just got a couple more here because I know you have to get ready for your show. I would like to know where the line is between artist/manager and husband/wife? Is that a hard line?
It's very hard. You mentioned what the days are like between the shows. They're essentially office days. We have our record label that we started in honor of Ryan's dad, Painted Horse Records. It's, I can't say nine to five. It's as if we are nine to five but the bell really never goes off. Of course we have flexibility. We can take a jog or an afternoon workout or afternoon lunch break but very rarely do we do that. We just keep working and working and working out of our home office. It's from anything from…Ryan's job would be to start promoting the next shows on social media. You know, making sure he's constantly having that exposure and interacting with those people on line. It's amazing all those tools, he's so great at it naturally and he is really using those tools to his advantage to help grow our business. Essentially that's what it is, it's a business. My part would be as booking agent and tour manager. I need to advance the show, meaning I call on or e-mail the shows coming up. I make sure our hotels are set. I have to talk to the production manager or sound guy to make sure I know what time they want us to load in and do a sound check, what time they are going to feed us, what time I need the guys back at the hotel to get cleaned up, and just make sure that it all makes sense. Get all the maps ready and GPS set and make sure that everything goes as smooth as possible and that everyone's on the same page.  And also make sure our band knows when bus call is. We're going to leave out, for example, when we go to New York next week we will leave out at 5:00am. We meet the guys at a said location and they leave their cars there and the bus heads north to New York. That's the fun part once we get on the road with all the guys. Some of the hours on the road are definitely daunting, but that's the fun part cause that's what we do all of the business stuff for. To put Ryan on stage, and in my words that is where the action and magic happens is getting him in front of the people.
Click here for a photo gallery of Ryan Broshear performing at Toby Keith's
Stay up to date on all things Ryan Broshear at: