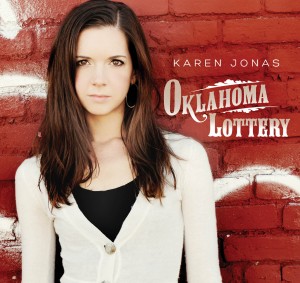 Who is Karen Jonas? If you don't know the answer to that question, it's okay. Until a few days ago, I did not know either. All I can say is, I am glad that I know now. If you are a fan of genuine, heartfelt music in the country/alt-country genre, you need to read the following very carefully. But before we begin, I should tell you, this is not your Taylor Swift country music. Think more along the lines of Elizabeth Cook and you are getting warmer.
Karen Jonas is story teller, a song writer and a singer who is getting ready to release her debut album "Oklahoma Lottery" on March 21, 2014. The ten song set is a collection of upbeat shuffles and bluesy ballads that showcase Jonas' ability to transport her listeners to another time and place. The first single, "Suicide Sal" finds Jonas as a member of an outlaw gang that has been on the run for three years and on the verge of being caught at any moment. The song is the perfect example of Jonas' ability to use a three minute song to create a cast of characters and a plot that draws the listener in, almost as if they were reading a novel. From the Bonnie and Clyde story of "Suicide Sal," Jonas puts listeners in the middle of a family struggling through the Dust Bowl in the title track "Oklahoma Lottery." And then takes on the role of a poker playing heroine who is one bad hand away from trouble with the Saloon owner, Big Jim in the track "Lucky ". The magic of these songs is not just Jonas' ability to choose the right words to tell her stories, but also the way in which she delivers the words through her vocals.  A number of songs on "Oklahoma Lottery" contain phrasing that could trip up the best of singers, but not Karen Jonas. She has style to her delivery that seems easy and unforced.  A perfect example of Jonas' vocal mastery is the track "Money."
As impressive as the story telling and vocal delivery are on this record, my favorite moments come when Jonas slows things down and delivers the bluesy, heartbreaking ballads "Thinkin' of You Again" and "Steppin On Your Toes." For these two tracks, Jonas' replaces her fast paced vocals with a breathy whisper full of heartbreak and regret. There is nothing "alt" about these tracks, they are full fledged country music, or at least what country music should be.  That is saying something considering that Karen recorded this album in her hometown of Fredericksburg, VA, over 600 miles away from Nashville. Take note Music Row…
While I have focused on the songwriting and vocal abilities of Karen Jonas, it should also be noted that the music on this record is just as impressive. Jonas plays guitar on the record and is backed by a solid band made up of Tim Bray on electric guitar, Claude Arthur on bass, Brian Barbre on drums and Jay Starling on lap steel/electric piano.
This record is the real deal and hits on all cylinders. Now that you know who Karen Jonas is, you have no excuse. Here is what you must now do. First, order your copy of "Oklahoma Lottery" here. Next, tell everyone you know who is a fan of music about Karen Jonas and her amazing record, "Oklahoma Lottery."
** Oklahoma Lottery will also be released on vinyl on 5/2/14. You will receive a digital copy of the record on 3/21/14 when you pre-buy the vinyl copy. Click here to order your vinyl.
Connect with Karen Jonas:
www.facebook.com/karenjonasmusic