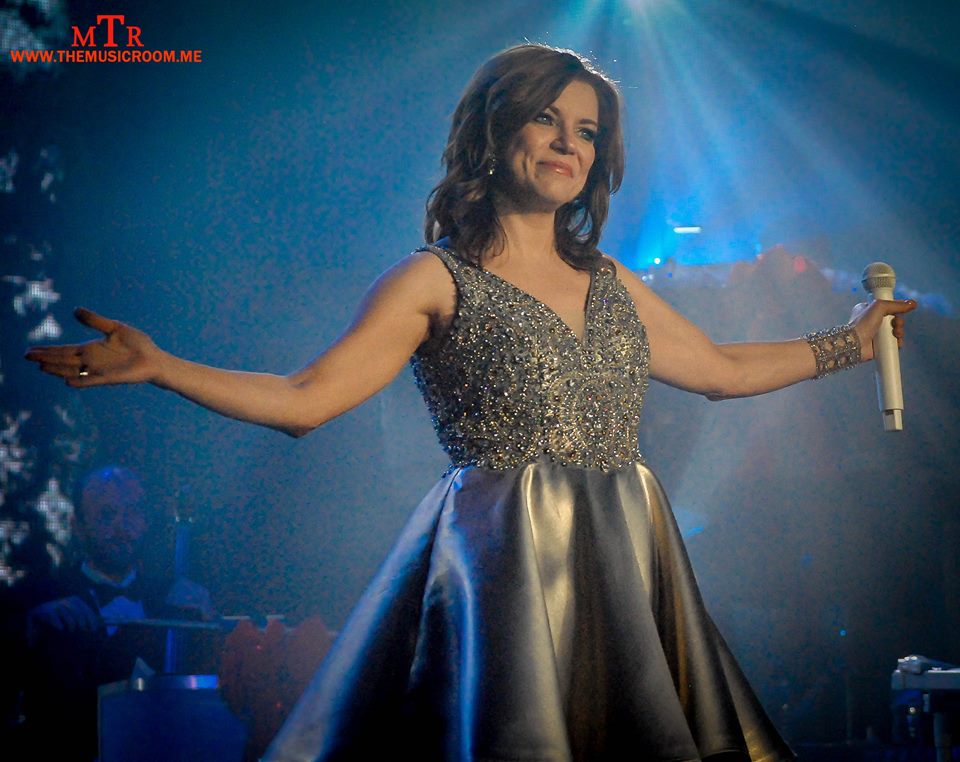 A wise elf once said, "The best way to spread Christmas cheer, is singing loud for all to hear." I am happy to say that Martina McBride has proven this theory to be true. The country music superstar brought her "Joy of Christmas" tour to Hobart Arena in Troy, OH this past Wednesday night. If anyone in Hobart Arena was not in the Christmas spirit before McBride took the stage, they were by the end of her set. If not, be sure to wish them a bah, humbug!
"The Joy of Christmas" tour was inspired when McBride recorded her Christmas album, "White Christmas" back in 1998. Four years later, Martina took the show on the road and delighted her fans with a special evening unlike any other of her shows in the past. While the tour is not an annual event, it is always a very special occasion when it does happen. Christmas came a little early for the music fans of Troy, OH as this was the first time the city has hosted a "Joy of Christmas" tour date.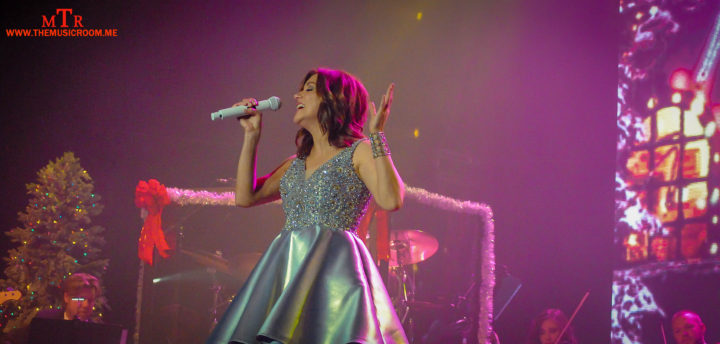 The evening was a perfect mixture of elegance as the legendary songstress performed Christmas standards that captured the magic and true meaning of this season. Adorned in beautiful gowns, McBride delivered the beloved Christmas songs as only she can. Because let's face it…there is only one Martina McBride. While the incredible music was certainly enough to give the audience warm fuzzies, the stage decked out with Christmas trees, garland and bows made you feel like you had been transported from Hobart Arena to a winter wonderland…complete with snow!!
"The Joy of Christmas" included many special moments throughout the evening. At one point in the night, the singer turned into storyteller as she read aloud the beloved Dr. Seuss classic, "The Grinch who Stole Christmas." While there was no opening act for this show, Martina did have a very special guest to help her with one song in the set. "The King" himself, Elvis Presley appeared on the large video screen at one point and joined in for a duet of "Blue Christmas." It was just one of many magical moments that made up the night. But perhaps the biggest treat came when McBride left the stage and walked around the floor of Hobart Arena to interact with her fans. During her time with the fans, she asked questions, signed cd's and even stopped for selfies with her delighted fans. I remember getting a hug from Martina back in 2003 during a "Joy of Christmas" tour stop in Cincinnati, so I was so happy when I was able to get a picture with her fourteen years later!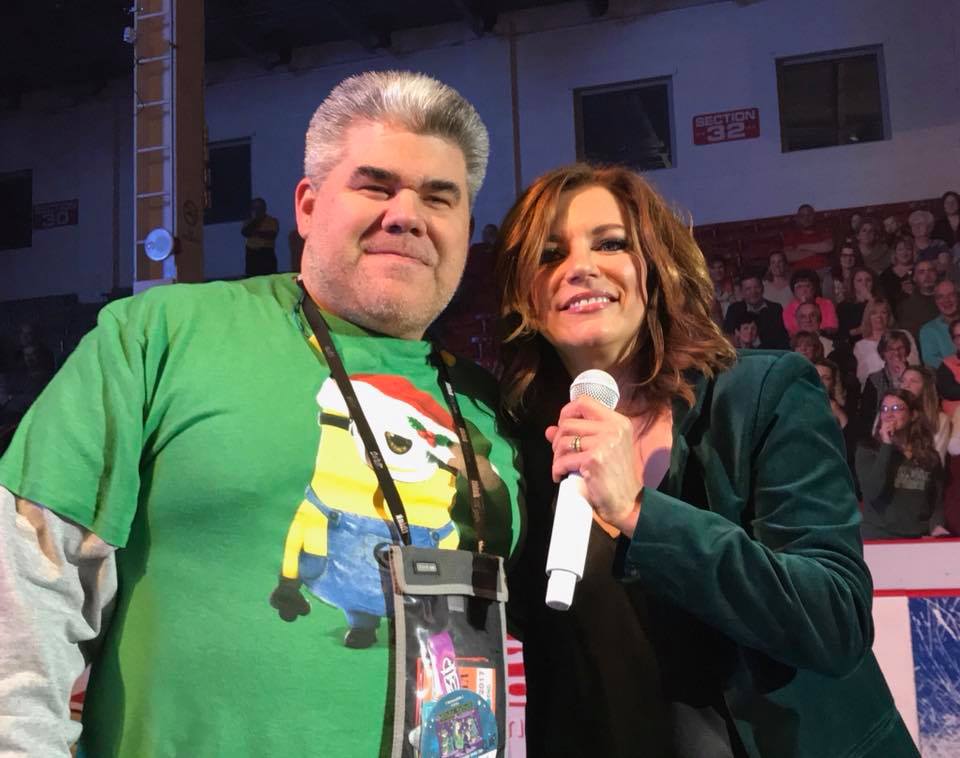 Anyone who was in attendance for the show in Troy, OH knows I have failed to mention perhaps the most special moment of the night. Don't worry, I am getting to it. During one of Martina's wardrobe changes the video screen delivered messages from deployed service men and women to their family and friends back in Ohio. It was an emotional moment filled with pride and heartbreak to think of those who will be separated from their loved ones this holiday. When McBride returned to the stage, she took her tribute to our troops a step further by welcoming a group of service men and women stationed at local Wright Patterson Airforce Base to the stage to introduce them to the audience. She completed the tug at the heartstrings by performing an inspired rendition of "I'll Be Home For Christmas."
In case you can't tell be reading this modest review of this incredible evening in Troy, OH, "The Joy of Christmas" is much more than just a concert. It is a night where the spirit of Christmas is released and all things are possible. Through the powerful voice and imagination of Martina McBride, Christmas comes alive for all who attend. Plus Martina also plays a handful of her biggest non-holiday hits as an extra special treat. If you are lucky enough to be close to a future stop on this tour, give yourself  (or someone else) an early Christmas present and buy a ticket. In one night you will discover the Joy of Christmas and the wonder of Martina McBride.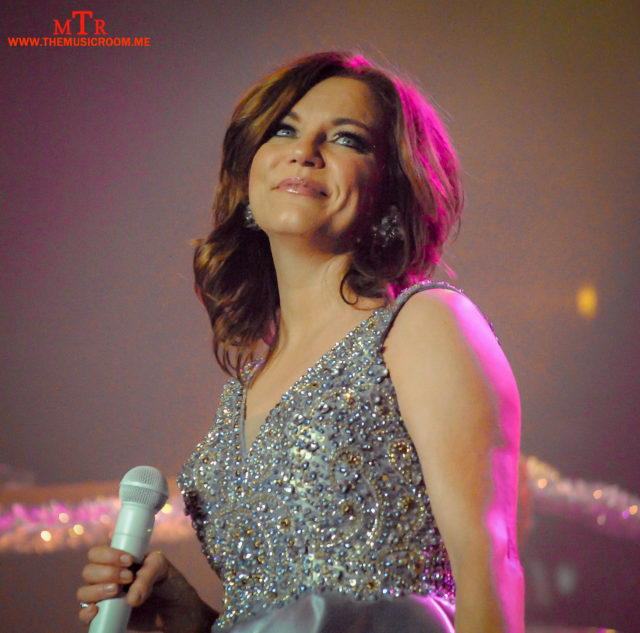 Martina McBride: November 29, 2017 – Hobart Arena, Troy, OH
– Let it Snow, Let it Snow, Let it Snow
– Silver Bells
– The Christmas Song
– Winter Wonderland
– Do You Hear What I Hear?
– I'll Be Home For Christmas
– The Grinch
– Christmas Baby
– Run, Run Rudolph
– Please Come Home for Christmas
– Blue Christmas
– O Come, All Ye Faithful
– Silent Night
– What Child is This?
– O Holy Night
Encore:
– Love's the Only House
– This One's for the Girls
– Anyway
– Independence Day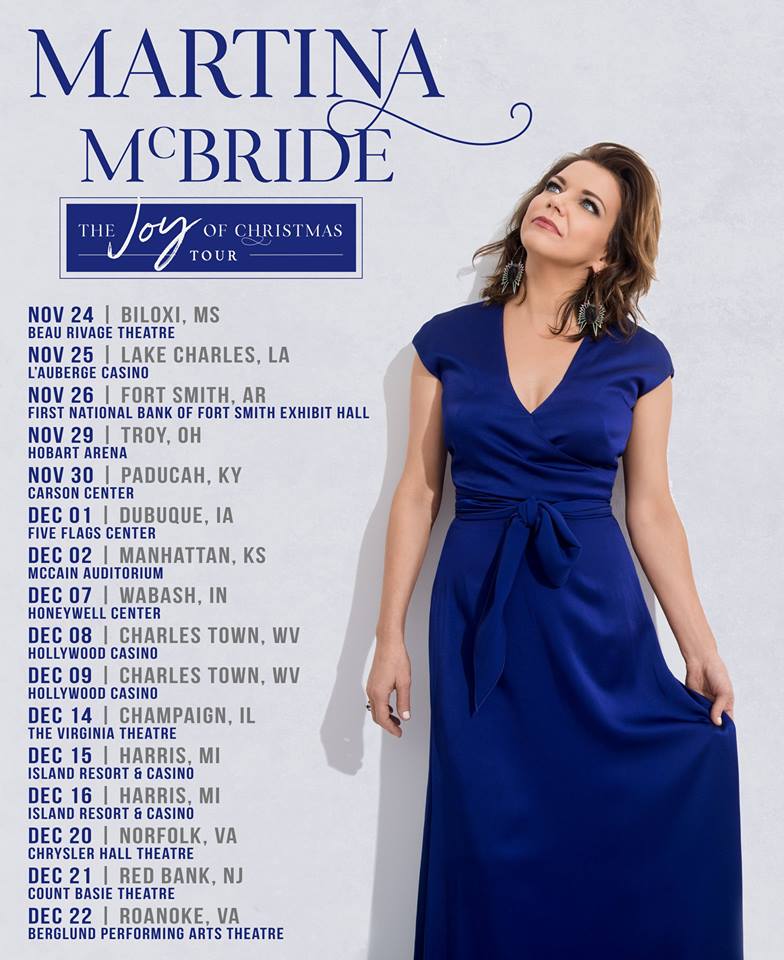 www.facebook.com/martinamcbride
www.twitter.com/martinamcbride