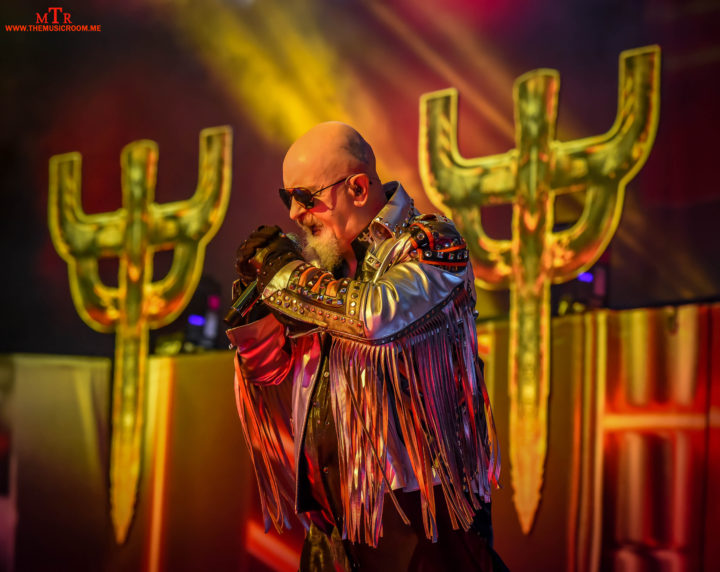 Judas Priest – August 21, 2018
Venue: Riverbend Music Center
City: Cincinnati, OH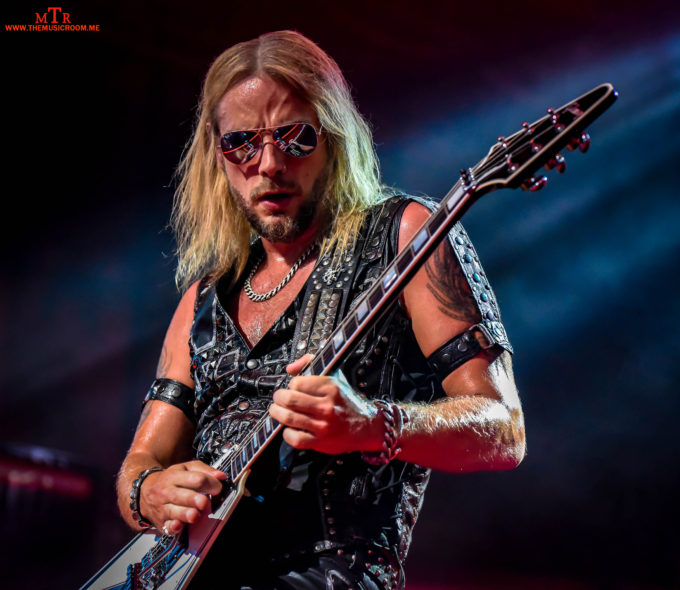 The Band:
Rob Halford – Vocals
Richie Faulkner – Guitar
Andy Sneap – Guitar
Ian Hill – Bass
Scott Travis – Drums
Glen Tipton
Set List:
– Firepower
-Grinder
– Sinner
– Lightning Strike
– Bloodstone
– Turbo Lover
– Rising From Ruins
– Freewheel Burning
– You've Got Another Thing Comin'
– Hell Bent For Leather
– Painkiller
Encore: 
– Metal gods
– Breaking The Law
– Living After Midnight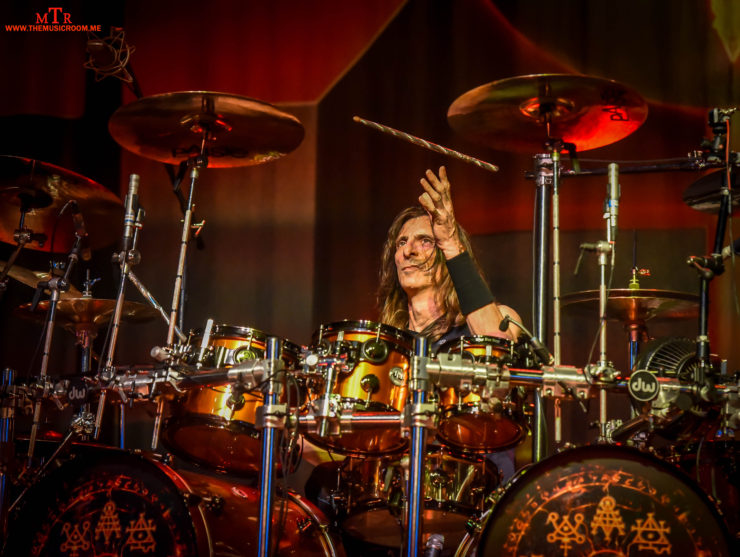 Our Thoughts:
Judas Priest and Deep Purple kicked off their co-headlining tour this past Tuesday night at Riverbend Music Center in Cincinnati, OH. It may have been a Tuesday night, but the Cincinnati metal-faithful came out in full force to see the heavy metal legends. The Priest did not disappoint. The band delivered a powerhouse set mixed with fan favorite songs and cuts from their latest album, 2018's "Firepower." The new record has been well received by Priest fans and is considered by many (myself included) to be one of the groups strongest records in years. The true testimony to the power of the new material was how well the songs fit in with the classics. There was no stop in the band's momentum from the opening song, "Firepower," to the encore finale of "Living After Midnight." This is not always the case when a band mixes in new material to their set.
Undoubtedly, there were some questions that would have to be answered as this was the first tour not to feature the band's longtime guitarist, Glenn Tipton. While still very much a member of Judas Priest, Tipton was forced to sit out much of the band's tour schedule due to the effects of Parkinson's Disease. Filling Tipton's big shoes was Andy Sneap, who also happened to be the producer of "Firepower." While Glenn was certainly missed, Sneap proved that he was worthy of the honor of sharing the stage with Judas Priest. Decked out in leather and wielding an ESP flying V guitar, Andy Sneap definitely delivered the goods!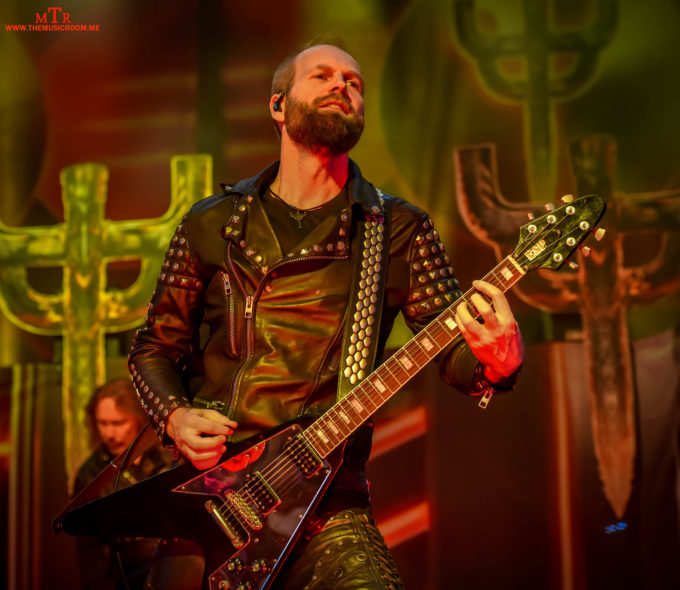 If there was any drawback to the evening, it was only that it did not last long enough. As is often the case with tours that feature two or more headlining acts, the set times are not always as long as if they were playing their own show. So instead of an hour and a half of Priest, you get an hour and fifteen minutes on this tour. The band made the most of every minute of their set and left their fans satisfied, but when it comes to Judas Priest…you can never get enough. So even if they did play an hour and a half, I would be wanting two. But all in all, the trade-off of getting to see two legendary bands in one night makes the abbreviated set easier to take.
It seems that with every tour that Judas Priest has done in recent years, the question of, "Is this the end?" always gets asked. That question is asked even more with the situation involving Glenn Tipton. I in no way have an inside connection to answer that question, but from what I saw on Tuesday night I think this is far from the end. Longtime members Rob Halford, Ian Hill, and Scott Travis seemed like they were having a blast playing together. They did not seem like a group of guys ready to throw in the towel any time soon. Then there is guitarist Richie Faulkner. The guy is a full-fledged rock star. Ever since he joined the ranks of the band in 2011, he lit a fire under the band. He is a true rock n' roll showman, who backs up his stage presence with his skill and ability. I'd be lying if I said I didn't miss Glenn Tipton during the show, but the band honored their bandmate by projecting his image on the big screen during the show and playing a set that honored the spirit that Tipton helped create. Next year will be the 50th anniversary of Judas Priest. Recent news seems to suggest that the band is planning something cool to celebrate the milestone. But for now, the legendary Priest are jamming full speed ahead on "Firepower."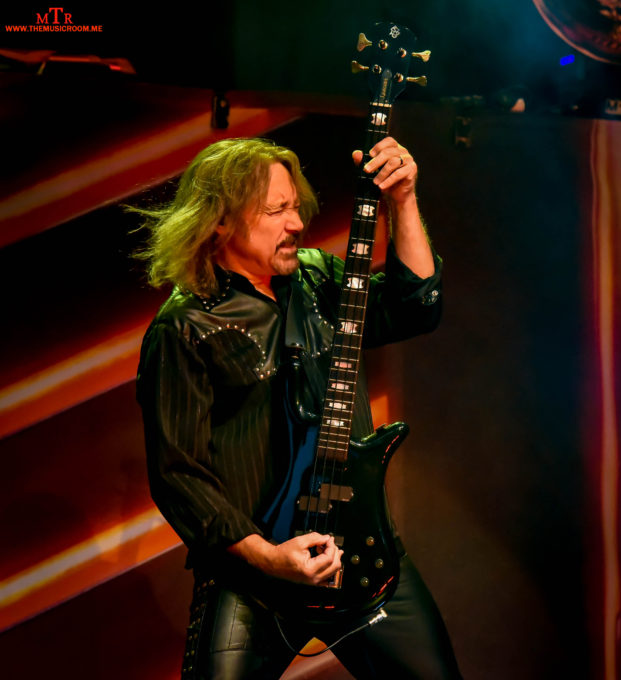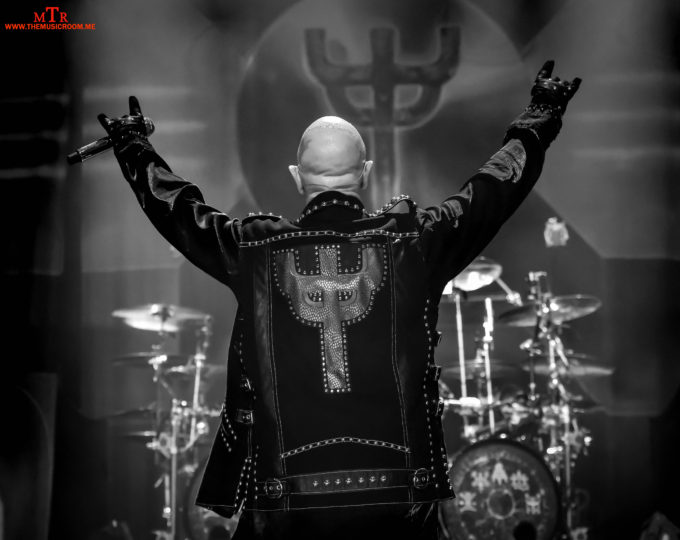 Links:
www.facebook.com/OfficialJudasPriest