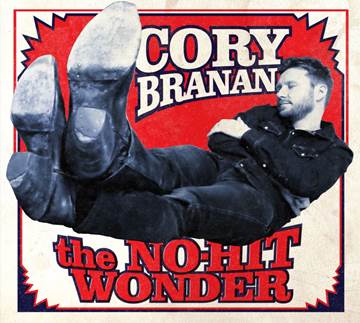 Nashville-based singer/songwriter, Cory Branan released his new album, "The No Hit Wonder," this week on Bloodshot Records. Perhaps you are like I was when I first heard about this record, who is Cory Branan? Well, it did not take me long to realize that Branan is a fantastic artist who should be known by more people. "The No Hit Wonder" is a brilliant record that contains the perfect combination of clever lyrics delivered with an easy laid back drawl. It is a fun record to listen to that offers something for everyone.
At the very heart of this record is country music, or at least what country music should be. Branan sounds like a modern day Roger Miller on the track "C'mon Shadow," in which the singer is trying to convince his shadow to go drinking with him so he won't have to be alone.  From there, Branan puts on a clinic on how a country song should be written in "All the Rivers in Colorado." The song has steel guitar, regret soaked lyrics and a chorus that will have you singing along with it instantly. As if that is not enough, Branan channels his inner Jonny Cash with the shuffle, "Sour Mash."
There is a lot more to this record than just country. Branan shows influences from artists like Tom Petty and Bob Seger throughout the record. I do want to clarify that while you can hear influences in the music, Branan is very much his own artist. He is not copying what anybody else is doing right now. That is what makes this record so refreshing. There is a simplicity and honesty attached to the songs that make them so enjoyable to listen to. Cory Branan's performance alone makes this record a must buy, but there is an added treat with a guest appearance by Jason Isbell on the tracks "You Make Me," and "The Highway Home."
"Cory Branan is one of my favorite songwriters working today. He writes beautiful melodies, heartbreaking phrases, and very smart lyrics. This is the kind of record that makes you hit pause every so often to process what the crazy bastard just said. Brilliant stuff." – Jason Isbell
So now you may know a little more about Cory Branan, but to get the full story you need to hear his music. If you are fed up with the garbage that is mainstream country music, this is a record for you. While Cory Branan may have no "hits" to his credit, I would say he certainly is a wonder!
* Check out the tracks, "The No-Hit Wonder," "The Only You" and "The Meantime Blues."