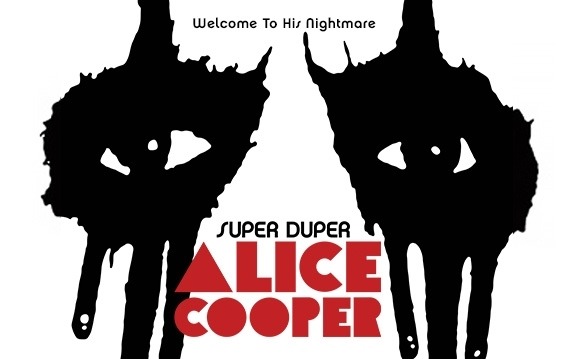 The documentary film "Super Duper Alice Cooper" is one about the battle of good versus evil, Jekyll versus Hyde, and Vincent Furnier versus Alice Cooper. For a die-hard Alice Cooper fan, this movie is the ultimate prize to summarize the career of their rock n' roll hero. If you are new to the world of Alice, the movie serves as the ultimate study guide to understand how Alice Cooper pioneered the genre of shock rock in the late 60's and early 70's, and how he has come to be known as a legend today.
Banger Films, the company that produced films for Iron Maiden (Flight 666) and Rush (Beyond the Lighted Stage), have compiled a chronological retrospective on the relationship between the man Vincent Furnier, and the character of Alice Cooper. As the movie opens, Cooper explains that he has always had a handle on the concepts of good and evil. He suggests that it was his moral compass that created Alice in order to do the things that he would not normally do. Despite this revelation, Alice was not present at the beginning of Furnier's musical journey. The son of a pastor tried to go at it straight in his first band, The Earwigs, but one party and a few beers changed all of that.
The story also clears up the origins of the name Alice Cooper and who the moniker actually belongs. The name was the result of a session that Furnier had at a Ouija board when he asked who he was in a previous life. The board answered with the letters that spelled out the famous name. The band liked the name so much that they named their band after it. So Alice Cooper was in fact a band, before it was a single person.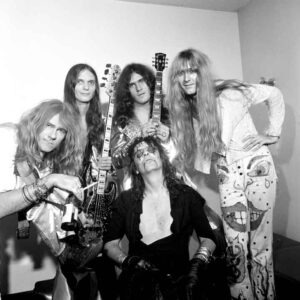 The film goes through the journey of Alice Cooper, first with his band, and then as a solo artists. The story is told by the people who lived it. Throughout the story there are classic performances, interviews and photos intertwined that will delight Cooper fans old and new.  There are also comments from the likes of Iggy Pop, Dee Snider and Elton John to help tell the story.  While the music is at the heart of the story, it is not the sole theme of the movie."Super Duper Alice Cooper" also looks at Vincent Furnier the son, the husband, the father, and the addict. It is a tale of rock n'roll excess, personal rock bottom, salvation and rebirth.
Whether you are a long time Alice Cooper fan, or if you just know one or two of the classics from his catalog, this is a must see film. You will walk away with a whole new appreciation for Alice Cooper the character and Vincent Furnier the man.