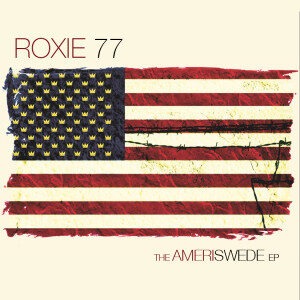 Most people automatically think of Alice Cooper when the name Ryan Roxie comes up. And while it is true that Roxie is a long time member of Cooper's band, there is much more to him than just that one gig. In 2002 Ryan formed the band, Roxie 77 and in 2004 the band released their debut album, "Peace, Love & Armageddon." In 2006 Roxie transplanted to Sweden and picked up right where he left off with the band. This little piece of history is important to better understand the bands new release.
This past July, Roxie 77 released "The Ameriswede EP." The album is comprised of six songs, with each song appearing twice on the record. Here is where that history lesson will come in handy. The record features the songs with an American Mix, and then again with a Swedish mix. The final product results in a fascinating project which shows how perspective can radically change the feel of a song.
For the American perspective, Roxie called on his Alice Cooper band mate, Tommy Henriksen to mix the songs. Henriksen gave the songs a big polished sound. The songs are poppy and fun, and really let Ryan's vocals shine. Jon Bordon was given the controls for the Swedish perspective. This time around the songs are a bit more edgier with crunchy guitars brought to forefront. The songs took on a whole new personality than they did on the American side. Amazing what a little perspective will do.
So the obvious question is, which side is better? Fortunately, I cannot answer that question. The truth is that I enjoyed both takes on the material. That is not to say that I didn't feel that certain tracks were better suited under a particular mix. For example, the track "Anna" caught my attention right away on the American mix with its country flavor  and stripped down approach. Then you have a song like "The Solution" that seems stood out more to me on the Swedish mix than it did on the American side. The song's riffs just gravitates to Bordon's style. Even though the album is six songs played twice, the distinction of sounds between the two mixes really do create twelve individual tracks. There was no redundancy in listening to the record.
While his work in Alice Cooper really lets his guitar playing and showmanship shine, Roxie 77 lets Ryan's singing and songwriting ability get the attention they deserve. And while the name is Roxie 77, there is much more to the band than one guy. With Eric Rydman (guitars/piano), Magnus Wikstrom (bass) and Anton Korberg (drums), the band is a solid unit well worth your time.
The Music Room picks of the record are "Idiots & Idols" and "Silent Confrontation."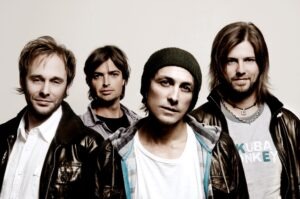 www.facebook.com/Roxie77Official