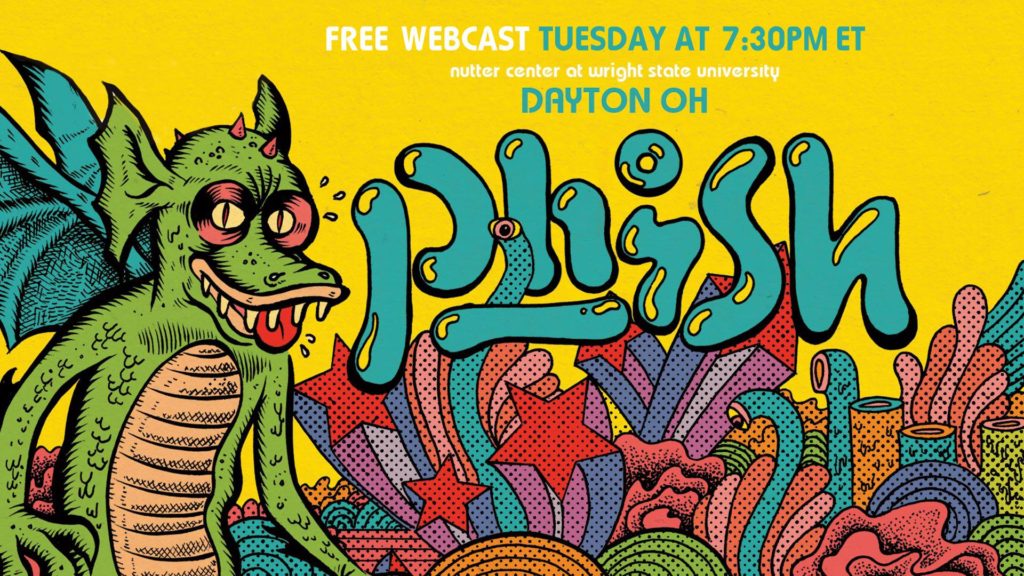 I SAW IT AGAIN: The Magic of Phish at Dayton's Nutter Center
By: Ric Hickey 
Let's just get it out of the way: Phish's performance at the Nutter Center on July 18, 2017, was not nearly as good as the band's only previous appearance at the venue way back in December of 1997. But I would go so far as to say that it had moments that came close to that level of greatness. The legendary '97 show was so hot from start to finish that there is precious little in Phish's whole career that really comes close and very few shows that anyone in their right mind would claim surpass it. Simply put, the Fall '97 tour is an indisputable highwater mark in the band's career and 12/7/97 is considered by many to be a highlight of that tour. So it's almost unfair to hold any show up against that first Nutter Center show and expect it to hold its own, with very few exceptions. I'll try to make a quick dash thru the 7/18/17 set list and place emphasis only where I feel it's warranted.
---
Set I:
TUESDAY – This was a Phish debut, though Trey Anastasio has performed it with his solo band on a number of occasions. Still, opening the show with a new, never before played song? Like so many different things this band does, I find myself asking, "Who does that???" The answer, of course, is ALMOST NO ONE DOES THAT. (And by the way, this show was on a Tuesday.) The song itself? Unremarkable and a bit formulaic, I'm afraid. But its upbeat energy caught on nonetheless and the sold out crowd was on its dancing feet, singing along to a song that many of us had never heard before. Pretty neat. I asked the kid next to me if this was a new song and he said, "I don't know. This is my first show."
PEACHES EN REGALIA – I've been a huge Zappa fan since I was like 12 years old and this was my first Peaches. So I was kinda shitting myself.
FREE, ROGGAE & SUGAR SHACK represent the first real lull of the show. No surprise really. I'm never expecting much here in the middle half of the first set. Though I will say that Free had some really tasty moments in the jam segment and Sugar Shack is starting to feel a little looser and worn in like an old pair of jeans. Often it just sounds clunky to me but this was smooth. Why they felt the need to play a 'chill down' tune like Roggae this early in the show, I don't know. The damn show just started. Does anybody really need to chill out already?
Michelle and I spent a small eternity in the beer line during Free and Roggae, returning to our seats with an extra beer for the kid next to me enjoying his first show. "Welcome to the tribe, kid!"
MAZE was hot, with some really nice interplay between Page and Trey. This song and its many peaks of insane tension and release marked the first of many times throughout the night when Michelle and I commented to each other how amazing it was to see the crowd absolutely freaking out on the band's performance. It was really something to see and the scene would be repeated over and over throughout the night. Maze is always good for that and this version was no exception. They kinda botched the little Looney Tunes doodle at the end which led to a somewhat awkward version of…
HORN – The instrumental segment in the middle of this song is one of the most beautiful pieces of music Trey has ever written. It was a decent, but not great version. I wish I could tell you Trey hit all the right notes in this one but I'd be lying.
CRAZY SOMETIMES – Another debut, Mike's new song is where things started to get interesting. Again, the song itself isn't anything to write home about. But it's got some cool weird parts kinda cobbled together with Mike's signature goofy darkness. Never straight up happy affairs are Gordon tunes. Almost always a dark twist in there somewhere. Best element here is the funky groove in the verses that is also repeated and somewhat stretched out at the song's end. The silly chorus is dangerously close to stupid, just repeating the phrase, "Everybody gets a little crazy sometimes." Something about the ever droll Gordon vocal delivery makes it forgivable, but just barely. Truly it's the funk jam in this that makes it a really promising new addition. Sort of like the feeling I got the first time I heard Wombat. Silly as all hell. But give me that funk any day of the week. There was something interesting happening at the tail end of the tune, as the funk turned to some dark ambient noise and simmered along for a minute or so. It was a short glimpse at some Type II jamming yet to come, but too brief by half. It was a really nice quiet little space they were creating. So quiet that Michelle heard me say out loud, "Keep it going. Don't drop out of this." Then, of course, they did. Not exactly ripcord material, but Trey's segue into…
46 DAYS came way too soon for me. Thankfully this was a really nice version, especially for its placement near the end of the first set. There was some nice stuff during the middle section guitar solo, and again with the quiet, dark, murky ambiance as the song wound down. But much like Crazy Sometimes before it they really could have let this one go a little longer. Somebody on that stage really wanted to get to the set closer…
RUNAWAY JIM – But other than the usual good vibes and happy energy this song always embodies, there was nothing particularly special about this version. Just a cursory run through, paint-by-numbers set closer. Not exactly a sleep walk, but if you were in the beer line for this one you didn't really miss anything.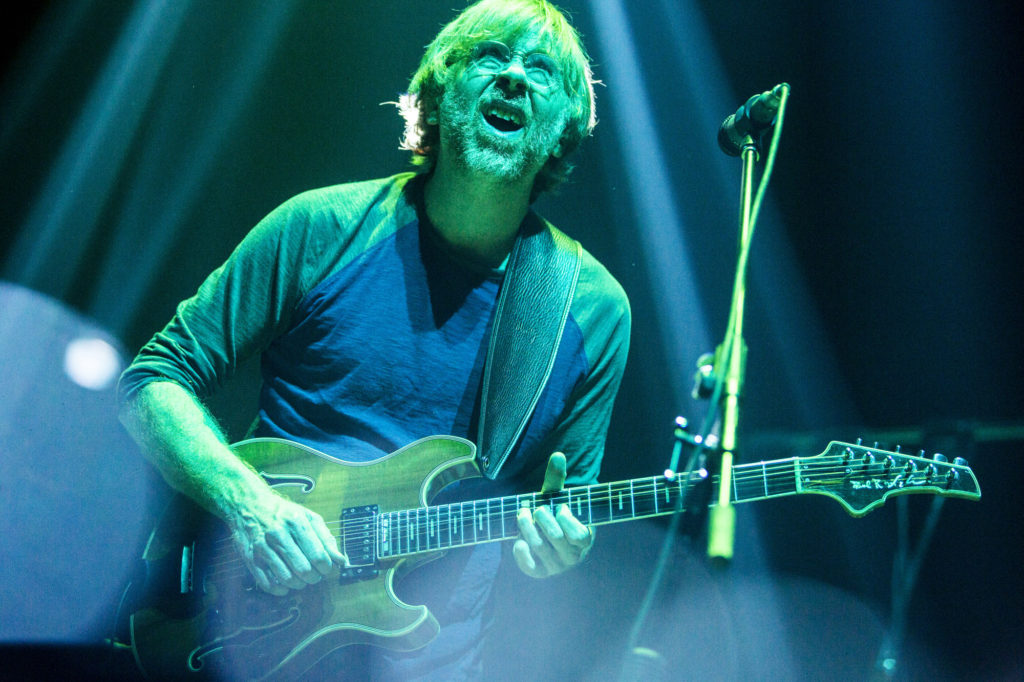 ---
Set II:
DOWN WITH DISEASE – All too common to see this song as a 2nd set opener. Kind of a pet peeve of mine and not my favorite song either. But, whether you like the song or not, we all know exactly what's good about it: Down With Disease is a reliable springboard for a long jam virtually every time the band plays it. This version was no exception, eventually clocking in around 22 minutes. The jam here starts off pretty standard, the band happily searching for something before finally finding it around the 12-minute mark. From there on out this jam morphs continually, with some freaky bass runs and echoing whale calls over a simmering Fishman tempo. Gordon tinkers with some Egyptian sounding scales, Page's ominous organ swells while Trey flirts with plinko swirls. This nebulous, ever-changing jam owes much to Page's unpredictable keyboard tricks here. The other guys certainly contributed but I really feel like Page made it special by keeping them on their toes with stuff they didn't see coming and putting them in a position where they had to respond in kind for the entire improvised section. Trey might have been throwing in a newly-composed lead guitar line around 19:00 or so. It was just one of those moments where it felt like maybe he was grafting a pre-conceived melody line over the jam. It worked nicely and lead us out into the final segment of the jam which mellowed downward, nicely segueing into…
MOUNTAINS IN THE MIST – I am a very vocal hater of Sleepy Trey Ballads. For no particular reason, this one gets a pass. I recognized the riff right away and I thought to myself, "They don't play this one very often." Never was a big fan of the tune. And I'm not necessarily a believer in the working theory that we all need to catch a breath after a long jam. Fuck that. I'll catch my breath when I go to bed later tonight. I didn't come here tonight to catch my breath! But I digress… Maybe it was just memories of hearing this one at Deer Creek back in '97 (or was it '98?) that made it a welcome addition in my mind. Trey's guitar solo segment at the end was just beautiful, dancing around in David Gilmour territory while Mike & Fishman engaged in a little delicate interplay. I don't really enjoy these quiet little ballads. It is simply not the band's strong suit and they frankly all start to sound the same after a while. That said, the tiny little jam at the end of this was nice and mercifully brief.
WAVES – This was very well played but a nothing special version of the tune. After the vocal section, it eventually settled into what felt kind of like a continuation of the Mountains In The Mist outro section. Conceptual Continuity is what Zappa called it. Repeated themes, moods, and motifs.
GHOST – After the lengthy Down With Disease jam to open the set, this one really felt like a gift. Another reliable springboard for jamming, this Ghost was ragged, loose and rough around the edges at times. In particular, the segue out of Waves felt bleak and menacing. It was Ghost for sure. Just maybe a pissed off Ghost? Honestly, if you'd never heard Ghost before this version, the intro might have scared you out of the arena. I thought it was kind of nice and oddly fitting in its new, unprecedented dark persona. Darth Ghost. Things sweetened up a little as they set the jam on cruise control for the 2nd half of the tune with Trey ad-libbing a bizarre little "On the Wind and Underwater" vocal quote at the jam's closing, recalling the Waves theme just before a startling segue into…
WOMBAT – This was honestly the highlight of the night for me. Obviously not a great song by almost any measure but I love it. It's funky and loose, and any time the boys are having as much fun as they seem to have with this one, sign me up. This one was totally out of the blue. I've kinda gotten used to the fact that once you get to this point in the show the boys are usually kinda "done". After you cross over into that fourth & final quarter of the show, very often these days they just don't bring anything interesting to the table. Usually, the formula includes one more Sleepy Trey Ballad and one or two mid-tempo rockers to close out the night. They have only really jammed out Wombat on one previous occasion so this was a totally unexpected treat and, coupled with that meaty Ghost, I have to say this is where the band came closest to the deep dark funk sorcery they conjured in this same venue on the only other occasion they played here almost 20 years ago.
CHALK DUST TORTURE – And there it is: your mid-tempo rocker to close out the show. There is something about the Phish concert experience that still feels unrelentingly youthful. Though the band members and all of us fans are getting older, it feels weird to call any of their tunes a warhorse. But the term fits as applied to Chalk Dust Torture. And maybe the song's chorus is why I frame it in those terms: "Can't I live while I'm young?" It's kind of beautiful to close out the night with this otherwise kind of silly song. It rocks and shines like a diamond every time, and never fails to remind me of the magic that this band has brought to my life for 25 years. Half my life!
THE SQUIRMING COIL – Another classic from their early daze and an absolutely beautiful encore. Sometimes I feel like they'll call this as the encore when they know that Page absolutely owned the whole night. The other three band members quietly falling away one by one at the end, leaving Page alone in the spotlight, humble champion of the evening's proceedings.
---
HIGHLIGHTS: 
Peaches
Crazy Sometimes -> 46 Days
DwD jam
Ghost -> Wombat
The whole second set was fire pretty much from the first note to the last, with a brief respite during Mountains In The Mist.
The sell out crowd and Chris Kuroda's amazing light show also deserve special mention. This night for me was like a little blast from the past, like what the band's fall tours used to be like back when they still toured in the fall. (Something they just don't do very much these days.) I just very much prefer the sound of this band and the feel of the crowd at an indoor venue. All that energy contained in the arena feels a lot more explosive and impactful to me. My head was still spinning the next morning just from being in that intense crowd. Though the frenetic dancing was non-stop throughout the show as always, in the arena's outer corridors and concessions area it looked like mostly chill, older fans, calmly reliving the glory days. Hopefully, the days of all that raging frat boy nonsense are over. I didn't see any of them here, thankfully. All in all, I would rank this among the best Phish shows I've ever seen and the likes of which they have pulled off only rarely since the days of that legendary fall tour of 1997.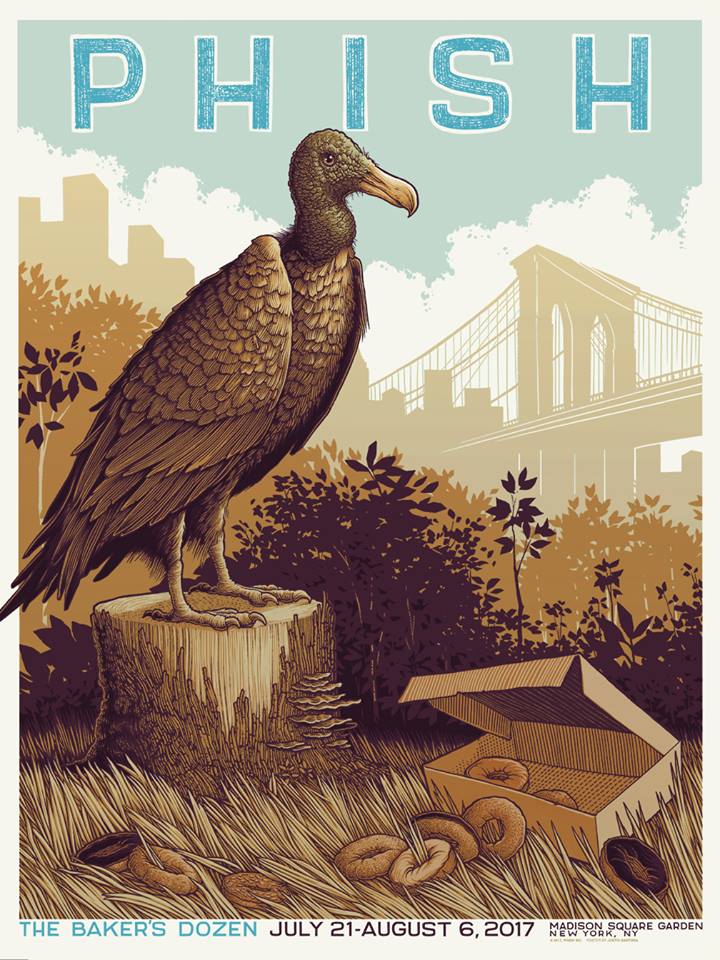 The band is currently at the beginning of unprecedented SOLD OUT run at Madison Square Garden playing a total of 13 shows in three week period. There has never been a run like this by any bands at the legendary venue. If you don't have tickets for any of these shows, you can listen to every one of them as the band will be offering live webcast each night. Check out their site for all of the details!!!