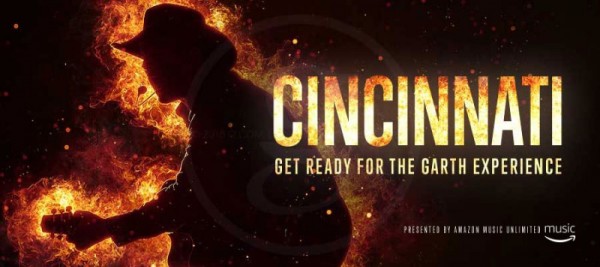 Garth Brooks: Cincinnati, OH – U.S. Banks Arena – January 21, 2017
What you are about to read was intended be a review of a Garth Brooks concert in Cincinnati, OH. That was the plan at least, but now I have to rethink things. You see, last night's show was so much more than a concert…it was an experience. A three hour, thirty something song experience that delighted fans old and new.
Garth Brooks hadn't played in Cincinnati since November of 1996. Back then, Garth played five sold out shows at Riverfront Coliseum. Twenty years later, Brooks returned to the Queen City for five more sold at shows at the same venue, now known as U.S. Bank Arena. A lot has changed over the years. Country music has undergone drastic changes from cowboy hats and boots, to skinny jeans and bromance. Not to mention Garth's 14 year absence from the music scene and of course, being twenty years older. Would the living legend still have what it takes to command the nearly 18,000 people that would be coming to see each of the five nights?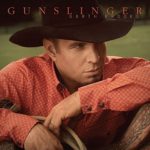 That question was answered in the first seconds from when he hit the stage. It was difficult to hear what song was being played as the noise from the crowd overpowered the sounds coming from the PA system. From that song, until the very last note of the last song, Garth held the capacity crowd in the palm of his hand. After the first song was complete, which was a new track from his new album "Gunslinger," Brooks welcomed his fans and assured them that he remembered from his own concert going experience that people want the "old stuff." And that is just what the current CMA Entertainer of the Year delivered for the rest of the night. "Rodeo," "Two of a Kind…" and "The Beaches of Cheyenne" were just the starters to an amazing set of Garth classics. Brooks then took a moment to say he was going to play a song that was out before a lot of people in the crowd were born. That was a moment of realization for me that these songs have in fact been around that long, and remain timeless all these years later. Brooks then went into 1990's "Unanswered Prayers." The singer was visibly moved to hear the Cincinnati crowd sing the song back to him quite loudly. When the song was through, he took a moment to tell the fans that he had never heard any crowd sing that song so loud. He went on to say that he knew social media would tell if he said that to every crowd, so he meant what he was saying.
About half way through the set Brooks better half, the incredible Trisha Yearwood, appeared on stage and joined her husband for the duet "In Another's Eyes." Brooks then took a well deserved break while Yearwood performed some of her most classic songs such as "How Do I Live" and "She's in Love With the Boy." Yearwood clearly thought her part of the night was over only to have Brooks call her back on stage to sing his favorite song of hers, "Walkaway Joe." Garth accompanied her on the acoustic guitar. It was clear to see that these two have amazing chemistry both on and off stage.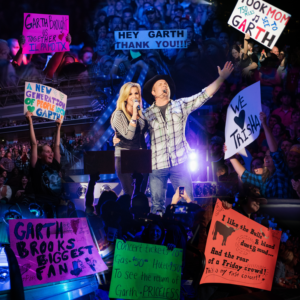 From there Brooks went on to pick up from where he left off playing hit after hit. Every song could have been an encore performance. During the last half of the show Brooks also introduced his band to the crowd. It was amazing to learn that most of the band had been with him since the start… all those years ago. In fact, the rookie of the band (as Brook's referred to him) fiddle player Jimmy Mattingly, has been with him for over 21 years. That kind of loyalty is something you don't see too much.
As each song went by, the fear started to creep in that the end of the night would be getting closer. Most of the time I am satisfied by the end of a cocert and am ready to go home. This night was much different. I was fully aware the later the evening got, that I did not want it to end. As each song would end towards the end of the set, I would say in my head, just one more. Garth obliged for as long as he could. After the regular part of the show had concluded, Garth went to the audience to fill in the next songs of the evening. If a fan had a song title listed on a sign, he played it. He also took another moment to admit that he was nervous coming into the night as he had some rust on him. He thanked the crowd for their reception and again acknowledged how much he appreciated their treatment of "Unanswered Prayers." Garth Brooks is one of, if not the biggest selling artists in history, but in that moment he was a humble man showing his appreciation to 18,000 of his biggest fans. The night did sadly come to the end, but not before Garth sent chills down my spine, and put tears in my eyes, as he performed his greatest song, "The Dance." I have been to over five hundred concerts in my life, but have not had too many songs performed that hit me quite like that.
So, twenty years laters and the question is, is Garth Brooks as good as he was back when. I will say no. No he is not. He is better. He still runs around the stage like a mad man, and still knows how to work a room. But today he seems to have an appreciation for everything that has happened to him over the past twenty years. He seemed to have an appreciation for every song that he performed. And if possible, he seemed to have an appreciation for each individual that made up the crowd of 18,000. There is no doubt that last night was much more than a concert. As I said earlier, it was an experience. It was a man reconnecting to his old fans and saying hello to his new fans. It was also a chance for people like myself to reconnect with parts of their past with each song that was played.
In a day where Tupac Shakur is going into the Rock n' Roll Hall of Fame, all I can say is that we better see Garth Brooks in there one day soon because the man is a true rock star!