Dedicated to Old Man Markley (and all of the other unknown bands traveling around the U.S.  to get to your next 30 minutes)
It is still hours before the doors of the venue are set to open for tonight's show. I am standing out back with my album covers clenched in one arm, and two different colored Sharpies in my other hand.  My eyes are fixed on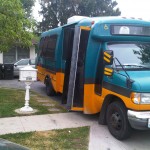 a large tour bus, just knowing that at any minute the doors will open and all of my "hard work" will pay off.  As time goes by the bus door has not opened once, but a lone member of the venue staff has made their way out of the venue's back door. His appearance has given me hope that something is about to happen.  To my disappointment, it has nothing to do with the shiny red tour bus holding "the band".  His presence seems to have something to do with a small bus pulling into the lot. But this is no ordinary bus. No, this bus is painted with teal, purple and yellow stripes.  The staffer guides the tiny bus with its modest trailer in its designated spot for the evening, leaving it to rest in its shadow of the grand tour bus. This event can only mean one thing… The opening band has arrived.
While I have not let this distraction deviate me from my mission, I can't help be at least somewhat grateful to have some action to help pass the time until I can complete the task at hand. As the door to the humble bus opens, a couple of people make their way off the bus.  I can't help but think that while they probably don't even know where they have landed, they are glad to be here.  Over the next half an hour or so, more bodies exit the bus. By the time the last members are off, I can't help but draw a comparison to a VW Beatle filled with clowns. How many more can there possibly be in there? The passengers range to a guy who is dressed in a way that makes him easy to identify as being "with the band", other guys going for the comfort of shorts and t-shirts, and two of the female passengers who appear to still be in their PJ's.  After taking a few minutes to get oriented to their new destination, the door of the trailer opens, and these weary travelers suddenly morph into full-fledge crew members.  Each taking their share of guitar cases, drum pieces, amps and finally a modest plastic tub with "Merch" scrawled across it. By now, a few more of the venue staff have come out to direct traffic of the freshly unloaded equipment.  There is no real sense of urgency, but it's obvious that this is a task that has been completed several times before.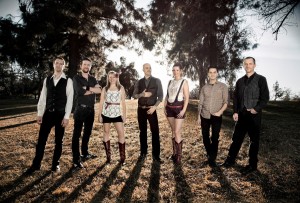 By now, I have collected all but one of the signatures from the band that I set out to meet. I can now allow myself to relax a little and take in a little more of my surroundings… without being too lax of course. I look over at the little colorful bus and see one of the female members of the group giving one of the guys a fresh Mohawk. Now that is a part of rock and roll that you don't see every day! After the trim is complete, the freshly shaven gentleman walks past me, so I take a moment to say, "Hey." He took the time to stop and chat with me about his band. He informed me that they are called "Old Man Markley" and they are a Bluegrass Punk band.  To say that my interest was caught would be an understatement.  He told me a little more about the band, and we had a very pleasant talk. But then…
As this genuine guy is telling me about his band, I decide it is the perfect opportunity for me to profess my undying respect for "opening bands". I explained that while other people may not appreciate the show opener, I always look forward to the prospect of finding new music. While this statement is 100% true, I can't help but think that it didn't come off as somewhat…douchie.  If I didn't then, I was about to seal the deal. As this nice guy, who was giving me some of his time, is telling me that he would keep an eye out for me in the crowd to give me a wave, the last member of "the band" who I have been waiting on comes out of the big red bus. So, you know how I told you I how I respect opening bands, right? I pretty much stop our conversation by effectively saying something close to, "Well, the guy from the headlining band is here now so I have to go. Sorry." And like that I was off.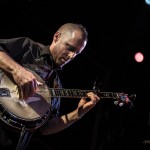 I got my last signature and even a picture with my final target. My original mission had been accomplished.  As I turned back around, I see that the nice fellow who had given me so much of his time walking away. He looked back and gave me a wave and a look as if to say, "It's all good. I understand." Cool on his part. But I knew at that moment, I was a complete and utter tool. To give credit where credit is due, that nice guy was John Rosen, the banjo player from Old Man Markley.
After a few rounds at the bar across the street, I made my over to the venue and marked out my spot for the show. As the lights went down, the most amazing, almost magical transformation occurred. As the music began to play, I see the familiar faces of weary travelers from earlier today, but now they are rock stars! The girls are out of their pj's. Their hair and makeup perfect as they hit the stage. The guys have traded the shorts and T's for full rock star attire. Each is manned with their instrument (including a wash board) and are doing their thing. And there is John going to town on his banjo, with no sign of the offense committed by this star struck fan boy just a few hours ago.  I saw seven people on that stage totally lost in their craft. Forgotten were the hundreds of miles they traveled to get here, the loading and unloading of their gear, and the miles that await them later that night on the way to the next gig.  Old Man Markley were owning this place and all of the people in it. I wish I had the time to get into the music of this great group of musicians, but I think that had best be left for a future post. Just the fact that they inspired this piece…this site, that should tell you something.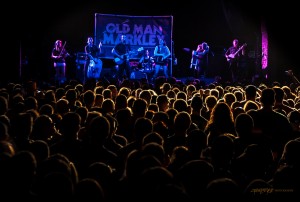 So, what is the point of all of this? To tell you how I made a fool of myself in front a cool guy from a cool band? Not my main objective, but take from that what you will. To tell you that Old Man Markley is a great band that you should check out? I certainly think so. But there is a bigger message that I am trying to convey. It's that next time you go to a concert, get there on time.  Pay attention to the unfamiliar band that takes the stage while the sun is still out. They are not just up there to give you extra time to drink a little more, or to time to talk to your neighbors. These bands are working their butts off to get their music heard. In most cases, there are no grand tour buses, no staff of roadies and no entourage to cater to their every need. Just a group of people, putting everything they have into their dream. So just listen to them. You don't have to like every band, but appreciate what has brought them to that stage.  Who knows, you may even find a new great band to add to your collection. You may even discover the "next big thing". You will forever have bragging rights of saying, "I saw them back when." And if you do like them, most times you can walk back to their little merch table and meet them, because they will be the ones selling their t-shirts and cds after the show. And despite the long day that they have put in, they will sign, chat and take all of the pictures that they want. And if you don't like them, what have you lost, 30 to 45 minutes? Just think of the hours and the miles that they put in just to play those 30 to 45 minutes.  I think you will be okay.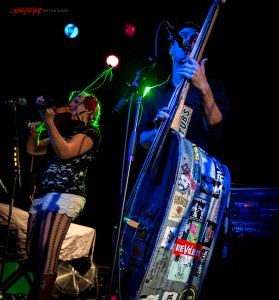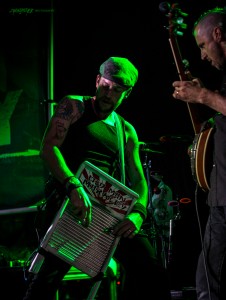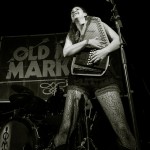 The morning after the show, Old Man Markley made a lasting impression. I gave them the ultimate sign of appreciation in today's society and "liked" them on Facebook. Shortly after giving them my click of "approval", I read the following post from them:
"We need a 13/16 tire iron off the 71 freeway at the marathon on Seed Rd… Very close to Columbus OH… Can anyone help?"
Oh the life of a rock and roll band. Oh the life of the "Opening Band". Cheers to you Old Man Markley. I'll see you on your headlining tour!