The Hello Strangers are a self-proclaimed Austin-influenced, rural –Pennsylvanian, indie sister-folk group. The duo, made up of sisters Larissa Chace Smith and Brechyn Chace have just released their first full length album called, "The Hello Strangers." The record is a collection of thirteen songs that pay tribute to classic country, folk, Americana and indie rock genres of music. Despite the wide spectrum across the genres, the sisters tie them all together while creating their own unique identity and sound.
The songs come off more like stories which are told with beautiful harmonies and superb instrumentation. If you didn't know who you were listening to and the song "What You Don't Know," which was written by and features an appearance by Jim Lauderdale, came on you would swear it was Fleetwood Mac. This speaks highly of the Strangers ability to craft a song from start to finish. "Never Run Again" starts off with a striking duel acoustic guitar piece and features a haunting violin throughout the song. Everything that is included in each song is there for a purpose. The music compliments the harmonies and the harmonies compliment the stories. My favorite parts of the record come when the duo shows off their ability to play a true blooded country song. "What it Takes to Break a Heart" is a country shuffle complete with steel guitar and lyrics about whiskey, wine and beer. "Ruined" is another country gem that pays tribute to country music when it was country music. It is everything that Miranda Lambert is built up to be, but fails to be.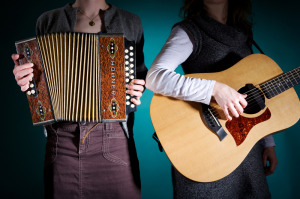 The Hello Strangers are the real deal. In a day and age where music acts are manufactured in an office building, the Chace Sisters prove that there are still true artists out there who continue to work on the craft of creating their own sound and path. Take a break from what corporate Nashville is selling and check out The Hello Strangers. They may be strangers now, but you will be glad to say you know them after the first listen.
www.facebook.com/thehellostrangers
https://twitter.com/THelloStrangers
by