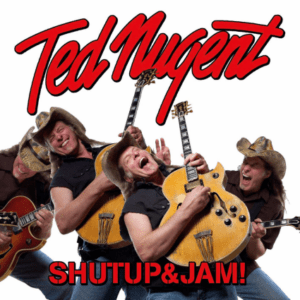 The "Motor City Madman," Ted Nugent, is back with his new record, "Shut Up & Jam!" Nugent is known around the world as an avid hunter and strong activist for the second amendment,  but with this new record he is reminding the world that he is the original ambassador of rock n' roll and rhythm and blues. Since the early 1970's, Uncle Ted has been unleashing his brand of no holds barred music on the world. Whether it was with The Amboy Dukes, Damn Yankees, or his very successful solo band, Ted  Nugent has been doing things one way…his!
"Shut Up & Jam!" is no different. It is a twelve song assault on your speakers that commands to be cranked up to 10. Armed with his trusty hollow-body Gibson Byrdland guitar, "The Nuge" lays down an array of dirty guitar riffs and blistering solos that will have guitar lovers salivating. Nugent is backed by a solid band made up of Greg Smith (bass), "Wild" Mick Brown (drums) and long time musical partner Derek St. Holmes (guitar/vocals).  Legendary front man Sammy Hagar also makes an appearance sharing vocal duties with Nugent on the track, "She's Gone." The album is a straight forward, no frills, rock and roll record, an idea that seems to have been lost over the years.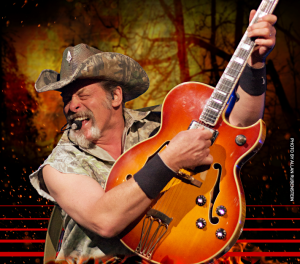 While Nugent is known to be strongly conservative in his beliefs, and for quite frankly pissing off the liberal crowd, "Shut Up & Jam!" is a bipartisan effort for all to enjoy. Nugent says it perfectly in the album's title track, "…Everybody's looking for a free for all, enough of that political stuff. Right, left, good, bad…it all gets boring and old. The only hope for America is that good 'ol Rock and Roll!"  The record is a tribute to the red, white and blue through and through.  Songs like "Never Stop believing," and "I Still Believe," find the rocker re-affirming his belief in the American dream. There is also a tribute to the U.S. Marine Corp with the aptly titled, "Semper Fi."
It has been seven years since Nugent's last studio album, "Love Grenade." "Shut Up & Jam!" was certainly worth the wait. Nugent reaffirms, not so subtly, that he is one of the best in the business. Be sure to check out bluesy "Everything Matters" with Derek St. Holmes on vocals, the instrumental jam "Throttledown," and the hard rocking "Screaming Eagles." "Shut  Up & Jam!" gets four out of four Gonzo's from us!
Ted Nugent plays Indian Creek amphitheatre in Oxford, OH on August 9th!! Get your tickets here!