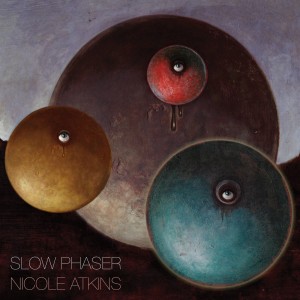 By: David Gimpel
Longtime fans of Nicole Atkins, I am sure you can remember the first time you heard her voice. I know I can. For many, it was seeing her on The David Letterman Show.  It was her late night performance that solidified her place in the music world.  Atkins would release a handful of releases over the course of 2006 to 2011, including 2011's success, "Mondo Amore." Despite the success of "Momdo Amore", Atkins is not signed to a major label. As we all know, the times are changing in the music world, and Nicole Atkins decided she wants to do things her way.  She has gone out on her own and created her own label, Oh' Mercy! Records. Nicole fully funded her first record on the label, "Slow Phaser"  through the support of her fans through a Pledge Music campaign.
"Slow Phaser" is Nicole's third full length album, and the artist describe the work as "Desert Disco." The first time I heard Atkins' description of the album, I was very curious to what that would sound like.  Admittedly, after the first listen of the album my initial reaction was "well that was not expected."  However, I discovered that like most of my favorite records, this was an album composed of layers. To me, the fun part of listening to music is taking those layers apart and discovering the songs of each layer.
Allow me to share a few of the layers I discovered on "Slow Phaser." ​The first song, "Who Killed the Moonlight" introduces listeners to Nicole Atkins new sound, and appropriately starts off her new adventure.  The next three tracks take apart these new sounds and explore gospel, disco, and pop styles of music. The middle section of the album, featuring the cut "Red Ropes" take listeners back to her classic "Dark- Noir" sound.  Your Slow Phaser journey ends with the album highlight "The Worst Hangover," which again showcases her amazing talents.  Slow Phaser is another chapter in the ever growing story that is Nicole Atkins.  With every spin of this new record you will have a different experience each time.