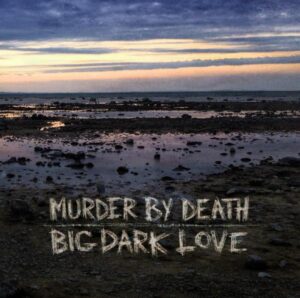 Murder By Death: Big Dark Love
By: David Gimpel
The indie rock/ alt country group, Murder By Death have been releasing albums for over ten years now. Each release is like reading a novel from your favorite author. Even though each story may have been written with its own unique style, you always who the author is. The band has been releasing album-centric records ever since their 2003 sophomore release, "Who Will Survive, and What Will Be Left of Them?" incorporating themes of sin, morality and loyalty. Their latest album, and the second on the Bloodshot Records label, "Big Dark Love," tackles the good, the bad and the ugly sides of love.
Fans of the Bloomington, IN band know that the group's sound revolves around the beautiful cello work of Sarah Balliet, and the rich unique vocals of Adam Turla. For this, their seventh studio record, those qualities are still present, but the sound has been beefed up with the addition of David Fountain to the mix. The experimentation with their sound makes "Big Dark Love," the bands most ambitious record to date. That is really saying something considering their incredible back catalog.
The new challenges Murder By Death has taken on with this new album are obvious in the album's first single, "Strange Eyes."  The band taps into the same synth-filled, acid-fried energy that you might find on records from bands like, Spiritualized or Black Angels, while adding some drone to the mix before exploding in to some guitar heroics. The band shows more depth than ever before by incorporating new instrumentation such as the banjo, mandolin, trumpet and fugglehorn.   For fans of the band's past do not let these new additions scare you, the group maintains their Americana-gothic brand of alt-country you have grown to love from them. Adam's vocals blend perfectly with the music, and his lyrics, although dark at times, are pure poetry.
This album, like most records I personally enjoy, has many layers to it.  From the dark and lovely lyrics about the pros and cons of love, to the instrumentation alone makes it an enjoyable listen with each spin.  If you get the chance to see this band live in concert…do so. Murder By Death could very well change your life.

www.facebook.com/MurderByDeath