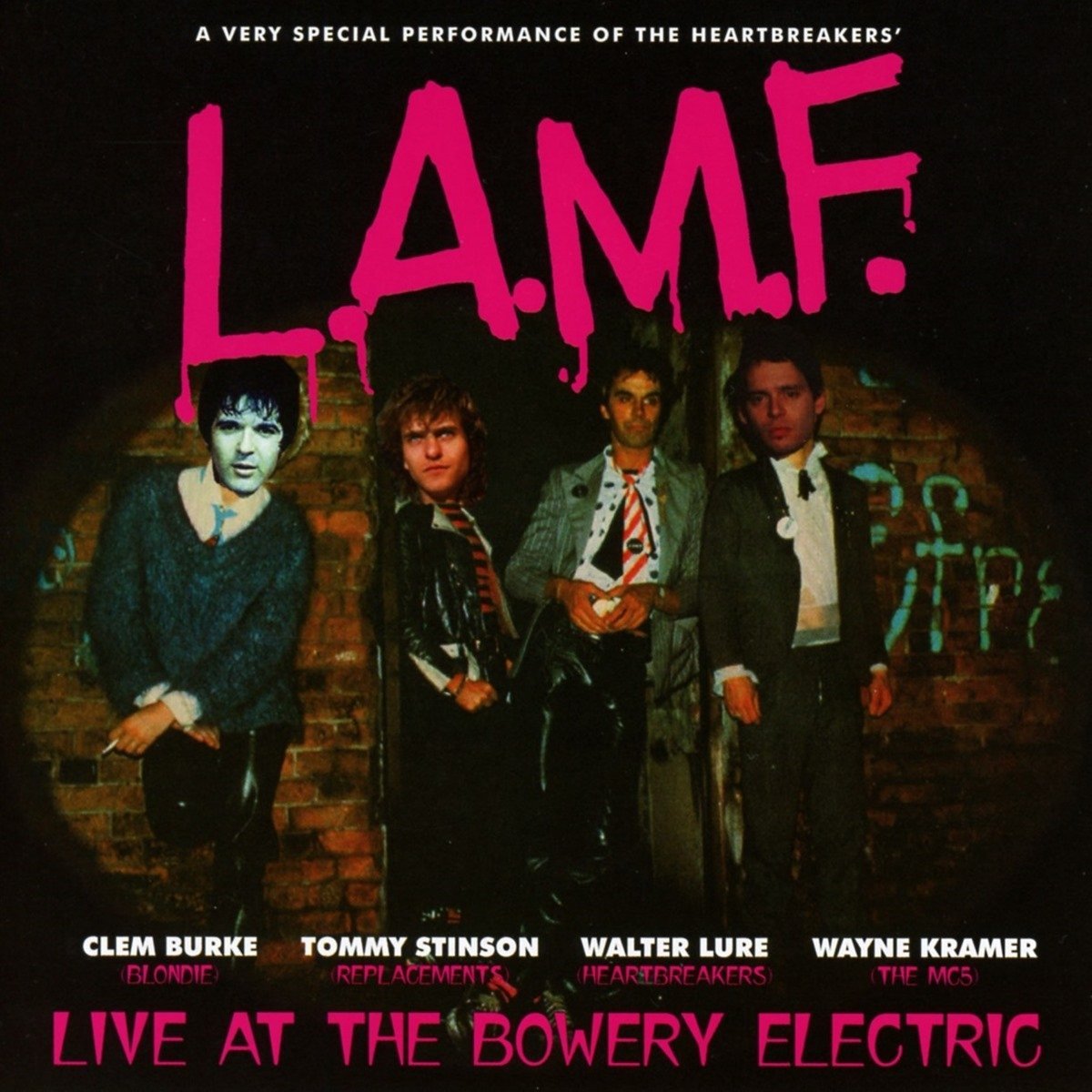 Lure, Burke, Stinson & Kramer
"L.A.M.F. Live At The Bowery Electric" 
By: Ric Hickey
Late in 2016, Walter Lure gathered some friends to stage a live concert tribute to the legendary "L.A.M.F." LP that he recorded as a member of Johnny Thunders & the Heartbreakers back in 1977. That band in its day was a caustic slopfest of epic proportions, with former New York Doll Johnny Thunders at the helm, effortlessly out-punking the punks with a shrug and a nod and a heroin habit that would eventually prove fatal. Thunders would record several LPs under his own name before his overdose in 1991. But "L.A.M.F." was the only album he recorded with the Heartbreakers, a band that sadly many people have never even heard of though they can be said to have played a major role in the birth of Punk Rock and inspired countless acts in their day and in the many years since. Alongside debuts by Patti Smith and The Ramones, "L.A.M.F." is considered by many to be among the few documents of that first wave of New York Punk Rock to be truly touched by greatness.
Methinks Johnny himself might scowl and frown down upon the very idea of a tribute to his seminal "L.A.M.F." LP. But from the very first listen I was pleasantly shocked to discover this half-baked remake to be the glorious ramshackle mess it was always meant to be. In Lure's orbit for these performances at New York's Bowery Electric, you find no one onstage without a serious Punk Rock pedigree. With Blondie's Clem Burke on drums, Wayne Kramer of the MC5 on guitar, and Tommy Stinson from the Replacements on bass, the sparks were guaranteed to fly. The four share vocal duties but it is Stinson's rabid yelp that best embodies the loose fire of the original performances. While guest vocalists Jesse Malin and Liza Colby provide little more than a chance for the band to catch their breath for a couple tunes, the appearance of Dead Boys guitarist Cheetah Chrome throws gas on an already blazing ensemble as they roar through "Pirate Love" and "Goin' Steady". Legends of the underground and unlikely survivors of the gutter lifestyle, all these cats are heavy hitters (and all of them had some firsthand affiliation or kinship with Thunders back in the day). But the band sounds like they got maybe half a drunken rehearsal in before showtime, instead trusting their instincts and visceral memory of how the songs go. The performance itself is a clusterfuck of out of tune guitars, half-remembered lyrics, and zero fucks given. The kind of train wreck that makes you eager to climb aboard the train while all hilarious Hell breaks loose around you. In other words: true blue Rock & Roll. Ragged, rough, raw and ready to rumble. And a surprising revelation to those of us of a certain age who haven't heard much like this since the days when Johnny still walked among us. This version of "L.A.M.F.", just like the original from 40 years ago, is probably the best thing on the racks in your local record store.
The only surviving member of the Heartbreakers, Walter Lure has kept a relatively low profile over the years, only occasionally popping up on a New York stage to reclaim some of the old glory daze. Every bit of Thunders' equal as a guitarist, the perfect onstage foil for Johnny's middle finger witticisms, and co-writer of many of the songs on "L.A.M.F.", Lure has never truly been given his due and in all likelihood has never seen a real payday of any kind from his time with the Heartbreakers. What little vocal ability Walter Lure had to speak of 40 years ago is shot to shreds now. The emphasis in his voice during this performance of the Punk Rock classic "Chinese Rocks" as he sings "I shoulda been RICH!" says it all.
Available on CD, colored vinyl LP and DVD.