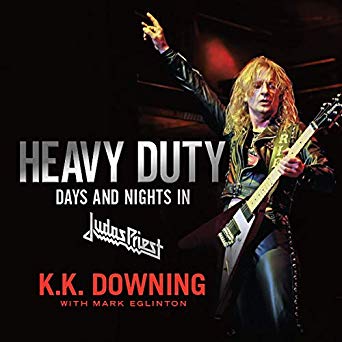 K.K. Downing: "Heavy Duty – Days and Nights in Judas Priest"
Authors:
K.K. Downing with Mark Eglington
Publisher:
Da Capo Press

The Verdict:
K.K. Downing shocked the heavy metal world in 2011 when he announced that he was leaving Judas Priest. After all, Downing had been a part of the legendary band for almost 40 years. It seemed that the band was just as popular as ever when the guitarist made the decision to leave. Since that time there have been lots of back and forth between K.K. and the Judas Priest Camp. This war of words made it clear that the split was less than amicable. Seven years after leaving the Judas Priest machine, K.K. Downing has written his autobiography about his life and has time with Priest. Perhaps all of the questions about why he chose to leave would be answered.
I have to say that things seem promising at the beginning of the book when Downing states that he intends on being honest about all events, and offers the disclaimer that the events in the book are as he recalls them. Reading this made me think that this book may be more than just a tool to glorify himself and trash the other members of Judas Priest. Unfortunately, the rest of what he has to say lives up to that hope.
The tale starts off as most rock biographies do. A guy has a rough childhood and hates school. A guy discovers rock n' roll and nothing else matters. A guy joins a rock n' roll band and "meets" a lot of girls. The only thing missing from Downing's story is a substance abuse problem. According to him, this was never a problem he suffered from. There is, however, an entertaining story about a drunken night with Kerry King and Dio that caused Downing to piss himself. The rest of the book pretty much serves for K.K. Downing to look down his nose at just about everyone he has ever come into contact with, especially his former Priest bandmate Glenn Tipton. From the first mention of Tipton's name early in the book there is an obvious bitterness felt by how Downing speaks about his one-time partner. It would seem that Tipton is to blame for every bad thing that ever happened in Judas Priest. From Rob Halford leaving the band in 1991, to albums failing, and for his own exit from Priest in 2011…Tipton gets the blame. Downing goes on to take shots of Glen's playing and alcohol intake. It gets downright old after just a few pages. There is even a line where K.K. pretty much says Rob Halford likes me better than Glen Tipton. It all reads quite childish and is distracting from the read. The book is filled with sour grapes of K.K. not getting his way on album titles, tour ideas, even T-shirt ideas. He even boasts that the reason the band's 2008 concept album, "Nostradamus" failed was that they did not listen to him…and of course because something to do with Glenn Tipton. He goes on to say that his plans would have put the album right up next to the Phantom of the Opera.
The book is filled with lots more stories of how he was wronged by Tipton. There is also swipes at Alice Cooper and an obvious resentment toward Iron Maiden. But I think you get the point. In summary, K.K. Downing seems to believe that if he had more of a voice, Judas Priest could have been huge. The problem is, Judas Preist was and continues to be huge. That fact seems to be lost in the shadow if his own ego. The book seems very tasteless considering the fact that Glenn Tipton is fighting a fight with Parkinson's Disease.  Downing addresses this in the last few pages as he wishes Glenn well, but it is really too little too late after all of the pages before it bashing Tipton for every single thing. As hard as he tries to play the victim, K.K. Downing only manages to come off as an unlikeable and bitter man trying to justify a decision that I believe he regrets every day. Read any interview that he gives these days as further evidence. If you are a Judas Priest fan, I say skip this book and buy a copy of the band's new record, "Firepower."