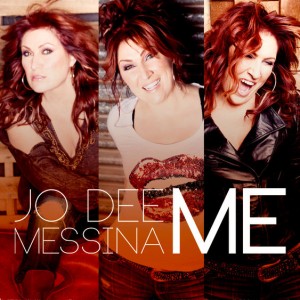 In life, there are some people that you just want good things for, that you root for and fly the flag for.  For me, Jo Dee Messina is one of those people. Maybe it is because her music just makes me happy. Perhaps it is because I know of some of the struggles that she has endured over the years, or maybe it is just because of that infectious laugh of hers. Most likely, it is a mix of all of those things. With that said, I cannot say how happy it makes me to see Jo Dee release her new album "Me" on her own "Dreambound" label.
To some, this release marks "the return of Jo Dee Messina." But the fact is Jo Dee has never gone away. She has been making music all along, though she did get held up by some circumstances outside her control. Perhaps her biggest obstacle was basically being held hostage to a record deal by a company that did little to nothing to release new music from the country music superstar. But when the chains of that contract were broken in December 2012, Messina busted free and moved forward full steam ahead. With the support of her fans, Messina funded her new record through a Kickstarter campaign. And I am happy to report that all of her hard work and the dedication of her loyal fan base have paid off in a big way.
"Me" is a fun and upbeat record that is undeniably 100% Jo Dee Messina. The twelve songs that make up the record showcase Messina's wit and humor, along with the emotions and passion that she has in her heart. One thing that is very clear from the opening song "Not Dead Yet" is that the feisty singer is sending a message or two with her songs. One fine example of this comes in the first single from the record, the tongue and cheek, "Peace Sign."  "You put the F.U. in fun, it's all good. I'm not trying to fight. I'm not wasting my time. I'm just saying goodbye, one finger shy of the peace sign." Are you listening Music Row?
While the record is a lot of fun, there is a lot more to the album. Two highlights come when Messina shows her serious and emotional side. The first is on the title track, "Me," which finds the singer comparing the expectations of being a daughter, friend, wife and mother to the woman that she sees in the mirror and the fear she has that they don't match up. The next comes in the last song on the album, "Say Goodbye to Superman," where a mother is praying to God for a way to explain to her young son that his dad is not coming home because he lost his fight with addiction, while trying to understand it herself. She is trying to find a way to explain that while also trying to understand it herself.  The song is an emotional one that shows Messina's talents as a songwriter.  Messina's songwriting is strong on the record, and there are also excellent writing contributions from Sherrie Austin (If you don't know her, start looking) and Hillary Lindsey, who co-wrote the hit "Every Storm Runs Out of Rain" with Gary Allan.
"Me" is a triumphant statement from Jo Dee Messina to both her fans and her doubters.  As deserving as this record is, it will not have the backing of the big Nashville machine behind it. It will be up to music lovers to get this record out there. Buy this record and enjoy it for yourself and then tell your friends about how great it is. And keep telling them until they buy their own copy. Before there was Carrie Underwood and Taylor Swift, there was Jo Dee Messina. After there was Carrie Underwood and Taylor Swift, there will be Jo Dee Messina.  In her song "Me," Jo Dee says that all she sees when she looks in the mirror is "Me."  All I can say to that is how lucky we are for that, Jo Dee Messina.