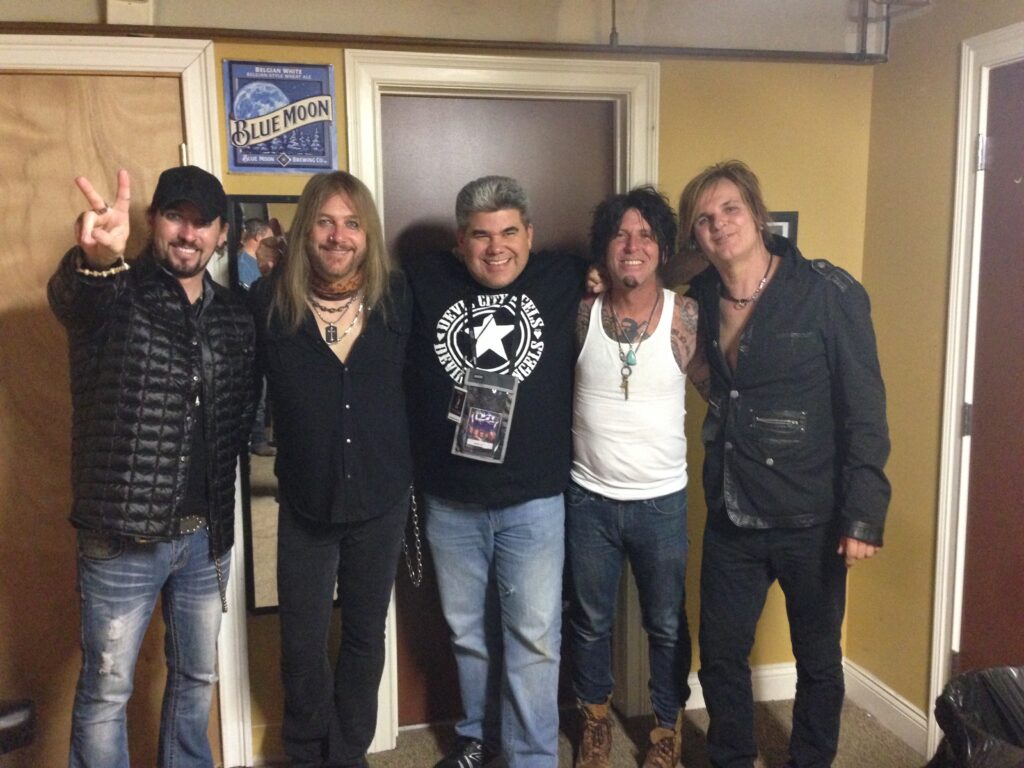 Gene  Simmons recently gave an interview in which he declared, "Rock is finally dead." Obviously, The Demon was not at MVP Sports Bar in Cincinnati, OH last night when Devil City Angels took the stage. The band played a set filled with classics from Poison, Cinderella, L.A. Guns, as well as new DCA songs. The Angel's performance, as well as the audience's reaction, is a testimony to that fact that rock n' roll is alive and well.
If you are unfamiliar with Devil City Angels, allow me to bring you up to speed. The band is a super group made up of Tracii Guns (L.A. Guns) on lead guitar, Eric Brittingham (Cinderella) on bass, Rikki Rokkett (Poison) on drums and Brandon Gibbs (Cheap Thrills) on vocals and guitars. Many may not know of Brandon Gibbs as he has not been in a big named band like his band mates. Don't let that fact fool you,  the singer is not hiding in anyone's shadow. Gibbs performed perfectly in his role as front man. Considering the evening's set list included some of the genre's biggest songs, such as "Talk Dirty to Me," "Gypsy Road" and "Ballad of Jayne," Brandon proved that he was more than qualified for the job. The singer showed respect for the songs that he was singing while putting his own mark on them. By the end of the night, it was very clear the band had not just found a singer, they found a front man who could hold his own. The crowd seemed to agree.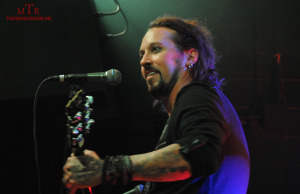 As if hearing the music was not enough, I found myself in disbelief that I was seeing three legends in such an intimate environment. Watching Rikki Rokkett behind the drum kit is such an amazing experience. It doesn't matter if there is a crowd of 100 or 10,000, Rikki is at 100% every time. From the stick twirling, to his interaction with the crowd, there is not another drummer like Rikki Rockett. Eric Brittingham may seem like the quiet guy of the group, but his contribution to the band is invaluable. With a band that is as groove oriented as DCA, Brittingham is the epicenter of their sound. Eric Brittingham is, and always has been, more than just the blond guy in Cinderella.  And then there is Mr. Guns. For so long it seemed like Tracii was weighed down by L.A. Guns drama. One of my favorite parts of the night was standing just off to the side of Tracii watching him play with a huge smile on his face . With all of the drama long since behind him, and an exciting new band, it seems like he is having a blast. I can't think of a guy who deserves it more than Tracii Guns.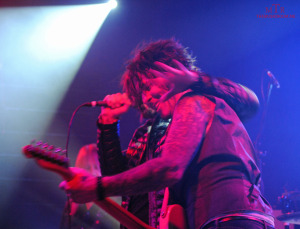 Throughout the evening the band made it very clear that this group is not just a side project. They are a true band that intends to record original music. Based on the strength of the original songs the band played, all I can say is, that is a very good thing. Despite the classic songs played, the highlight of the night for me was the bands original song, "I'm Livin."  You can go to the band's Reverbnation page to hear the bands original material.
I truly believe that a band can only be as good as the venue they are playing in allows them to be. I have had several bad concert experiences of seeing a great band in a venue that had no business hosting them. This was not the case with this show. MVP Sports Bar (formerly Never On Sundays) was the perfect place to see a show. The venue has a proper stage, complete with excellent lighting and sound. The MVP staff could not have been any friendlier, and the drink prices were very reasonable. The  environment felt comfortable and fun. They are starting to book a lot of great shows so it is really important that people get behind this very cool venue. Look for future shows at MVP on our concert calendar.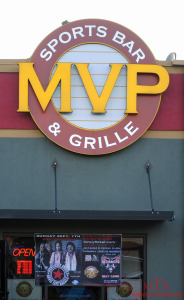 Mr. Simmons, I am going to have to disagree with you. Kiss was better with Ace and Peter, and rock is far from dead. As long as there are bands like Devil City Angels, venues like MVP, and fans like those in attendance at the show, rock is alive and well.
Check out our Devil City Angels photo gallery from the show here 
Set List: 9/7/14 MVP Sports Bar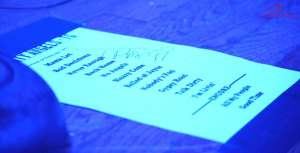 www.facebook.com/DevilCityAngels