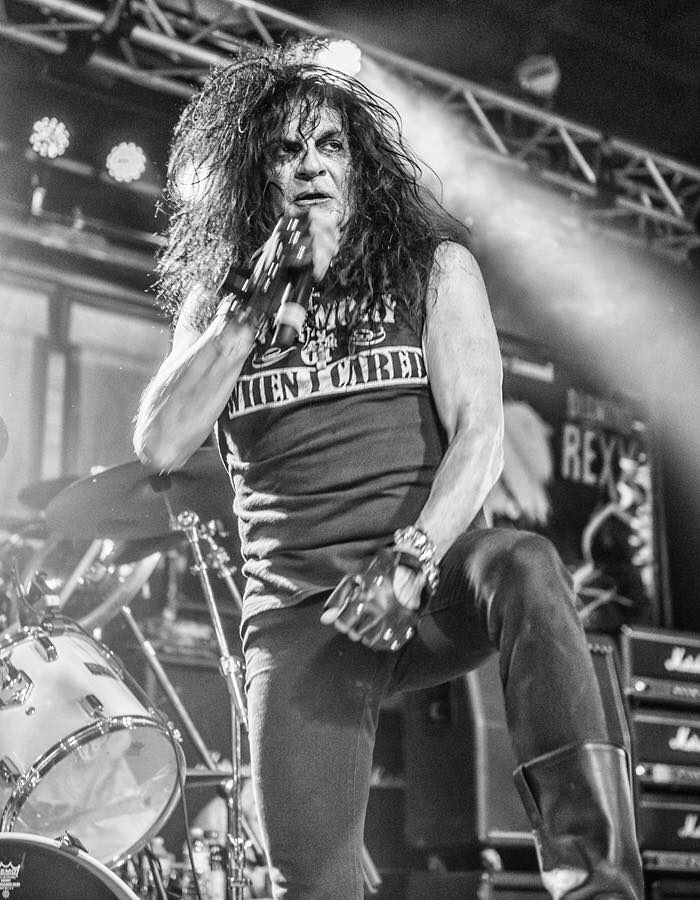 Nasti Habits – Diamond Rexx
The Music Room: Hey Nasti! We are getting pumped up for your show on April 7th at MVP's in Cincinnati. But there are a lot of people down here who may not be familiar with Diamond Rexx. Our friend Todd Hoffman has told us a lot of great things about you guys. He's driven up to Chicago to see you play. I have heard the band compared to a mix of Motley Crue meets W.A.S.P. But I would like for you to tell people about Diamond Rexx in your own words.
Nasti: It's good, straight ahead hard rock music. I guess you could say Motley Crue and W.A.S.P. I would like to think that we got our roots from bands like Motorhead and Van Halen…stuff like that. Just good, old-school rock.
TMR: That sounds great. You guys first hit the scene back in 1987. Have you guys been active as a band this whole time?
Nasti: For the most part. Me and the guitarist S. St. Lust (aka S.S.) kept it together. Even when we weren't playing a lot we were jamming and writing. There was only really one period when we really kind of dropped off for a while. That was probably after our third cd, "Golden Gates" where the whole grunge thing started taking over. There was a period of about eight years around that point where we kind of walked away from it. When metal started coming back we made a few phone calls and started hooking up again. From there…it's like we have this disease. This sickness, as Gene Simmons put it one time…you get in this business and anybody who ever said they're in this business for the money is downright full of sh!t. That's the way he put it. When I saw him he was the keynote speaker at a heavy metal seminar out in L.A. He said, "the more money you make, the more money you spend." You get in this and you can't stop. You just can't get away from it. I got away from it for a while. It was funny, the first time a picked back up a microphone I was right back in it. What 's that line from The Godfather? I thought I was out but they pulled me back in (laughter.)
TMR: I know that home for you now is Chicago. Did you guys ever do Sunset Strip scene in L.A.?
Nasti: No, we never made it out to L.A. Diamond Rexx never made it out there. However, S.S. was out there for a couple of years with another band called D'Molls.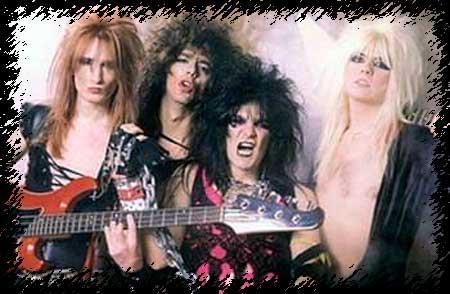 TMR: One thing that I have really found amazing about the band is that you have managed to keep the ranks in order for the most part as far as keeping the original line up. You have had people leave, but then it always comes back to the original guys. I think except for the drummer, is that right?
Nasti: Yeah,  right now it's actually all of the original members that were on the first album, "Land of the Damned," except for our drummer, Johnny Cottone. We got a buddy of ours, George Lorenzi who's filling in right now. A couple of years ago we actually did a reunion show with the original lineup and it went over quite well. I still talk to Johnny on a regular basis. He's just got some stuff going on where he's not available right now.
This whole band has kind of been a circus. After "Land of the Damned" the band kind of disbanded and Rexx came out with the second album. I toured the album with a completely new lineup, but it stayed true to the Diamond Rexx vein. Ove half of the songs were written by S.S. The guy who filled in, Johnny Angel actually copied his solos to the tee. He was a young kid at the time at eighteen. He developed S.S.'s style. It was really weird. When we started writing new songs it was kind of in the same vein. When we did the third cd, Johnny was leaving the band so we just did a real quick live cd. At that point, S.S. back to town and he actually went out and toured the third one with me along with Andre. So we definitely went through some different members. It's been great having Dave Andre back on bass. He's the guy. He makes us who we are.
TMR: Not many bands can say that. A lot of them have one original guy and that's it, so that is really cool.
Nasti: Yeah. It's funny…the longer we do it, and the more we do it I'm actually at a point where it has got to be like this. Diamond Rexx is the original guys. It's hard to replace anybody. It really is.
TMR: For those of us coming out to the show, how should we do our homework to get familiar with what you guys are going to be playing? Are there a couple of cds we should pick up and check out?
Nasti: You can go to our website, www.diamondrexx.com. I'm sure there are some cds there you can pick up. Or if you just want to get familiar with the band there is all kind of stuff on YouTube. You can see some shows and some videos. There are all kinds of stuff. There's stuff from our first…There's the "Wish I Was Rich" video from our first album. Our latest single, "Dead" is floating around out there along with our "Someone" video.
TMR: And you cover it all during your live show?
Nasti: Yeh, we are kind of going back to our roots man. We're going back to what launched us with "The Land of the Damned." From there we'll move on to cuts from all of our cds. Towards the end of the show, you're going to hear some stuff that hasn't even been recorded yet. I think a couple of the hardcore guys will like the set that night.
TMR: Oh wow…
Nasti: Yeah, pretty much all of our history. I kind of compare our songs to kind of like AC/DC…they're right in your face. Once you hear them you remeber them.
TMR: I actually rode down to Nashville with Todd to see Maiden. He played me a bunch of your stuff and talked really highly of the band. Todd's one of those guys who when he tells you about music…you listen. When he said he was bringing you down, I was excited because of how excited he is. I mean, this guys knows music.
Nasti: He's a great guy. We actually met him at one of our shows and we got in touch after that. It was funny…he was coming out to another show and I had contact with him at that point. We were talking and I said something to him like why don't you come on stage and help me sing a song like "Wish I was Rich" or something? I kind of dragged him up and it was fun. When people come out to the show and they experience us, they are going to see that we are all about having a good time. Nobody laughs at us harder than we laugh at ourselves. This is about having fun, laughing, rock n' roll, partying and having a good time. There aint no political statement or any of that sh!t. This is all about rock n' roll and having fun. We love to involve the audience in that as much as possible. When people start getting off on it, we start getting off. If it wasn't fun, we wouldn't be doing it. We're having the time of our lives and we feel really blessed to be doing it.
I feel like I'm a lucky guy to be fronting some of the best musicians around. I've got a great guitar player. The guy is phenomenal. He's just such a unique style that it's ridiculous. A lot of guys have tried to play his stuff …I mean good guitar players and they just get stumped. Same thing with Andre, my bass player. He has a totally unique style. Accompany that with a powerful drummer…what more could you ask for? Just come on out and have some fun with us. If we can all forget about stuff for that hour and a half while we are up there we have accomplished something!
Come on out to MVP's in Cincinnati, OH on April 7th for what promises to be a fun night of great rock n' roll. E-mail indihoffman@aol.com for advance tickets!!!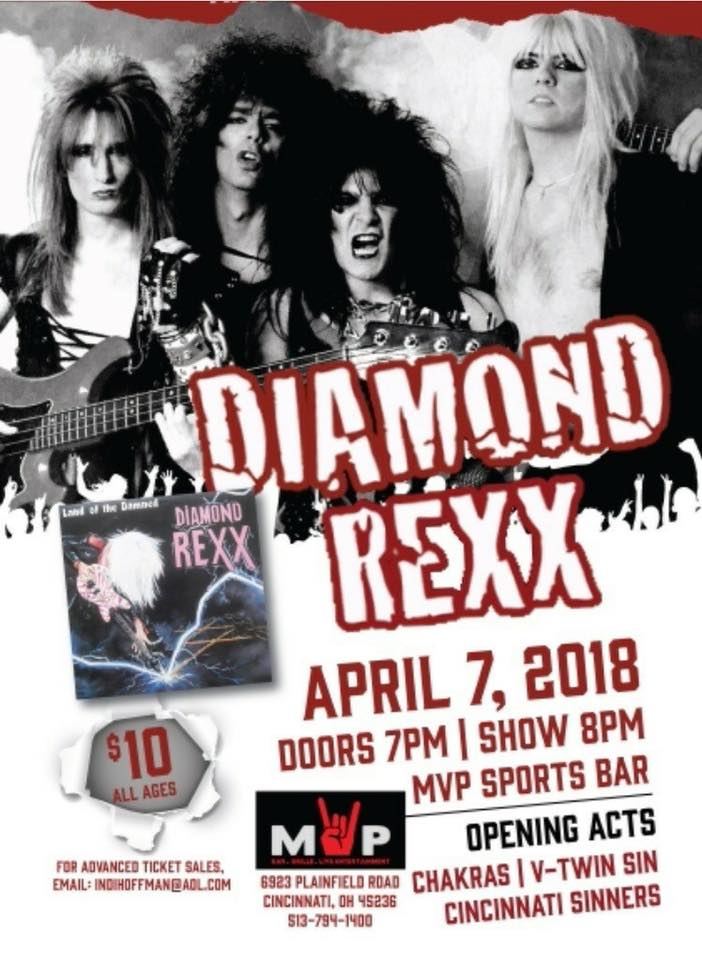 www.twitter.com/DiamondRexx8346
by