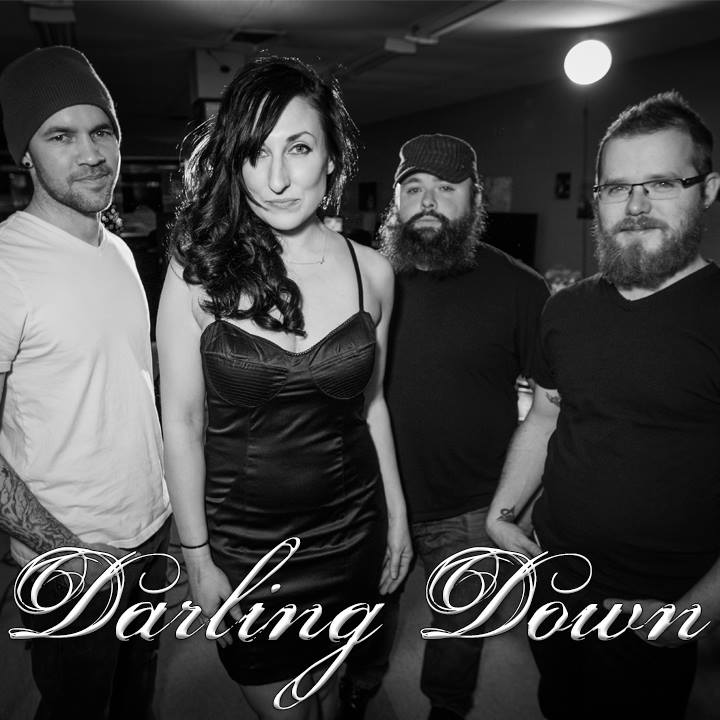 With their symphonically powerful sound and an arsenal of brand new material, mid-Michigan's Darling Down is prepared to show the world that they are ready to stake their artistic claim in the territory of modern rock.
The band, an outstanding female fronted four piece, has a synergistic effect among its members: Amanda Legault's clear, strong vocals that range from powerfully compelling to hauntingly sweet, Dustin Claud's driving and dynamic guitar riffs, Jim Dokurno's thunderous bass lines, and Ryan Hudson's tight musicianship on drums. Committed to lyrically thoughtful and melodically engrossing songwriting with powerful hooks, Darling Down is distinctive in today's musical arena. With lyrically relatable songs full of enough edginess, passion and real life to appeal to a wide audience, Darling Down's songs are catchy, intriguing, and heavy; beautifully sung, constructed and arranged. Sonically driving, with soaring vocals and harmonies, the deep lyrics are sometimes juxtaposed with eerily strong, pretty vocals and heavy guitars, as on their earlier recording, "Revenge is Sweet Like Cherries."
Darling Down will be opening up for Sponge on Friday, May 15, 2015 at MVP in Cincinnati, OH. Be sure to get there early to check out this great band. To get ready for the show, check out the band's latest video for the song, "Never Tell."  The track comes from their new album "Never Tell," which features collaborations with accomplished guest musicians including Clint Lowery of Sevendust, Vinnie Dombrowski of Sponge, Stephen Richards of Taproot, and Brett Hestla of Dark New Day. The album is available now through all digital retailers.
(The video was inspired by the works of Quentin Tarantino and Eli Roth and features some violent images similar to those of an action movie.)
Buy Darling Down's record, "Never Tell" here!
www.facebook.com/darlingdownband
www.twitter.com/DarlingDownBand
by